Boulder City a popular spot for Hollywood shoots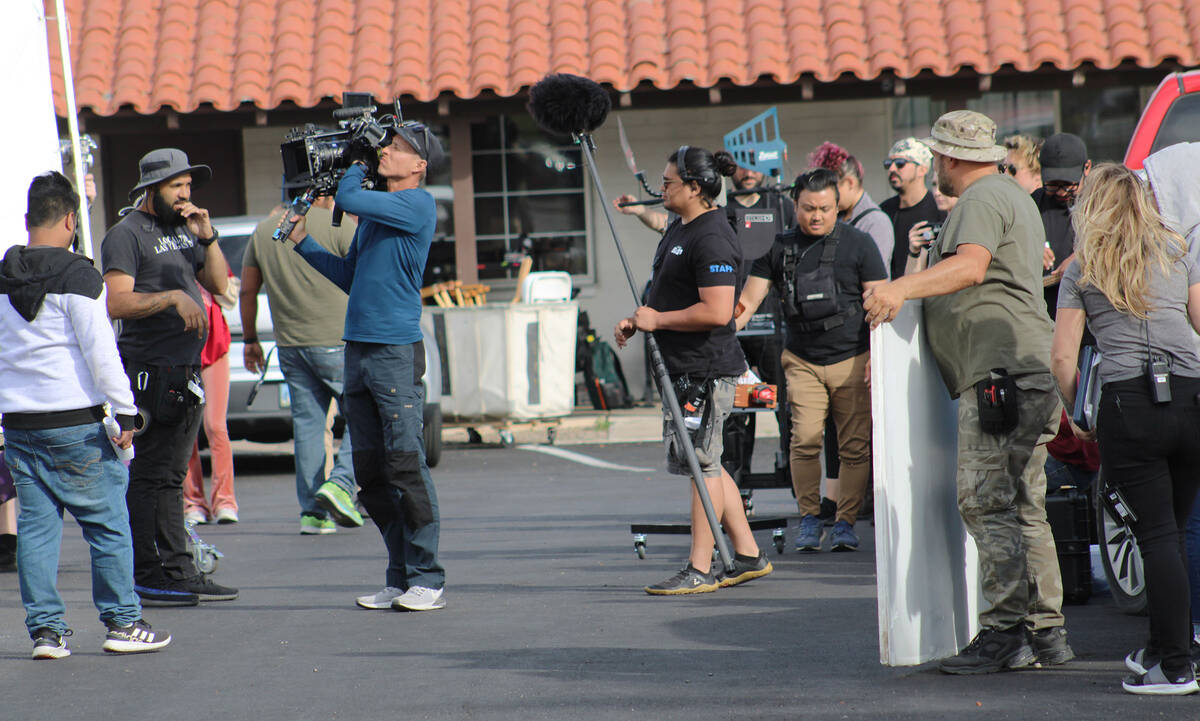 Filming movies, television shows or commercials in Las Vegas is very common. But over the years, Boulder City has seen its fair share of moments on the both the big and small screen as well as the pages of many magazines.
Whenever a commercial shoot of any kind takes place on city property in town, those running the show must obtain a filming permit from the City of Boulder City, more specifically, the Boulder City Parks and Recreation Department.
"Over the years, our goal has been to make it easy for them," longtime Parks and Rec Director Roger Hall said. "If you want to film on BLM or National Park Service land, you have to do that six to eight months out to get your application in."
The permit itself, which is just a few pages, goes into what is being sought from the applicant and what requirements there may be. This could include traffic control, whether or not it's on city property or any pyrotechnics. The city's special events committee, which includes the fire and police chiefs, public works director and Hall, then review the permit application and make a final decision.
"We don't shut down major roads to businesses as we try and keep the impact low to both our businesses and residents," Hall said. "We don't want to approve anything that will result in a lot of complaints."
The Nevada Film Office will often send film crews Boulder City's way, Hall said, because of the ease of receiving a permit. That may be why they receive several requests a month, with an average of three being approved. This can range from a big-budget film to print advertising for a magazine or newspaper.
"We're still one of the biggest cities, area-wise, in the state of Nevada," Hall said in regard to Boulder City's appeal for filming. "We have mountain vistas, desert vistas, vistas of the lake and vistas of Las Vegas if you go atop Radar Mountain. We have basically everything and the proximity to Vegas is a draw as well."
While the location of a scene filmed here may not be obvious to the average non-Boulder City viewer, Hall said that there are other benefits to the community such as crews eating at local restaurants, or staying in local motels.
As of right now, if a crew is filming on private property, a permit is not needed. However, Hall said that will soon be changing.
"If they're on private property, and not impacting the city in any way, then we let them do their thing," he said. "However, we've run into a couple of issues with a recent film company who didn't let the neighbors know they were going to be filming a gunfight at night. Luckily our fire department knew and told our police department because it could have turned into something really bad."
Soon, everyone will be required to obtain a permit. If it's on private property, there will be no fee, but this way the city will be aware of what will be taking place during the filming.
The most recent filming in town took place last month as scenes from the upcoming Mel Gibson movie "Boneyard" were filmed at various locations including Fox's Smokehouse, which is owned by Dan and Kelly Fox.
Kelly Fox said they were contacted April 13 by a member of the production staff for the movie. They were told that several people who were in various positions related to the movie had been in a couple of weeks prior, liked the look of the restaurant and thought it would be a good location to shoot a scene for their movie.
"We were asked if we'd be interested in renting out our place from 9 a.m. to 4 p.m. on April 18, to which, we said 'yes,'" she said. "Details were finalized on 16th and the notice that we would be closed the following Tuesday went out on social media."
The day of filming, they were shooting at another location so the Foxes didn't see anyone until a member of the props department came around 11:30 a.m. to arrange the food plates they would need for the shoot as well as rearrange the wall decorations. She said this was to make sure there wasn't anything visible that would identify branding that wouldn't have been relevant to the time period the movie takes place.
Around an hour later the rest of the production crew came and unloaded their equipment, filling their bar area and spilling over into the dining room where filming took place. They had to set up lighting and audio equipment in various places in the rafters and had camera equipment everywhere.
"We were allowed to watch filming from behind the servers' station windows alongside members of the props department," Fox said. "We were also asked if one of us would like to be in the movie as a server, so we offered up our bar manager, Megan.
"They shot the scene seven or eight times from several different camera angles. When they were satisfied with the film they had, they packed up and were gone in 20 minutes. It was an amazing experience and we hope we'll do it again someday."
"Boneyard" is just one of many commercials, television shows and movies that have filmed in Boulder City with Dry Lake being a favorite spot to film or do still photography for ads. Two of the more memorable projects that came to mind for Hall were one of the later "Smokey and the Bandit" films from the 1980s and "Con Air," which starred Nicholas Cage in 1997.