Hall makes a musical journey from Charleston to BC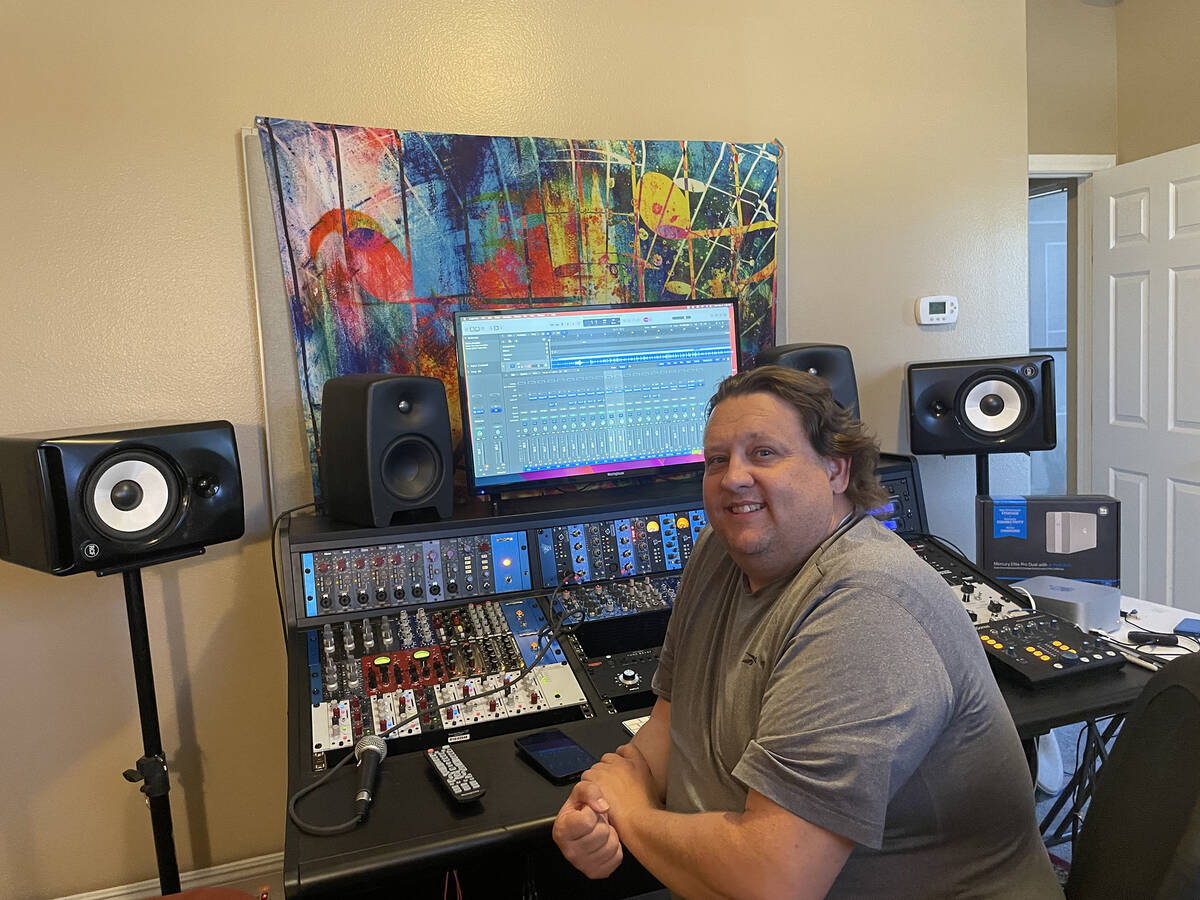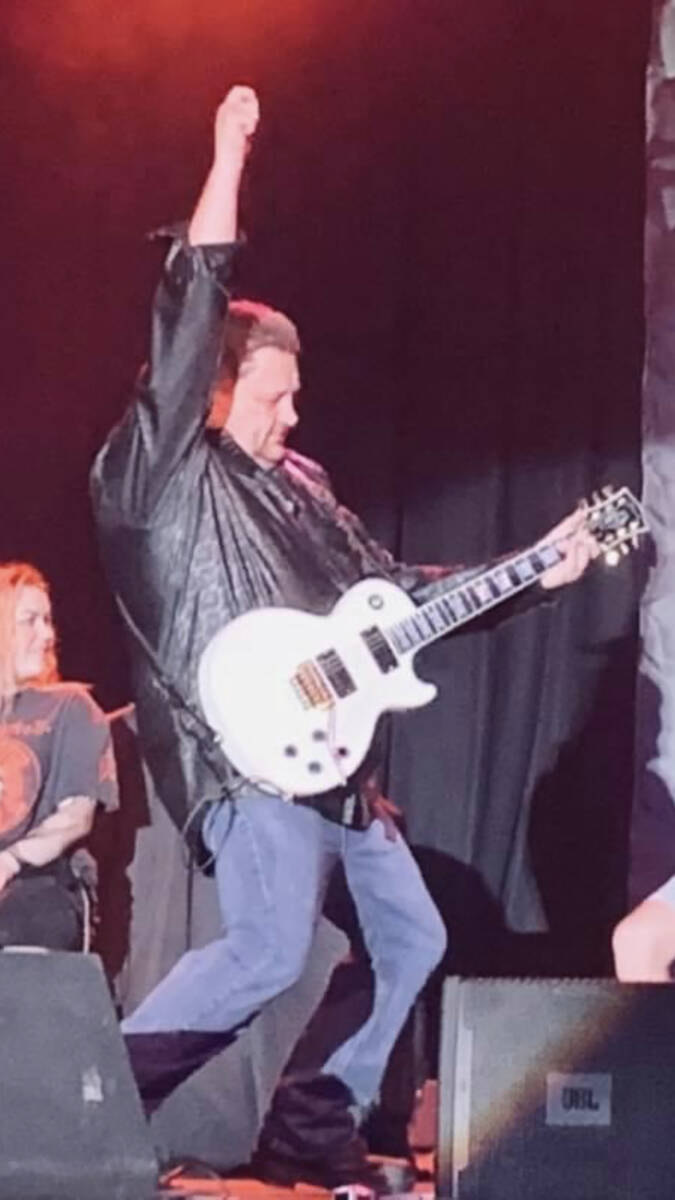 When the 2023 inductees to the Rock and Roll Hall of Fame were announced last week, one newer resident of Boulder City had more of an emotional stake in the outcome than most.
For nearly three years and hundreds of shows ranging from multi-artist festivals to prestigious theatres, Larry Lee Hall served as the mix engineer for the classic soul stalwarts known to the world as the Spinners.
In a career as a musician, a sound company owner, a record producer and a live mix engineer, Hall has worked with a range of artists from Aretha Franklin to the Village People. He has turned down artists most in the business dream to work with. But he doesn't want to talk about those. Today, it's about the Spinners, one of his favorite clients.
"There are pros and cons about those old, classic R&B artists. The biggest con is that very few of them wrote their own songs, so they had to tour until they all but dropped dead on stage," he said from his newly-opened recording studio on the south side of Boulder City. "And most of the Spinners are among that group, There's only one original guy left."
Hall started as the engineer for the Spinners when he was the sound system provider for a show at a local casino in Las Vegas.
"They had a sound guy who had worked with them for years but he was a very non-technical guy," he said. "On the rider, he would ask for all of this high-end gear and didn't know how to use any of it. What he did was stand behind whoever the venue made available to run the system and told them what to do. So I mixed that show and it went well and he parted ways with the band shortly after that. Their managers at the time were Nat and Jackie Burgess and Jackie had been my boss when I was playing at Sam's Town. We were friends and they asked me to step in."
It was supposed to be five or 10 shows – tops.
"I had a successful sound company and really did not have time to tour. But they asked me to basically fill in for a few months. But we got really close on a human level and next thing I knew, a few months had turned into nearly three years," he recalled.
"Hearing that they had finally got some much-deserved recognition was great," he said. "I know their work ethic. They did 60 years in this business, which is amazing. I used to watch them go onstage as 70-year-old men but then become 30-year-old men for 90 minutes of the show and then come back offstage as 70-year-olds who were broken and needed a 12-hour nap. I'm extremely proud and happy to see them get their due."
But their fans always saw them as more than just soul survivors.
"Bobbie Smith, who was the voice of songs like "I'll Be Around" sang like Bobbie Smith until his last day on Earth. Pervis Jackson, who was the low voice, was a particular favorite of mine," Hall said.
And in keeping with his statement about touring until they die, Hall noted that Jackson died on the same day that Hall mixed his last show with the band.
"He had missed a few shows because he was ill," he said. "Coincidentally, the last show I did with them was at Bally's in Las Vegas and we all heard, right after the band came offstage, that Pervis had died the night before at home in Detroit.
"Not to lessen my relationship with the other two guys, but Bobbie and Pervis and I were especially close," Hall explained. "I'll never forget being at sound check one day and I tested Pervis' mic by singing the line "12:45" from "Games People Play" and did it in his key and he thought that was about the greatest thing he had ever seen from a fat, white guy. He asked me if I was after his job."
Hall originally hails from Charleston, South Carolina and migrated to Las Vegas in 1993 to be a full-time musician. Over the next decade, he played hundreds of shows in pretty much every casino in town. Until he came to a life-changing realization.
"A friend of mine who played on the same circuit named Roby Turner called me one day and asked if he could rent my sound system and I had never even heard of such a thing. But I needed the money and I told him, yes," Hall explained. "I was paying 40 bucks a month to keep it in a storage unit because the vast majority of the shows we played had a house sound system, so making a couple of hundred bucks for something that was just sitting sounded pretty good."
That was the beginning of HAS Productions, a Las Vegas-based company that specializes in audio but over the years has also provided staging, lights and even instruments for big shows all over the southwestern United States. They have provided gear and audio personnel to a range of artists from Todd Rundgren to Snoop Dog as well as most of the big concerts at outdoor venues "over the hill" including Fremont Street and the multi-stage Extreme Thing weekend event at Desert Breeze Park.
And, while most of the work —and his warehouse —are still in North Las Vegas, Hall yearned for a different vibe when it came to a place to live. And he wanted to be able to set up a real studio where he could record his own music as well as produce other artists.
"For the first 27 or 28 years I lived in Nevada, Boulder City was just a place I passed through when I was on the road heading someplace else," he said. "But in the past two years, I started to spend more time out here."
His girlfriend knew Boulder City well and had lived in town some two decades earlier.
"We love the small-town feel. We love the mom-and-pop shops. It reminded me of home in Charleston right out of the gate," Hall explained. "Sure, there are a few chains on the outskirts of town, but the heart of the city is independent, mom-and-pop shops."
With a high-stress business in Las Vegas as well as road gigs, coming home to Boulder City is a welcome change every single day for Hall. "A traffic jam in Boulder City is four confused people at a four-way stop sign. It's just a calm, chill place. The vibe reminds me of South Carolina. Of course, the look doesn't. Back home we had 50 shades of green and in Nevada it is more like 50 shades of brown."
While his reputation is largely wrapped up in the audio business, his heart has always been that of a musician and he never really stopped playing. The Larry Lee Hall Project had a weekly residency in 2021 at the same hotel where he first mixed the Spinners and he has been the guitar player and driving force behind the Ozzy Osbourne tribute Unauthorized Ozzy for nearly two decades. The band has headlined shows for up to 18,000 fans and is gearing up for a run of shows again in the fall.
But Hall spends most of his time in the studio he has built at his Boulder City home. Stocked with an enviable collection of analog recording gear and microphones as well as a high-powered Macintosh computer and the latest and greatest software, he is working with artists ranging from rock to acoustic bossa nova and keeps cranking out his own music as well. His original songs have been streamed millions of times and one of his compositions has recently been lauded on the independent film circuit.
"A friend of mine from high school wrote a book about a woman whose husband had died and then she discovered that he had a whole different parallel life that she knew nothing about. It got optioned and they made it into a movie. There's a really dark scene in it where she is basically contemplating suicide by jumping off a bridge. She is making a decision, 'Do I drive over this bridge or do I just jump off?' She told me about it, I wrote something in a very short period of time and called in Mischa Ripps who plays and sings in my band and the song is really all about her performance. I really thought it was a throw-away song, but it won best original song at the first festival where the film played."
Halls sees himself spending more and more time in Boulder City.
"I still have to take care of business which means being at all of our bigger shows in Vegas on the weekends," he said. "But if we learned one thing during the pandemic, it was that a lot of what we did in offices can be done from pretty much anywhere. If you have a cell phone and an internet connection, you're good. Which is great because I would much rather spend most of my time in my studio and at the small businesses we love out here in Boulder City."