How to start a citrus tree from a cutting, and other gardening advice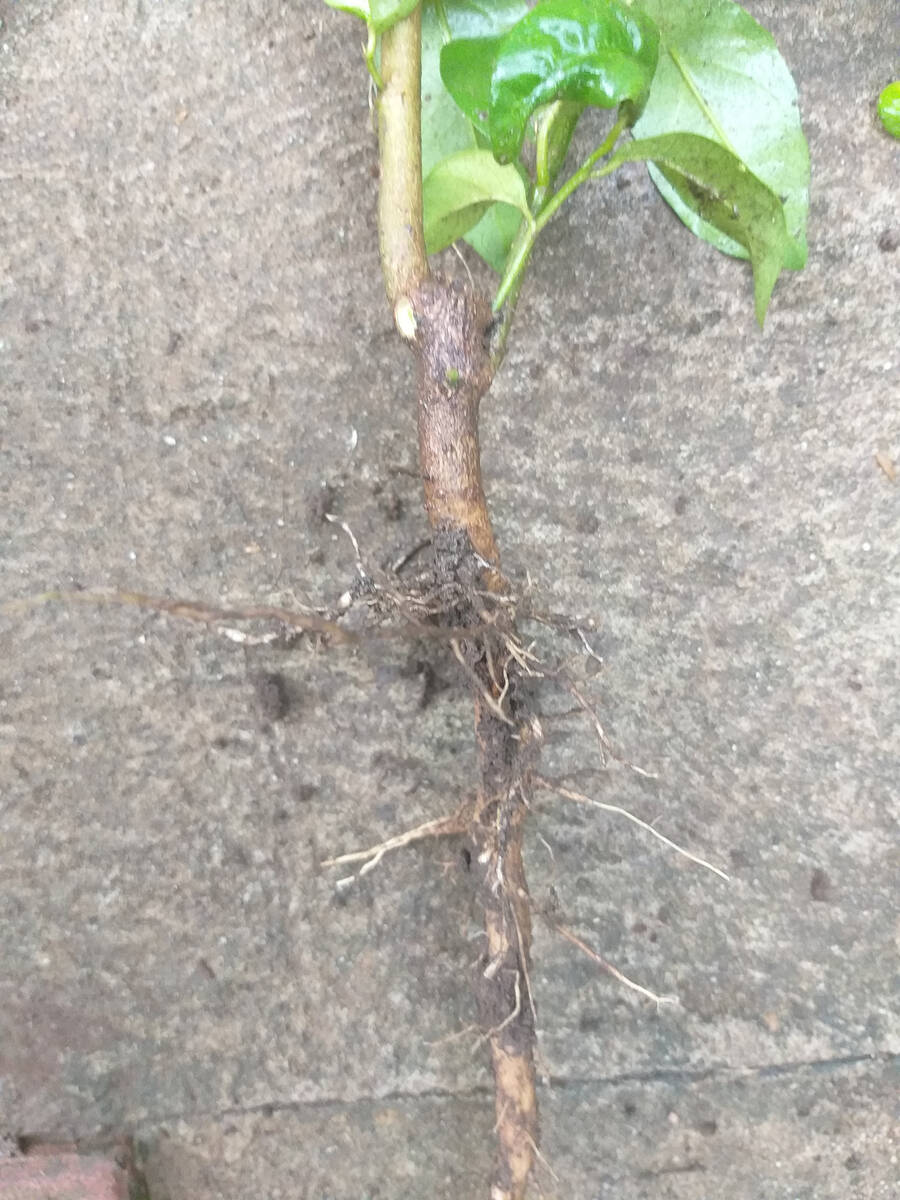 Q: I'm hoping you can help answer how I can start a citrus tree from a cutting. Can citrus trees be started just from cuttings? I mean just a cutting without the rootstock since I don't have the rootstock to graft it onto.
A: When you do that, it will be on its own roots. Cuttings should be ideally about ¼ inch to ⅜ inch in thickness and about 6 to 8 inches long. Experiment with different sizes but always use 1-year-old growth.
The cuttings should be pruned slanted at the top and straight across at the bottom end. Cutting them slanted at one end helps you not confuse the top from the bottom. These cuts should be about ¼ inch below the bottom bud and ¼ inch above the top bud. Planting cuttings upside down may cause cuttings to not grow. Do not leave any extra part of the stem to dieback to the bottom or top bud or it can cause problems.
Buy powdered rootone (such as Hormex No. 3) to ensure success. The cuttings should root on their own, but it is cheap insurance to use a rooting hormone. Watch a video on how to use the rooting powder.
The only thing I would add is to make the hole first with what propagators call a "dibble." You can use a pencil and then insert the cutting into it. Making the hole first helps, then closing it off by hand, prevents rubbing off the powdered rooting hormone.
Use potting soil for the container or the propagating material. Put stem cuttings about 6 inches apart with two buds below the soil and at least one bud above it. Start twice as many stem cuttings as you need because they all won't root.
When new growth occurs, you will have new roots on the cuttings and about two weeks after that they can be transferred into the garden area.
By the way, grafting a fruit tree onto a rootstock gives fruit trees quite an advantage and that's why it's done. These advantages might be in cold tolerance, the type of soils they may be suitable for, and size control among others. However, rootstocks can impart a slight flavor difference in the fruit.
Q: I was reading your book on suggested trees for Southern Nevada, and I saw a few oaks mentioned. I am thinking of using Quercus fusiformis for shade in a parking lot or parking area. Do you have any thoughts?
A: There is a lot of confusion right now about this tree. It is sometimes in the nursery trade as southern live oak (Q. virginiana) and sometimes as Q. fusiformis, and sometimes named Q. virginiana var. fusiformis. The scientists will figure it out.
Texas live oak (Q. fusiformis) is not generally recommended as a parking lot or street tree for the hot Sonoran Desert surrounding Phoenix. I realize Phoenix is hotter than Las Vegas, but I think Dr. Chris Martin at Arizona State University does a good job pointing out the problem between Q. virginiana and Q. fusiformis regarding parking lots and using as a street tree.
It is generally too hot in the summer for it. If used in a parking lot, I would be very careful and provide plenty of grow room for the roots and water it when stressed.
The book you reference by Dr. Dale Devitt and myself is available for purchase from Amazon.
Q: I have a star jasmine and it froze last winter. What can I do to get it back?
A: Where are you located? It doesn't freeze until it gets winter temperatures around 5 degrees F (USDA plant hardiness Zone 7) or perhaps a little bit colder. I would suggest that your winter temperatures may not be warm enough and you might be in the wrong USDA hardiness zone for this plant. In Las Vegas, we are in USDA zones 8b through 9a (Sunset zone 11).
If the top froze to the ground, you might be able to grow it as an herbaceous perennial, which means it might come back from the roots or crown after the top freezes to the ground. Some winter tender plants will do that. It just depends on the plant.
One of our plants that will come back after mild winter freezing temperatures is bougainvillea. Apply a layer of wood chip mulch to keep the roots or crown from freezing and apply water and fertilizer when it starts to grow again.
When winter temperatures approach freezing temperatures surround the plant with wood chips. I use a 1- or 5-gallon plastic container filled with wood chips to protect the plant from winter cold until the warmer temperatures of spring arrive.
Bob Morris is a horticulture expert and professor emeritus of the University of Nevada, Las Vegas. Visit his blog at xtremehorticulture.blogspot.com. Send questions to Extremehort@aol.com.