Students to showcase talents at film awards
February 25, 2015 - 1:37 pm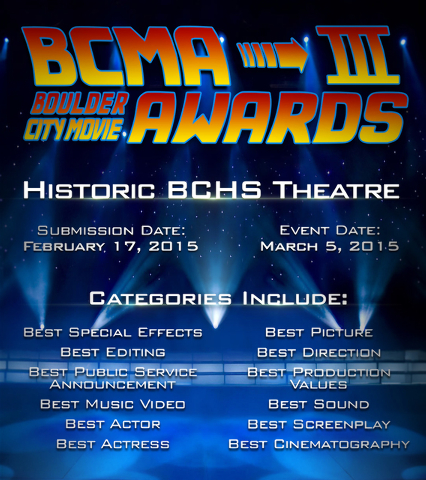 The red carpet will be rolled out next week when local high school students showcase their short films during the third annual Boulder City Movie Awards.
The show, themed "The 1980s," begins at 7 p.m. March 5 and will feature awards for 12 categories, including best actor, best actress, best film and best director. Twelve short films and 15 music videos were submitted.
"I'm just trying to put on a great night and get people involved," said Canaan Petersen, who teaches film studies at Boulder City High School.
The top three videos from each category will be featured in their entirety, but montages from all entries will be shown throughout the evening.
"Within one week of last year's theme ("Star Wars"), I thought about the '80s and all the possibilities," Petersen said. "These kids really like it. You'd be fascinated by how many of my kids are fascinated with the '80s."
About 250 people came to last year's show, and its success grabbed the attention of former principal Kent Roberts, who asked Petersen to help him get a similar show set up at Green Valley High School.
Since the Boulder City Movie Awards debuted in 2013, Petersen said he's seen a growing interest from students to get more involved in film studies. Next year, the school plans to offer film studies as a fine arts credit.
"I want to get kids involved in the arts," he said. "I want to recognize these kids because they put so much work into these movies. They deserve to be praised for what they're doing."
Principal Amy Wagner is a strong proponent of the movie awards, as well as the film studies class, which has allowed students a different avenue to express their creativity.
"I definitely think classes like this give kids a reason to come and enjoy school. Not every kid likes math, science or English," she said. "You never know. We might have the next Steven Spielberg come out of Boulder City High School. That's what's cool about it. Not every school offers what we do."
Wagner said she's sat in on Petersen's film studies classes, and the curriculum has helped her to view movies in a different way.
"So much goes into that class. You can't sit down and watch a movie without thinking about those kind of things," she said. "The kids put an amazing amount of work into this, so I'm very excited for this year's awards."
Contact reporter Steven Slivka at sslivka@bouldercityreview.com or at 702-586-9401. Follow @StevenSlivka on Twitter.