Students selected for theater awards program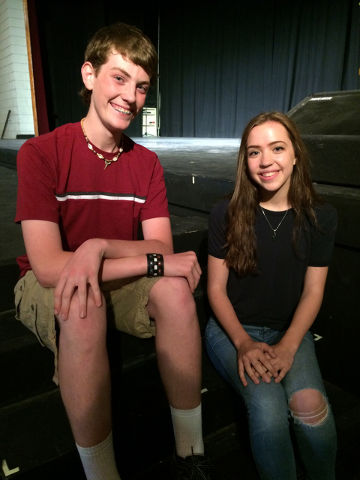 Now that Princess Winnifred has found the love of her life, Prince Dauntless, during Boulder City High School's recent production of "Once Upon a Mattress," the two will set out on a new adventure.
Shannon Gros and Kendrick Marchant, who played the leads in the school's musical, have been selected to participate in the Nevada High School Musical Theater Awards hosted by The Smith Center for the Performing Arts. It is the first time students from BCHS have been selected for the awards program.
They will participate in a musical theater workshop with professional artists and coaches, and perform May 17 in Reynolds Hall at the center, all while competing for a chance to perform on Broadway as part of the national theater awards later this year.
"I don't think it's hit me how nervous I will be," Gros said earlier this week. "I was really excited when I was told that I was chosen, but I don't think I will be nervous until the actual rehearsal."
For Marchant, a freshman who held his first lead role in the musical, the feelings are similar.
"When I first found out, it was like 'Wow, this is really cool' and I was excited. I expect to be real nervous right before (performing)," he said.
The awards program recognizes nominees for best lead actor and best lead actress from this year's high school musical theater productions. They have to be nominated by their school.
Just being a lead performer did not automatically ensure them a spot in the state awards program, said Krysta Phenix, theater teacher at BCHS.
To be selected for the awards, students had to submit an audition tape, video, resume and head shot. According to Sara Gorgon of The Smith Center, they also had to submit an application, which had portions that had to be completed by the school administrators and parents.
"They will have to write an essay and bring it with them," Phenix added.
In all, 22 students from 12 schools will be recognized at the awards program, and all will have the opportunity to sing their solos, Gorgon said.
Gros said she plans to sing "Happily Ever After" while Marchant said he will sing "Man to Man Talk."
"I'm glad to have two super talented students involved," Phenix said.
The nominees will perform in front of a panel of judges, and two students will be selected to represent Nevada at the seventh annual National High School Musical Theater Awards, scheduled for June 29 at the Minskoff Theatre on Broadway in New York City.
The state winners also will participate in an intensive weeklong theater workshop with Broadway veterans.
The awards program's performance is scheduled for 2 p.m. It is open to the public.
Tickets are $10 each and may be purchased by visiting www.thesmithcenter.com.
Hali Bernstein Saylor is editor of the Boulder City Review. She can be reached at hsaylor@bouldercityreview.com or at 702-586-9523. Follow @HalisComment on Twitter.