Stark's life mimics role in musical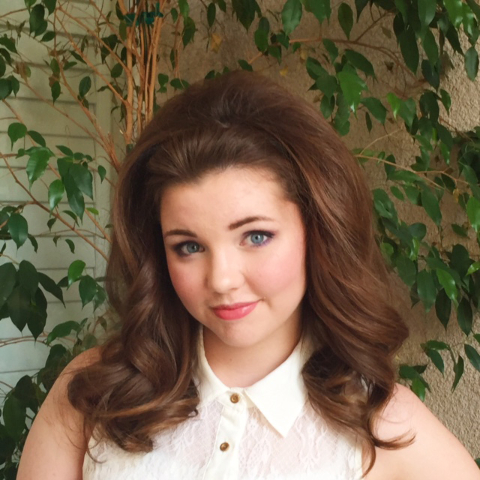 Just like the character she plays in "Bye Bye Birdie," Mary Rose Stark will be spending her summer singing and dancing.
The 16-year-old plays Margie, one of the teens who reside in Sweet Apple, Ohio, in Super Summer Theatre's musical production that opens Wednesday at Spring Mountain Ranch State Park.
The musical tells the story of a rock star, idolized by teens, who travels to a small town in Ohio for a televised farewell performance and to kiss his biggest fan before he is drafted.
Stark said she has been a fan of Super Summer Theatre for several years and has been checking its program of upcoming shows for the past few summers.
When she saw "Bye Bye Birdie" on the schedule for this summer, she said she knew she had to audition.
"It has a lot of teens and I knew the choreographer so it made me a lot less nervous," she said.
Stark has worked with choreographer Greg Kata as part of his competition team and vocal group, On With the Show.
"I have known Mary Rose for many years now, as both a voice and dance teacher," he said. "It is so great to be reunited with her now, more grown up, and in a full production musical at Super Summer Theatre."
Director Troy Heard said Stark was a sure bet for the musical.
"When we decided to do 'Birdie' we knew we wanted a large ensemble of triple-threat teens who'd go gaga over Conrad Birdie — the Justin Bieber of the '50s. Mary Rose showed up at auditions and was a shoo-in for a role. Not only is she a terrific singer and dancer, she has a very period look, like she stepped out of an Annette Funicello movie," he said.
Stark started rehearsing for the show in May, with the cast meeting five or six times a week, usually in the afternoons so she still had time to complete all her homework and class assignments.
Next week, the ensemble moves from its workshop to Spring Mountain Ranch for rehearsals and to become acquainted with the stage.
Although this will be her first musical theater production, Stark said she hopes it is not her last.
"Being in 'Bye Bye Birdie' is a great start to the year and hopefully what I will do for the rest of my life," said Stark, a junior who just added musical theater to her choir major at Las Vegas Academy of the Arts. "It's a great show. It has something for everyone."
Both Kata and Heard said Stark has what it takes to succeed in the business.
"She had a very humble attitude and strong work ethic. I can see her going far in this career," Heard said.
"She is a joy to work with and has a very bright future ahead of her," added Kata.
Calling herself a very "artsy" person, Stark has been singing in choirs and dancing for nearly as long as she can remember.
"Performing is what I've always done."
The daughter of Susan and Duncan Stark of Boulder City said she got her first big break as part of talent show at King Elementary School when she was in fifth grade. It was her first time performing for a crowd.
"I fell in love with being on stage."
She said she has been a fan of musicals since before she started school. She "grew up on" the musical "Cats" and would often mimic her favorite character, Victoria the White Cat.
Stark already has her sights set on two of next year's Super Summer Theatre productions, "Beauty and the Beast" and "Bring It On." She said "Home" from "Beauty and the Beast" is one of her favorite audition pieces. Also, Heard will be directing "Bring It On" and she enjoyed working with him.
After graduating from high school, Stark said she hopes to move to a big city like New York or Chicago where "musical theater is big."
She said her parents are very supportive of her activities, telling her she has a gift that she needs to use.
Stark said she also hopes to convince her father to audition with her for next summer's shows. She said he did musical theater shows when he was younger and living in California.