'Sketchy' art event debuts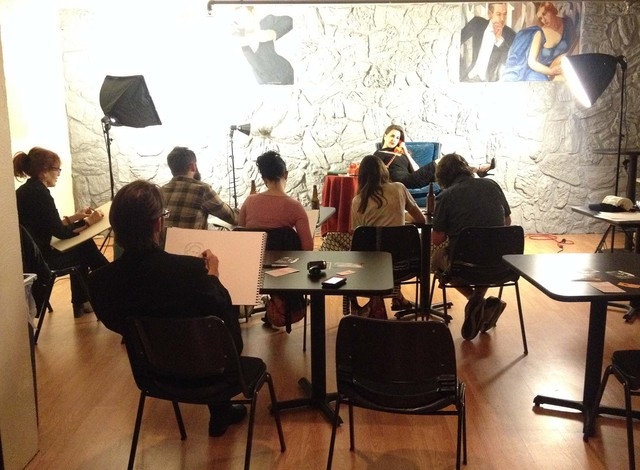 Dressed in all black with long, auburn curls, Aya Fontaine sat deathly still on a blue suede chair as artists did their best to sketch her pose.
As the slow jazz played and the white wine flowed, heads looked up to Fontaine as their pencils scribbled away. Fontaine never moved.
"Five more minutes," Lee Lanier told the guests trying to beat the clock in the hopes of sketching her as she sat static in the chair.
It was Boulder City's Night of Film Noir, a two-hour event inside the Boulder Dam Hotel where people had the opportunity to participate in a live-art exhibit.
Lanier brought the event to Boulder City after doing live-art shows for years in Las Vegas and Los Angeles. The event is part of Dr. Sketchy's Anti-Art School, which was founded in New York City by award-winning artist Molly Crabapple in 2005.
With approximately 130 Dr. Sketchy branches around the world, Lanier decided it was time to bring one to Boulder City to get more people involved in life drawing. He's hopeful the monthly event will draw as big of a crowd as the ones in Las Vegas. About 10 people showed up to the premiere event on May 7.
"It's our first one (in Boulder City), so we really need to get the word out," Lanier said. "The shows in Vegas get about three dozen people."
Fontaine, a burlesque performer who came to Las Vegas from Cleveland five years ago, said the toughest part about performing at events like Night of Film Noir is being able to relax before holding a pose for lengthy periods of time. She has to hold some poses for 20 minutes.
"You have to really think about it before you pose, because you want to make sure you don't pass out," she said. "It's really physically challenging trying to keep a pose for that long."
James Adams sat directly in front of Fontaine as she laid across the blue chair holding a telephone to her left ear. He studied her closely while he tried to master his craft. He's always drawn, but never during an event such as Night of Film Noir.
"This is my first time in a long time doing life art," he said. "But I like it because it's an excuse to draw, and I like the relaxed nature."
For Fontaine, she said she enjoys the environment most of all. After holding several poses for two hours, which included delicately touching the brim of her hat and standing in heels pointing a fake gun, she enjoys seeing the pictures that people draw of her.
Lanier said it was the first time debuting a Dr. Sketchy's event in Boulder City, so he wanted to keep it more reserved than the shows he's put on in Las Vegas and Los Angeles.
Fontaine felt the same way.
"The ones in Vegas we get more naked," she said.
Dr. Sketchy's Anti-Art School will host a different life-drawing event on the first Wednesday of every month inside The Spillway at the Boulder Dam Hotel. Participants must be at least 21 years of age. Tickets are $10 in advance and $15 at the door.
For more information, visit http://www.drsketchy.com/branch/bouldercityNV.