Shakespeare Festival coming to BC library
November 5, 2014 - 2:34 pm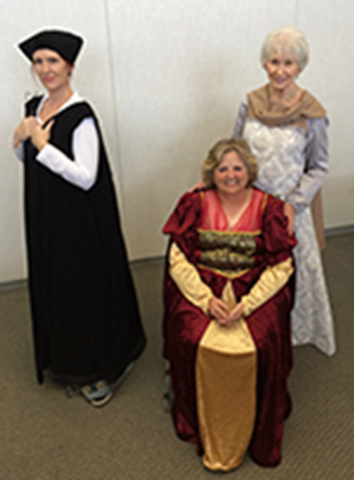 Scenes from some of the Bard of Avon's most notable works will be presented during the "Out Damned Spot!" Shakespeare Festival Saturday at the Boulder City Library.
Sponsored by the Shakespeare Institute of Nevada and Boulder City Library, the festival is the culmination of an eight-week workshop that combined education with performance.
"All the world is stage," said the institute's Artistic Director Dan Decker, referring to one of Shakespeare's most famous quotes, "and now so is the library."
The festival will offer two performances, at 11 a.m. and 2 p.m., at the library, 701 Adams Blvd.
On the program are scenes from "Hamlet," Macbeth," "Othello," "Henry IV," "Romeo and Juliet," "Much Ado About Nothing" and "A Midsummer Night's Dream."
The performers, hailing from Boulder City and the Las Vegas Valley, have spent the past seven weeks learning about William Shakespeare and rehearsing scenes from his more popular plays. They range in age from high school students to retirees. In all there are about 30 people participating in the festival.
Decker said Shakespeare originally wrote his plays for commoners, not the gentility, and he encourages local residents to come to the festival to gain a greater appreciation for his works.
"This play is made up of your friends and neighbors from Boulder City. It is not a touring company," he said.
The excerpts from the plays will be introduced by Decker, who will set the scene making it easier for people to follow what is happening.
"It's not scary or intimidating. This is just us putting on a show and having fun," he said.
Festival sponsors are Boulder City Friends of the Arts, Boulder City Sunrise Rotary, Boulder Dam Credit Union and Copper Mountain Solar.
Admission is free and all are welcome to attend.
For more information, call the library at 702-293-1281.
(Full disclosure: I have been attending the workshop and am in the performance.)
Hali Bernstein Saylor is editor of the Boulder City Review. She can be reached at hsaylor@bouldercityreview.com or at 702-586-9523. Follow @HalisComment on Twitter.