Residents' talents shine during annual show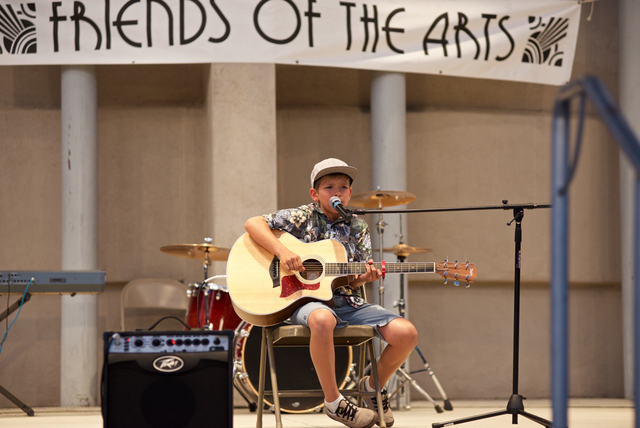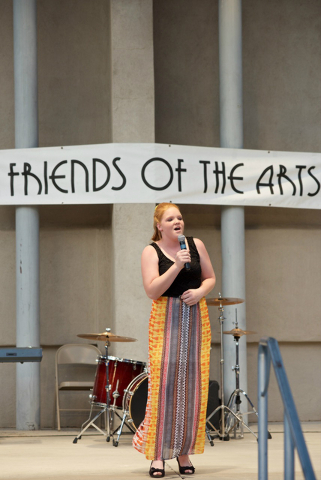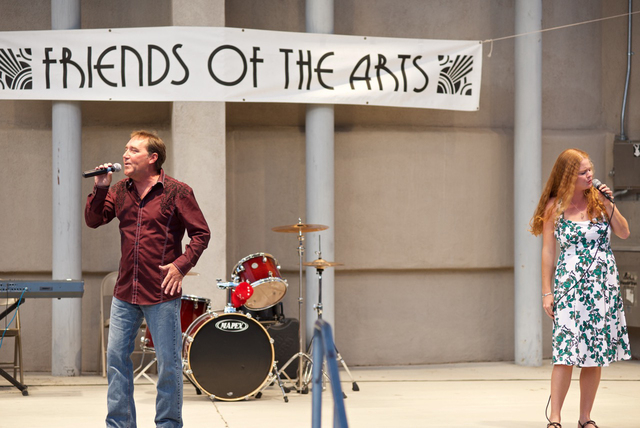 Boulder City's residents are musically inclined. Whether playing an instrument or singing, their talents were showcased Saturday night as the Friends of the Arts presented the sixth annual "BC's Got Talent." But the real winners were the several hundred people who filled the amphitheater at the Boulder City Library to watch the show.
From pop tunes to movie musicals, with a bit of country thrown in for good measure, the performances offered something to appeal to all tastes. Fifteen acts competed in the show, which was rescheduled after a last-minute cancellation in April because of a thunderstorm.
Though there were originally only two age divisions, one for children and one for adults, Boulder Dam Credit Union offered enough prize money to divide the competition into three divisions.
First-, second- and third-place awards were presented to the top finishers in the 10-and-younger, 11-18 and adult-age categories.
Winners in the 10-and-younger division were Lucas Tolman, who played guitar and sang "I'm Yours," first; Kaytlyn Brown, who sang "Somewhere Out There," second; and Makenzi Perkins, who sang "First Time in Forever," third.
In the 11-18 division, The Rose twins, Kannon and Kenny, who sang "Hallelujah," tied for first place with Aimee Finn, who sang "Rolling in the Deep." Second place went to Kendra Bacon, who sang "Everybody Wants to Rule the World" while accompanying herself on the guitar, and third place went to Sarah Merritt, who sang "No One."
In the adult division, Todd Wolter and Ashley Dewolf, who sang "Boondocks," placed first. Matt Brown, who sang "I'll Be," won second place and the Critical Waves, which played "Sweater Weather," won third place.
The first-place winners received $100, while the second- and third-place winners received $75 and $50, respectively. In all, $775 in prize money was awarded.
Not all of the contestants were veteran performers. Aspin Broughton, for example, made her debut as a solo artist singing "Two Black Cadillacs," and Bree Leavitt showed her skill as a pianist, even though she has been playing for just more than two years.
Each performer was judged on their knowledge of the material being performed, their proficiency and how they interacted with the audience.
Serving as judges for the evening were: Phil Esser, a producer; Logan Kanaley, a senior at Boulder City High School; Mary Beth Clift of Boulder Dam Credit Union; Maureen Wheeler of Boulder City Library; and Hali Bernstein Saylor of the Boulder City Review.
As the show's results were calculated, 2014 winners Isabella Levitt and Julia Gomez performed, singing "Tomorrow" and playing the harp, respectively, as did Caleb Alger, who treated the audience to a comical rendition of "Hello Muddah, Hello Faddah." Perhaps even funnier was his interaction with emcee Justin Keogh, who grilled Caleb about the meaning behind each merit badge on the sash that was part of the Boy Scout uniform he was wearing.
Hali Bernstein Saylor is editor of the Boulder City Review. She can be reached at hsaylor@bouldercityreview.com or at 702-586-9523. Follow @HalisComment on Twitter.