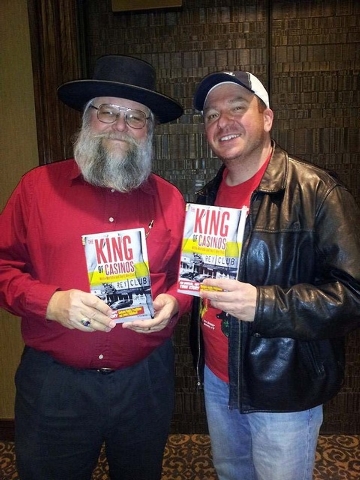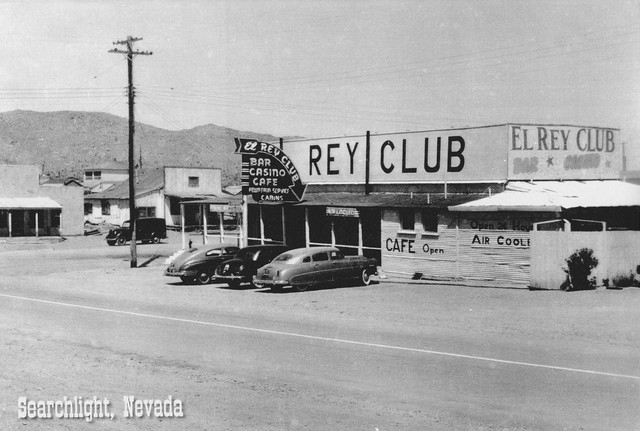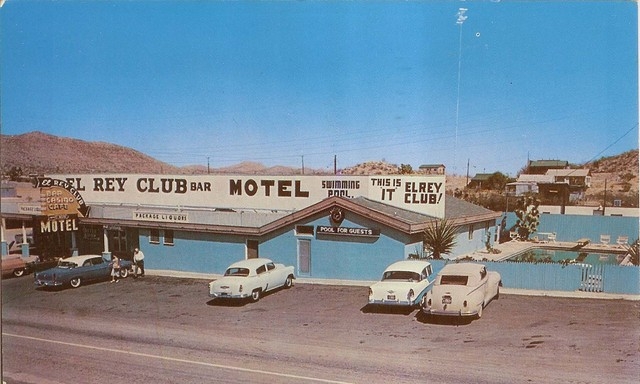 As an entertainer from Chicago who made his way to Las Vegas after he lost his home in a wind storm in 2007, Andy Martello never imagined he'd write a book about a gambling pioneer in Southern Nevada.
Even more surprising was the inspiration he found from that gambling pioneer who shared his last name, and who saved the town of Searchlight from extinction.
"I was meant to write this story," Martello said. "I lucked into the greatest story never told."
It all started when Martello came across an old photo of Willie Martello's El Rey Club and Brothel in a gift shop on Fremont Street. All he could do was stare at the picture.
"At this point the only two words I could see are the words 'Martello' and 'brothel,'" he joked. "I just promised myself that when I got home I would make an effort to see if the place was still open, see if the guy was still alive and maybe collect a poker chip. It was just supposed to be a hobby."
But after eight years of extensive research that included talking to Willie's family members, colleagues and scouring the local archives for information about El Rey Club, Martello knew that he had too much information to just throw away.
His book, "The King of Casinos: Willie Martello and the El Rey Club," which he self-published in January, digs deep into the little-known casino mogul Willie Martello and the effect he and his club had on Southern Nevada from 1947 to 1962.
Martello made it his mission to restore Willie Martello's reputation in his book, a man who he bears no relation to, but admires all the same.
"When he showed up in the '40s after his time in World War II, there were only 50 people in Searchlight," he said. "There was really no reason for anything to happen there. He and his brothers set up shop and opened up this club, and he just had it in his mind that he could make something big and beautiful here."
During his 20-plus year tenure in Searchlight, Willie Martello brought the secluded town an airport, its first pool for guests, messenger pigeons and, at one point, $5 million a year.
"Before he came to Searchlight, it was a place where people really only stopped for gas," Martello said.
The El Rey Club inevitably helped launched the career of Academy Award-winning director Francis Ford Coppola, who directed "The Godfather" trilogy. Coppola shot scenes for his 1962 movie "Tonight for Sure" at the El Rey Club.
Digging into the lost El Rey Club's history helped Martello shed light on just how big a player Willie Martello was during the heyday of gambling and entertainment in Southern Nevada.
In the book, Martello describes an experience where Willie Martello drove to Las Vegas to pay off some mob associates who tried to thwart his El Rey Club because it was hurting their businesses.
"He paid them off, and then slept with one of their wives," he laughed. "But that was just Willie."
Willie Martello also was in business with Warren "Doc" Bayley, the original owner of the Hacienda. The two had plans to turn Searchlight into a Western-themed resort town with golf courses and large hotels, but it never happened. Willie Martello also tried to build a casino near the Railroad Pass in Boulder City, but that too fell through.
Even when the El Rey Club was at its peak, Searchlight didn't have more than a couple hundred people living there. But with nearly every business in town to his name, Willie Martello made sure Searchlight stayed afloat during a time when most people were just passing through.
"It showed what one man can do in what was a very rural location," Clark County Museum Administrator Mark Hall-Patton said. "Searchlight was a small community that was basically hanging on to a history of mining, and it wasn't doing well. There were other small casinos, but none that were as ambitious as his."
Throughout the years, Willie Martello has been a forgotten figure in Southern Nevada history. His life, as well as the club he ran where U.S. Senate Majority Leader Harry Reid learned to swim, have always played second fiddle to the glamorous casinos and personalities of 1940s Las Vegas.
Andy Martello wanted to change that.
"He really is a Paul Bunyan-like tall-tale character," he said. "He was short in stature and big in personality. He lived by his own rules."
After El Rey Club burned down in 1962, Willie tried desperately to start his business again in Searchlight, but a string of events kept him from doing so. Bayley, his business partner and close friend, died in 1965; his airport was shut down by the Clark County Commission because the runway wasn't thick enough to bring in the type of aircraft he wanted; and the talk of a branch off Route 66 that was supposed to run directly through Searchlight inevitably fell through.
"He could've ended up being Howard Hughes or Steve Wynn," Martello said.
Martello is hopeful that today's casino magnates look at Willie Martello, who suffered a fatal heart attack in 1968, as an influence for the success they've had in the gaming industry.
"There's nothing in Searchlight and there's no reason to think you could make something in Searchlight," Martello said. "Every dollar he made, if he didn't gamble it or spend it on women, went back into the town because he wanted to make this dream happen." Martello will sign copies of his book at Lost Vegas Antiques, 625 Las Vegas Blvd. South, in downtown Las Vegas from 11 a.m. to 3 p.m. Saturday.