Haley's music is out of this world
October 22, 2014 - 1:23 pm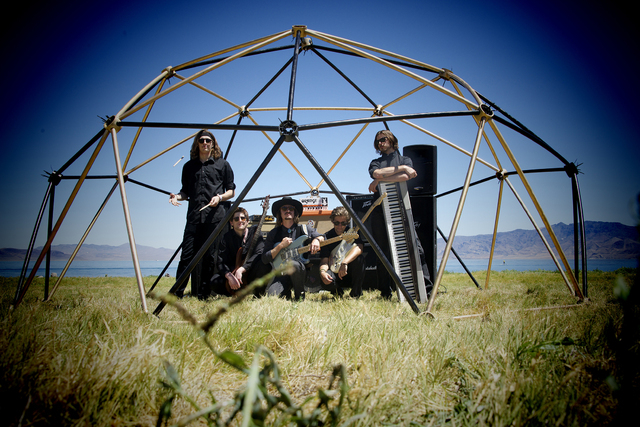 Boulder City High School alumni Zac Haley and his band, Bazooka Zoo, have created a new, groovy genre of music they refer to as "space rock."
Haley is an undergraduate student at University of Nevada, Reno studying wildlife ecology. In addition to being a full-time student, he performs in the psychedelic and hypnotic band Bazooka Zoo.
The band has been entering song writing contests, performing live and recording albums since 2011. In April, Bazooka Zoo released its first professional album, "Satellite Series." The album was produced by Elliot Polokoff in Sacramento, Calif., and the band went on a small tour promoting its music shortly after it was released.
The young artist has been mainly self-produced throughout his early music career, although, Haley said recording in a professional studio gave him a broader understanding of what it takes to create a reputable album.
"Writing, recording and producing my own music has given me ultimate control throughout the years," Haley said, "and has really revealed my musical flaws to me without a big budget or fancy studio to hide my mistakes. It allowed me to be honest with myself about my strengths and weaknesses."
Since the tour in April, the band has been busy perfecting its performance and sound.
"We have been focusing on improving our onstage production with more digital and analog sound effects and a light show that is synced to our music," Haley said.
In addition to performing live shows and constantly creating new sound, Haley is recording what he calls the largest collaboration album in Nevada.
"Right now, I've got 30 artists on this multigenre 'chill-wave' album, and still have plenty more musicians to track down before it is done," Haley said. "I would love to release this album by my graduation this spring."
The Boulder City native moved north to attend school in Reno after graduating from BCHS in 2010.
"Joining the college life up here definitely opened me up to a whole new scene of musicians and recording education," he said.
Haley's wildlife ecology studies take up a major part of his schedule. Between constantly creating new music and focusing on his graduation in May 2015, Haley has found a balance between it all.
"I take my curiosity from science to art, and from art to science," Haley said. "Although it can be tricky balancing so many passions, it is very rewarding and exciting. Everything is connected within music and ecosystems … it is fun to investigate the relationships and co-exist within them."
Upon meeting a fellow classmate JD Christison in 2011, Haley and Christison dove into a new genre of music they named "space rock."
"Bazooka Zoo is a one-of-a-kind collective that's attempting to encompass a unique style of prog (progressive) rock known as space rock," Christison said. "I think this project brings something entirely different and new to today's current music industry … a sound which will hopefully broaden the boundaries of creation."
Haley plays guitar, effects pads and provides vocals, while Christison plays drums and percussion as well as providing vocals. Also in the band are Mac Esposito who plays bass and sings, and Scott Turek, who is provides keyboards, lights and sings. Haley and Turek handle production for the band.
In 2011, Bazooka Zoo began recording several albums and extended plays filled with "mysterious and upbeat grooves."
"We played shows almost every weekend for the year of 2012 and wrote and recorded constantly, trying to hone our sound," Haley said.
Then in December 2013, Bazooka Zoo won Musician of the Year by RAW: Natural Born Artists, an independent arts organization for artists by artists.
Haley said he believes that growing up in Boulder City gave his band the foundation it needed for its future successes.
"Little did I know at the time, BC gave me an awesome opportunity to kick start a passion for a music career," Haley said. "Since there is not a blossoming music scene in BC, it made my efforts in experimental music radically obvious to those around me. … I definitely stuck out like a sore thumb."
Haley's music career started when he was 7 years old taking piano, guitar and saxophone lessons. In high school, Haley performed in talent shows as a solo artist and with a band. In 2010, the senior and his band Mystery Couch won the school's talent show, "which was hilarious for countless reasons," according to Haley. "We were just a bunch of goofy kids in our first band. … We never agreed on a genre or a band name; we just got out there and started jamming. The band name was Mystery Couch for crying out loud!"
Bazooka Zoo will spend the rest of his senior year playing shows across the West Coast and working on a new album, which is set to be recorded in Los Angeles next August.
"Other than that," Haley said, "we are just learning to create the music we want to hear, which is a never-ending journey."
The band plans to make a stop in Haley's hometown after his graduation in the spring.
"Although I haven't booked anything for BC yet, the band's touring quite a bit next year. … Hopefully, I will see everybody then."
Bazooka Zoo has recently released a music video for the song "Evil Genius Hypothesis" from its album "Satellite Series." The video and additional history of the band can be found at www.bazooka zoomusic.com.