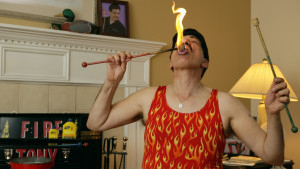 Although far removed from the bright lights of Hollywood, normally quiet Boulder City becomes a busy hub for filmmakers each February as hundreds of short films are screened during the annual Dam Short Film Festival.
"I've been to a lot of film festivals over the last few years and I can honestly say that Dam Short is hands down one of my favorites," said filmmaker William Stribling, whose comedy/mockumentary "Down in Flames: The True Story of Tony 'Volcano' Valenci" will be among those screened.
It tells the story of a fire-eater nicknamed "Volcano" and his many attempts to set a world record. After a bunch of hilarious failures, he cooks up an idea to try to be the first man to blow fire while skydiving,
"Down in Flames" is one of more than 100 short films that will be shown during the 11th annual Dam Short Film Festival, which opens Wednesday and runs through Feb. 7.
Stribling said he first heard about the festival a few years ago when he was submitting his New York University thesis film, "Beyond Belief." He said the festival's reputation first attracted him, and its proximity to his home in Los Angeles keeps him coming back.
"Beyond Belief" won the audience award in 2013 as best student film.
"I love Boulder City, so it was a no-brainer to submit my newest film 'Down in Flames,' if only just as an excuse to come back to the festival and eat another pork chili verde omelet at the Coffee Cup," he said.
Lee Lanier, who co-founded the festival with his wife, Anita, said the festival brings arts from around the world to Boulder City and puts the films in front of an "appreciative audience."
"Our 11th year is full of great films," he said.
In all, 141 films from around the globe will be screened in 21 themed programs at the downtown Boulder Theatre. Each program block will feature four to eight films, with most blocks lasting one hour, followed by a question and answer session with filmmakers.
"The program blocks depend on what kind of films come in," festival director John LaBonney said. "We take great care to curate them into program blocks with a theme. Somehow they come together."
"This year is a strong year," Lanier said about the entries. "They came from all over the country. If anything, it is hard to decide which ones to put in. We cannot program them all."
The short films, which must be 40 minutes or less, are submitted in seven categories: animation, comedy, drama, documentary, Nevada filmmaker, sci-fi/horror and student. This year, festival organizers also added a block of films that defy being categorized, LaBonney said. Films in the "Not Like the Others" will be shown from 7:45-8:45 p.m. Thursday.
As with years past, there is a showcase for Nevada filmmakers, which is scheduled for 7:30 p.m. Feb. 6.
"I can assure festival-goers that if they come to any screenings at (the festival) this year they won't be disappointed. These guys know how to put on a festival," Stribling said.
Filmmaker Eric West is making his ninth consecutive appearance at the festival with this year's entry, the animated film "Inappropriate Jeff."
"I make films for fun as a hobby but I do enjoy watching my films with people," he said. "Their reactions are very enjoyable to listen to."
"Inappropriate Jeff" is based on "some very odd" situations he encountered at work. "I mixed them up and made a story out of them," West said.
He said he worked on the film for about two months.
The festival, which ran five days during last year's 10th anniversary celebration, returns to its four-day format this year, LaBonney said.
"The four-day schedule works best for the festival and for Boulder City," he said.
LaBonney said they want to make sure the festival is sustainable for the long term.
Both Lanier and LaBonney expressed their sadness after hearing about the death of Amy Arnaz, who owned the theater along with her husband, Desi Arnaz Jr. They said it is their hope to continue the festival at the theater for many more years.
West praised the festival's staff for its friendliness and making him feel welcome. He said he will be at the festival every day and invites people to say hello.
"I don't bite," he jested.
Stribling also said he enjoys meeting those who watch his films
"We loving meeting the audience and talking about the film. And I've heard rumors of some live fire-eating demonstrations. … So definitely a screening not-to-be-missed. I'm excited to share it with the audience at Dam. I can assure them it's unlike anything they've ever seen."
In addition to the film screenings, the festival includes a filmmaker meet-and-greet, mixer and awards ceremony, and a party. The mixer is open to the public, while anyone with a season pass or ticket stub can attend the meet-and-greet session or awards ceremony.
Tickets are $9 per program and may be purchased at the door or in advance online. Four-day passes, which are good for all screenings and events, are $100.
The theater is at 1225 Arizona St.
Additional information is available at www.damshortfilm.org.
Hali Bernstein Saylor is editor of the Boulder City Review. She can be reached at hsaylor@bouldercityreview.com or at 702-586-9523. Follow @HalisComment on Twitter.