Dam Short Film Festival surpasses organizers' expectations
February 17, 2016 - 3:38 pm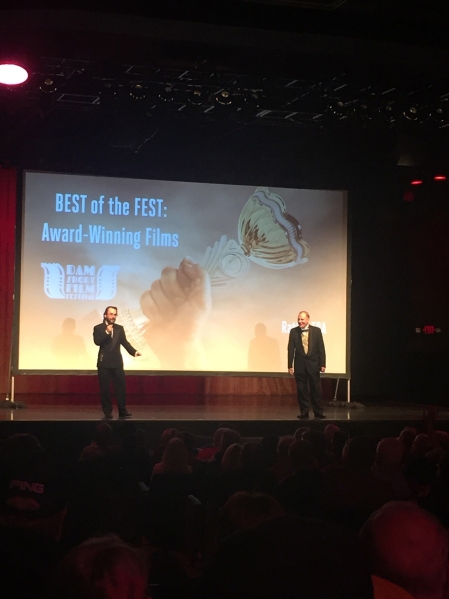 For the first time in its 12-year history, the Dam Short Film Festival sold out the Boulder Theatre on Saturday night during its Best of the Fest awards show.
According to festival director John Labonney, the event turned out better than anyone had expected.
"It takes an entire year to put on a festival. This one in particular was one of the hardest ones because we had so many submissions," Labonney said. "In previous years we accepted about 500 submissions. This year we had over 800 films submitted to the film festival."
In total, 129 films were shown, in genres such as drama, romance, comedy, animation, science fiction and horror. Films were shown from noon to 9 p.m. in about hourlong blocks.
Forty film crews from across the world turned out to watch their shorts and to support other filmmakers.
Michael Evans, who won the Final Draft Best Screenplay for his horror film "Trivia Night," said the festival was very positive and gave him a platform to showcase a film he has been working on since October 2014.
"The fact that the whole festival is short films really speaks to me because that is all that I've done so far," Evans said. "This is the first time I've been to Boulder City and I found it to be a very charming town. I instantly fell in love with it."
Evan's film centers on a game show called "Trivia Night!" that calls its unsuspecting contestant Susan and begins to ask her a series of three questions. If she answers any of those trivia questions wrong, she dies.
Evans, who acknowledges that he has been a huge fan of horror movies with "bleak endings," originally created the idea of having a radio show instead of a game show. After sitting down with Tom Peck, who plays the host of "Trivia Night!" and refining his idea, they came up with what was ultimately shown to viewers at the Dam Short Film Festival.
"I am planning to come back next year for sure," Evans said.
After each program block, audience members were given tokens to vote for which film they thought was the best. Awards for the best from each category as well as the Best of the Fest were determined by the film that received the highest percentage of tokens during its screening.
Clinton Cornwell, director of the romantic/comedy "Kiss and Tell" found that the best inspiration for his short came out of real-life experiences.
"I went on a lot of online dates," Cornwell said jokingly. "I went on about 40 online dates in a year. I asked to kiss some girls sometimes. Sometimes it worked out, sometimes it didn't. The awkwardness of that inspired 'Kiss and Tell.' "
According to Labonney, the festival committee is meeting next week in order to prepare for next year's Dam Short Film Festival.
"We want to take care of filmmakers and give them audience," Labonney said. "That's the one thing they have difficulty doing for themselves. It's real easy for them to put their movie online, but there's nothing like making it play in front of an audience."
Contact reporter Juan Diego Pergentili at jpergentili@bouldercityreview.com or at 702-586-9401. Follow him on Twitter @jdpbcreview.