Dam Short Film Festival draws rave reviews
February 11, 2015 - 1:47 pm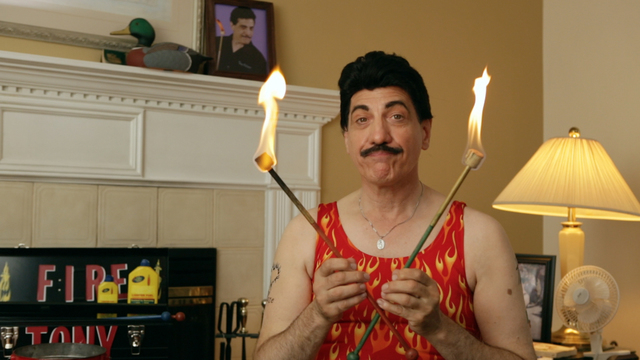 A packed theater brought the 11th annual Dam Short Film Festival to a close Saturday night, with rave reviews from filmmakers and festivalgoers alike.
Lee Lanier, festival co-founder, said this year's festival at the Boulder Theatre was a good showing, both in participation by filmmakers and attendance at screenings.
"The films were well-received and we're happy for that," he said.
In all, 114 films were shown in 21 program blocks representing eight categories.
Representatives from about 30 film crews attended the festival, including one from England, according to Lanier.
William Stribling, who won the Best of the Fest award for his film "Down in Flames: The True Story of Tony 'Volcano' Valenci," said he was surprised by the quality films submitted and proud of the honor, the first one he has received that was selected by audience members.
"It was most gratifying," he said.
Audience members were given chips after each program block and voted for their favorites. Awards for the best from each category as well as the Best of the Fest were determined by the film that received the highest percentage of chips during its screening.
"In my opinion, this was our best screening at a festival," Stribling said, adding the Dam Short Film Festival is his favorite by far. "This kind of movie is all about the audience."
Stribling has shown the film at other festivals, including in Los Angeles; New York; Louisville, Ky; Portland, Ore; and Hawaii.
George Pond, producer of the Sci-Fi/Horror entry "Remora," said he was invited to submit his film after meeting one of the festival's board members at a film festival Palm Springs, Calif.
The North Carolina native who now lives in Los Angeles said he received a postcard from John LaBonney, festival director, letting him know his film was selected and would be screened.
That personal attention is what brought him to Boulder City, his first time attending the festival.
"It's important to support local films and local communities," he said.
Pond added that the caliber of submissions also is a draw for filmmakers.
"The quality across the board is fantastic," he said, adding it was nice to have the opportunity to speak with other filmmakers about their work in such an intimate setting.
John Necco of New Jersey, who is spending the winter in Las Vegas, came to the festival with his wife and father-in-law, who accidentally discovered it last year and were adamant about returning this year.
After viewing just a few blocks of films, Necco, who had a four-day pass, said he was looking forward to seeing more, especially those in the Sci-Fi/Horror block.
He said he really enjoys the atmosphere of the festival and town.
"It was exciting, fun, full of interesting people and great movies! The festival is perfect for this small artsy town where filmmakers, after viewing a block of films, can walk from the 1930s historic Boulder Theatre to the filmmakers lounge at the historic Boulder Dam Hotel to local restaurants and then saunter up to their room at the end of the evening," said Leslie Paige, a member of the festival's board of directors.
She said the participation from filmmakers, festivalgoers and sponsors was great and she appreciated everyone's support to make the event a success.
Lanier said plans for next year's festival are underway.
Hali Bernstein Saylor is editor of the Boulder City Review. She can be reached at hsaylor@bouldercityreview.com or at 702-586-9523. Follow @HalisComment on Twitter.