Chautauqua brings 'Shapers of Modern America' to BC
August 29, 2018 - 4:24 pm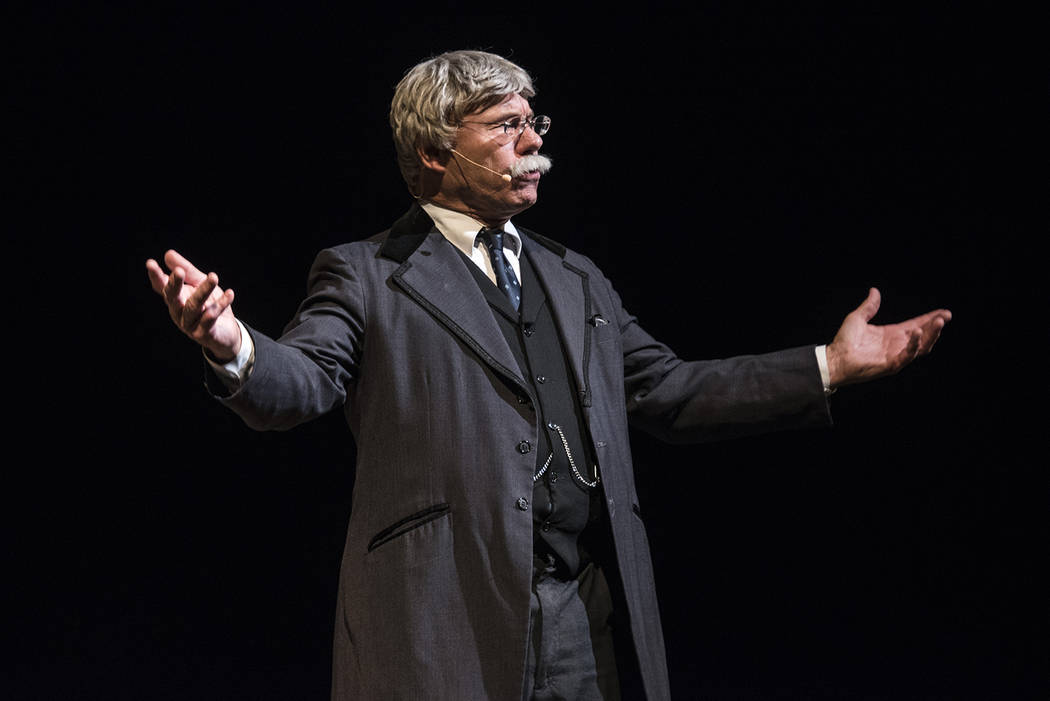 America in the early 1900s was a nation in the midst of changes. The country was continuing to expand and add states. Transportation was evolving as Henry Ford introduced his Model T and the Wright brothers took their first flight. Geopolitical maneuvering ultimately resulted in the start of World War I.
It was during these years that friends President Theodore Roosevelt and Gen. John J. Pershing made their marks.
Area residents can learn more about the two historical figures when Boulder City Chautauqua presents "Shapers of Modern America" on Sept. 15 at the historic Boulder Theatre. Chautauqua scholar Doug Mishler will bring both men to life, Pershing at 1:30 p.m. and Roosevelt at 6:30 p.m.
Mishler said through Pershing and Roosevelt he will talk about World War I and what it meant to American society and culture, as well as how it changed the nation and introduced modern developments.
Pershing offers "quite a view of World War I from a military standpoint, with a little bit of politics. Theodore will talk more about the (war's) context and American involvement in that," Mishler said.
The challenge in presenting Pershing's life was getting into his military mindset, Mishler said.
"He is much more about the battle than himself. He had an amazing career — fought Indians in the Plains War, fought in the Philippine-American War, chased Pancho Villa across Mexico and then led all the troops in Europe during the First World War."
Mishler said he was distant in a way. "Most of my characters have a strong emotional center, but because he's a soldier he has to keep his emotions locked away."
To help bring Pershing to life and make him more relatable for Chautauqua audiences, Mishler said he incorporates stories and things he wrote in letters to his wife to get a "more complete measure of the man … the things he faced in the field and how he felt about them."
He has been portraying Pershing for about two years.
Roosevelt, on the other hand, is like a second skin to him.
"I do him so much he has become so much a part of my character, personally, as well," he said.
Mishler said Roosevelt — or Theodore, as he calls him — was his second character, though it took him a couple of years to get ready because he's so complex.
Roosevelt also is one of the characters that completely takes over and inhabits his entire being, Mishler said. "He takes me where he wants to go."
Mishler called Roosevelt, the nation's 26th president, a mythical figure in American history.
"People really like Theodore Roosevelt. He is such a larger-than-life character … even if his policies don't align with their political point of view … people like him."
One of the stories Mishler will bring to light is a fight Roosevelt had with Woodrow Wilson, whom he ran against in the 1912 presidential election.
Mishler is a frequent visitor to Boulder City, having portrayed journalist Ernie Pyle last year. In 2015, he appeared as both P.T. Barnum and Jack Warner, and the year before he portrayed Henry Ford.
"I love coming down there," he said of his frequent Boulder City Chautauqua appearances. "I love the community feel of it. I love being in the theater. The people are great. The conversations are great."
Sara Weber, who serves on the local Chautauqua's board, said Mishler is good at what he does and enthralls his audiences, which is one of the reasons the group continues to bring him back. She said the group hopes his performance as Theodore Roosevelt will attract a larger audience to the evening event.
Michael Green, an associate professor of history at UNLV, will serve as moderator, while Charlie Shaffer will provide a musical prelude on piano.
Tickets are $15 per performance. They can be purchased by sending a check or money order to Boulder City Chautauqua, P.O. Box 61994, Boulder City, NV 89006, or by visiting Ace Hardware, 541 Nevada Way; Boulder Dam Hotel, 1305 Arizona St.; or the Boulder City Chamber of Commerce, 465 Nevada Way. Advance purchase is recommended.
For additional information, call 702-293-7853 or visit www.bcchautauqua.org.
Hali Bernstein Saylor is editor of the Boulder City Review. She can be reached at hsaylor@bouldercityreview.com or at 702-586-9523. Follow @HalisComment on Twitter.
If you go
What: Boulder City Chautauqua presents "Shapers of Modern America"
When: 1:30 and 6:30 p.m. Saturday, Sept. 15
Where: Boulder Theatre, 1225 Arizona St.
Cost: $15 per show
Info: 702-293-7853 or www.bcchautauqua.org