Chautauqua brings inventors Edison, Ford to life at theater
September 9, 2015 - 4:25 pm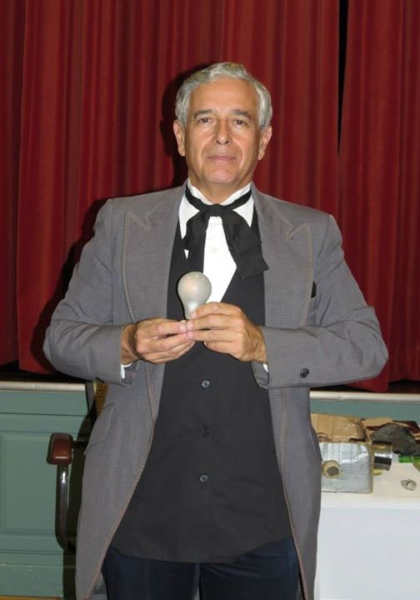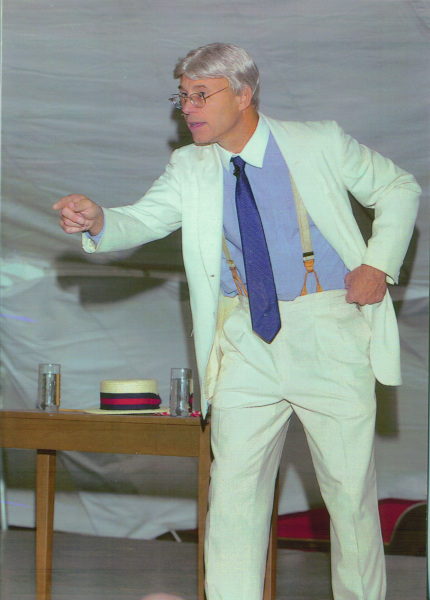 Area residents will get a firsthand look into the lives of Thomas Edison and Henry Ford as Boulder City Chautauqua brings "Inventors and Inventions, Edison and Ford: Makers of Modern Life" to the historic Boulder City Theatre.
The living history presentations return Sept. 19 after a two-year absence.
"People have missed it," said Sara Weber, president of Boulder City Chautauqua.
"It's a very unique event. It's educational. It's entertainment," added board member Barbara Adams.
Weber said the letters they have received from ticket buyers who are glad to see Chautauqua returning to Boulder City "makes it (the hard work organizing the event) worthwhile."
Chautauqua scholars Peter Small and Doug Mishler will perform as Edison and Ford, respectively.
"Their personalities are perfect for who they are," Weber said.
Small's performance will be at 1:30 p.m., while Mishler will appear at 6:30 p.m. Both performances are expected to last about two hours.
John L. Smith, a columnist for the Boulder City Review and Las Vegas Review-Journal, will serve as moderator. Charlie Shaffer will provide period-appropriate piano accompaniment.
According to Weber, two question-and-answer sessions follow each performance, one during which the scholar-actor answers questions as the character he performs as and the other as the scholar-actor himself.
Small has been performing as Edison for more than 10 years, having been the presenter at Knott's Berry Farm's Thomas Edison Workshop in California as well as appearing at the Thomas Edison Festival in Port Huron, Mich. As a social studies teacher, he offered his students costumed presentation, appearing as numerous historical figures ranging from George Washington to Harry Truman.
He is currently an adjunct instructor for the Older Adults Program at North Orange County Community College District.
Additionally, Small has been a performing artist with The Performing Tree of Los Angeles and has performed at the Ronald Reagan, Herbert Hoover, Richard Nixon and George Bush presidential libraries.
Mishler has been bringing historical figures to life for more than 20 years. He has appeared as Theodore Roosevelt, Gen. Stonewall Jackson, Ernie Pyle, Jack Warner and D.W. Griffith, among others. His first character was P.T. Barnum.
In addition to his scholastic presentations for Chautauqua, Mishler teaches American History at the University of Nevada, Reno, and directs and acts in plays.
Small will be making his first appearance in Boulder City, while Mishler was here in 1997 as Andrew Carnegie.
Weber and Adams said 1997 was the first year Chautauqua was presented in Boulder City. The performances were offered in a tent in the park, much like the early Chautauquas in the 1870s who traveled the country.
Adams said committee members were responsible for setting up all the chairs and sound equipment.
"It was really challenging," she said. "It presented a great atmosphere, but it was a lot of work."
After Amy and Desi Arnaz Jr. opened the Boulder City Theatre to the group, it continued to grow and gain favor among audiences, she said.
"I think it is part of being in Boulder City and adds to the cultural environment," Adams said. "It's a community event, but we do have people come from outside of Boulder City, and also come from out of state. There are a lot of people who come here just for this."
Weber said this year's performance will be bittersweet as those affiliated with the program miss Amy Arnaz, who died in January and played an integral part in organizing the event.
"For me, it will be a little sad because I love Amy. She was a calming force," Weber said noting that Arnaz was responsible for the group obtaining its own nonprofit status and breaking away from the auspices of the Boulder City Museum and Historical Association.
Tickets are $15 each per performance. They are available at Ace Shopper Stopper, 541 Nevada Way, Boulder Dam Hotel, 1305 Arizona St., and the Boulder City Chamber of Commerce, 465 Nevada Way. Although advance purchase is recommended, tickets are expected to be available at the door.
She said there also is a limited number of tickets available for those who cannot afford to purchase one.
The theater is at 1225 Arizona St.
A special reception with the performer scholars for Chautauqua donors will be held Sept. 18.
For additional information, call 702-293-0833 or 702-293-7688, or visit www.bcchautauqua.org.
Hali Bernstein Saylor is editor of the Boulder City Review. She can be reached at hsaylor@bouldercityreview.com or at 702-586-9523. Follow @HalisComment on Twitter.