February 13, 2014 - 5:16 am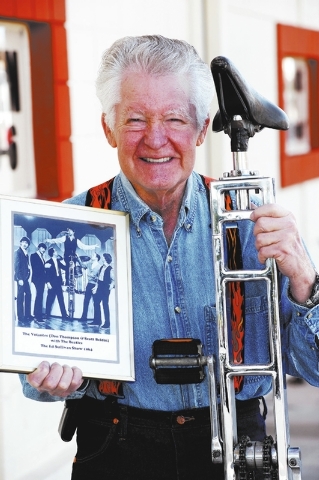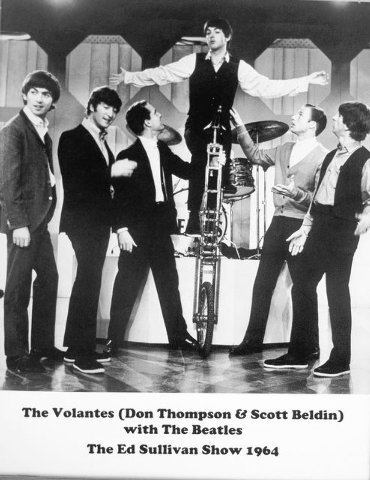 Last week, local glassblower Don Thompson, also known as "Crystal Wizard," sat at his workstation in Boulder City Antique Market, conversing casually with tourists who had no idea that 50 years ago he was hanging out with The Beatles.
For most of his life, Thompson, 76, was half of a unicycle-riding comedy duo called The Volantes. And on Feb. 16, 1964, thanks to what Thompson said was "a good manager," The Volantes found themselves booked to perform on "The Ed Sullivan Show" in Miami Beach, Fla.
Also on the show was a certain young English rock 'n' roll band, scheduled for its second American television performance. The Fab Four's first American appearance, also on "The Ed Sullivan Show" but filmed in New York City, was a week earlier on Feb. 9, 1964.
"They were just guys who came over from England," Thompson said. "They had manners. They were the nicest guys you could meet."
Thompson said at the time he preferred crooners to rock 'n' roll bands and was not familiar with The Beatles.
"I didn't know what it was," he said.
However, Thompson said he was impressed by the performance.
"I loved their music," he said. "The music was something you could dance to."
The Beatles played "She Loves You," "This Boy" and "All My Loving."
The band later returned to perform "I Saw Her Standing There," "From Me to You" and "I Want to Hold Your Hand."
Thompson's act was scheduled to follow the legendary performance, something Thompson said was "no big deal" to him.
The Volantes performed for the studio audience, but unfortunately the act did not make the television broadcast, Thompson said, because The Beatles played longer than they were initially scheduled.
"We never got on TV," Thompson said. "The Beatles were the most important."
Although Thompson's mother was upset, he said he didn't mind being cut from the broadcast.
"It was just a nice thing to be on the show," he said. "We met a lot of nice people."
The official Ed Sullivan website does not mention The Volantes' appearance on that historical day, only listing the other acts as Allen and Rossi, singer/dancer Mitzi Gaynor, acrobats The Nerveless Knocks and monologist Myron Cohen.
But Thompson has proof.
After the taping, Paul McCartney asked Thompson if he could have his picture taken on Thompson's unicycle.
"He just wanted a picture of himself to show his friends in England," Thompson said.
The photo shows McCartney perched on the unicycle, held upright by Thompson and his partner, Scott Beldin. John Lennon, George Harrison and Ringo Starr crowded around.
Thompson said he doesn't remember who took the photo and he doesn't think McCartney ever even saw it. But if he ever gets a chance, Thompson said he'll show it to him.
"If I see Paul, if he's playing in one of those joints in Vegas, I'm going to take that photo and show it to him. And he'll die," Thompson said.
Thompson, however, doesn't make too much of his unusual place in history.
"It's just a memory I have, and I have a lot of fun with it," he said.