April 22, 2015 - 12:26 pm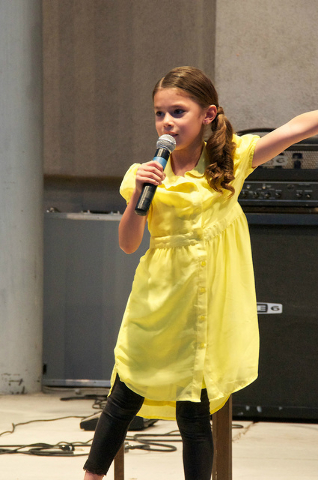 Boulder City's Got Talent returns Saturday evening as performers take the stage to show off their musical skills.
The sixth annual event begins at 7 p.m. at the outside amphitheater at the Boulder City Library, 701 Adams Blvd. Admission is free.
The performances are broken down into two age groups: 16 and younger, and 17 and older.
Five judges will be on hand to critique the 17 performances, which include dancers, singers and guitar players. Last year's winners also will perform after this year's acts come to a close.
Isabella Leavitt and Julia Gomez tied for first place in the child division. Leavitt sang "When Will My Life Begin" from Disney's "Tangled," while Gomez serenaded the crowd as she played "La Siciliana" on the harp.
In the youth division, which has been eliminated this year, brothers Charles and Caleb Alger took home first place for their version of "Cancan." The two took turns playing the song in different keys on the piano as well as playing simultaneously. Then, they turned to face the audience, continued playing the song and danced the cancan.
The adult division winners were David Nilsen and Jordan Honey, who offered a unique version of "Under the Sea" from Disney's classic animated film "The Little Mermaid."
According to Justin Keogh, who serves as the show's emcee, about 25 performers auditioned for a spot, but only 17 made the cut.
Judges will be local producer Phil Essex; Boulder City High School student Logan Kanaley; Boulder City Revew editor Hali Bernstein Saylor; and Maureen Wheeler and Tina Barber of the Boulder Dam Credit Union.
Contact reporter Steven Slivka at sslivka@bouldercityreview.com or at 702-586-9401. Follow @StevenSlivka on Twitter.