Zombies return to town for annual charity walk
October 12, 2016 - 1:51 pm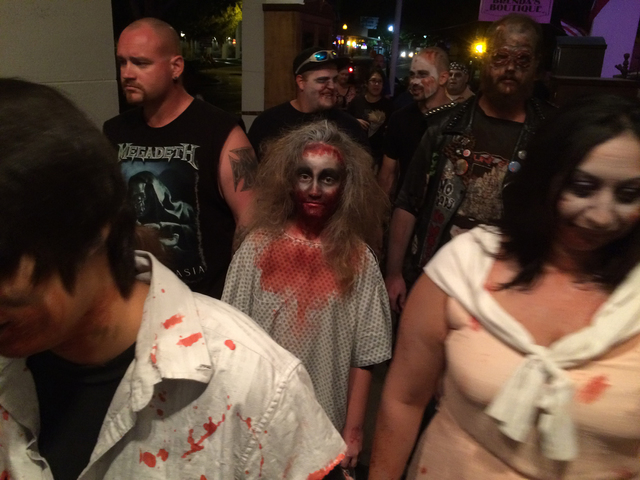 The dead will rise at 7 p.m. Saturday as Boulder City residents dress up in their best undead attire for the sixth annual Zombie Walk.
Participants will be able to enjoy a night of flesh-eating fun as this year's walk will feature four bands, a raffle and prizes for the best zombie costumes. The walk starts and ends at Boulder City Brewing Co., 453 Nevada Way.
The cost to participate in the event is $5, with profits from the entrance fees and raffle tickets going to Heaven Can Wait Animal Society, a nonprofit group in Las Vegas that specializes in preventing pet overpopulation.
The event is for all ages and, according to the event's organizer, Todd Cook, the least likely people tend to win prizes for the best costume.
"Last year an older woman and a boy that was no younger than 6 won the best zombie award and they looked awesome," Cook said.
The four bands participating in the living dead celebration are Water Landing, Incarnate, The Legendary Boilermakers and Joni's Agenda.
Cook, owner of Boulder City Brewing Co., also has been fermenting a large batch of his green sangria, aptly named "Zombie Juice."
Walkers are encouraged to come in full zombie garb, but some makeup artists will be on hand to help people who want to put on some last decaying touches to their outfits.
"Everyone always has a lot of fun," Cook said. "It is just a bunch of undead people having a party for a good cause."
Zombie Squad, a group that specializes in zombie survival tactics, is helping out with the walk. Cook who is a member of the group, said that they are the best at surviving a zombie outbreak, but when one isn't around they give money to charity.
Contact reporter Max Lancaster at mlancaster@bouldercityreview.com or at 702-586-9401. Follow him on Twitter @MLancasterBCR.