Young artist returns to guild's annual festival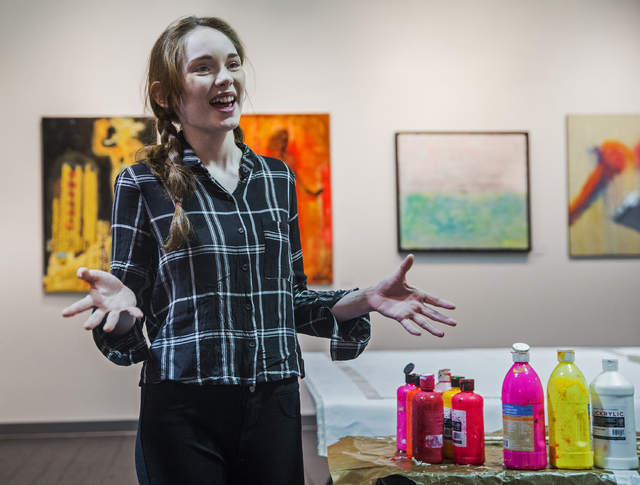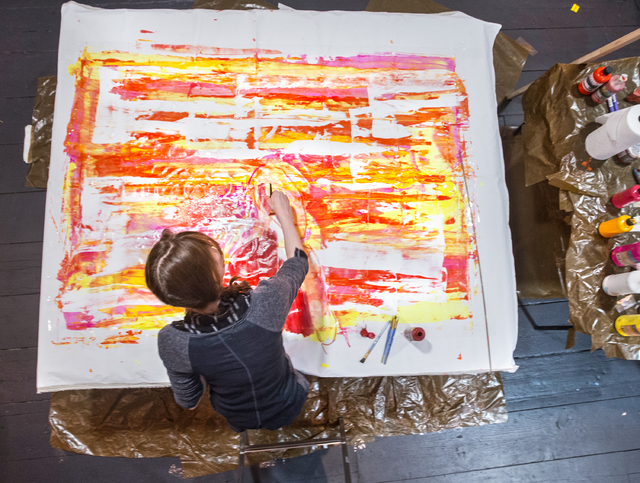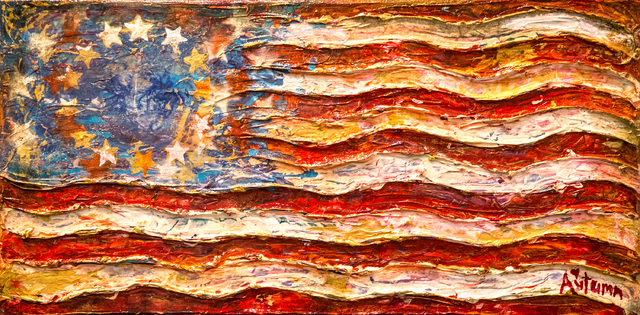 Art for and created by people of all ages will highlight the Spring ArtFest presented by the Boulder City Art Guild this weekend.
Special guest for the festival will be Autumn de Forest of Las Vegas, a 15-year-old who got her start at the Boulder City event when she was 6.
"It's just an honor to be able to come back to the first place where I debuted my paintings eight years ago," de Forest said.
Since that time, she has sold millions of dollars worth of her paintings, established a foundation to help other young artists succeed and gained international recognition, including a 2015 trip to Rome when she accepted the International Giuseppe Sciacca Award for Painting and Art — and presented a painting, titled "Resurrection," to Pope Francis.
De Forest said she was just 5 when she began painting. Her father was in the garage staining some wood, and she asked if she could "mess around."
"My dad saw it and said it looked like a Rothko," she said.
At that time, she didn't know much about abstract artist Mark Rothko, though he is now one of many who influence her works.
The following spring, she asked her father, Doug de Forest, to enter her works in the guild's art festival. They set up a big white tent, and when people came to view the pieces, they thought he was the artist "and it was take your daughter to work day," she said.
Transformation
It didn't take long for her to begin answering questions about the work, and then realizing that painting itself was just part of her passion.
"After that weekend at the art fair, I really wasn't the same person. It made me for the better … from a shy little artist to someone who shares stories," she said. "Since then, each one of my paintings has a narrative or story."
Receiving an honorable mention award for her work at the art festival inspired her to continue her work. That, in turn, has prompted her to start a nonprofit foundation to encourage and empower other children to pursue their passions.
"Whatever you love, you can do it, too. Whether it is painting, drawing, basketball or dancing, focus on how much you love it," she said.
De Forest, who has been called a child prodigy, has several well-known artists in her lineage, though she didn't learn about them until she was about 10 years old. Her ancestors include painters Roy de Forest (1930-2007), Lockwood de Forest (1850-1932) and George de Forest Brush (1855-1941).
"The correlation is fascinating, but (becoming an artist) was not predestined."
Style evolution
Since her first abstract work, de Forest's style has evolved and flows with her moods and inspirations.
"If I limit myself to one style, that won't let me grow as an artist. There are thousands of styles, a lot I haven't even discovered yet."
The daughter of Doug and Katherine de Forest, Autumn said that, apart from her painting and charitable work, she is a typical teenager who enjoys spending time with friends, going to the mall and watching movies.
Doug de Forest said they aren't sure how many of Autumn's paintings will be shown at the festival, as they are waiting for many to be returned from an exhibit in Chicago. However, she plans to spend time meeting people, especially other youths.
Diana Meyer, show coordinator for the Boulder City Art Guild, said she is thrilled to be able to bring de Forest back to the art festival.
In addition to showcasing the work of de Forest, Meyer is inviting any child up to 17 years old who wants to display their works at the festival to call her at 702-280-3985.
"There is no charge; I really want to get kids involved," she said.
Hands-on activities
Also, Meyer said there will be a variety of hands-on activities for children, including a booth presented by Discovery Children's Museum and the opportunity for kids to decorate small pottery "spinner" bowls that were made at the Boulder City Art Center.
The festival will feature the works of more than 75 artists from Nevada, California, Arizona, Utah, Colorado and New Mexico. They will display fine art, pottery, photography, metal sculpture and jewelry.
In addition to showcasing fine art, the festival will include entertainment by the Dapper Dudes Barbershop Quartet, and performances by Dance Etc.
The event also includes a drawing for pieces of art donated by festival participants. Proceeds from the sale of tickets benefits the guild's scholarship fund.
Food will be available from several vendors, featuring items such as barbecue, Asian dishes, sausages and hot dogs, pastries and frozen yogurt.
Meyer, who has been coordinating the show for roughly nine years, said she expects about 5,000 people to attend.
The 32nd annual festival will be held Saturday and Sunday in Bicentennial Park, 999 Colorado St.
For more information, visit www.bouldercityartguild.com.
Hali Bernstein Saylor is editor of the Boulder City Review. She can be reached at hsaylor@bouldercityreview.com or at 702-586-9523. Follow @HalisComment on Twitter.
If you go
■ What: 32nd annual Spring ArtFest
■ Where: Bicentennial Park, 999 Colorado St.
■ When: 10 a.m.-5 p.m. Saturday, 10 a.m.-4 p.m. Sunday
■ Cost: Free
■ Info: 702-293-2138 or www.bouldercityartguild.com