Western, Mexican Center owners treat customers like family
September 16, 2015 - 2:33 pm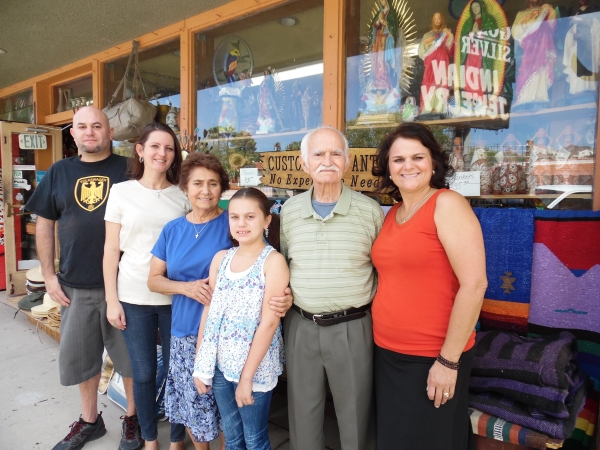 When people come to visit the Western and Mexican Center in Boulder City, the owners treat them like family.
"We want people to come and feel at home when they come in. We want their visit to be a good experience," said Petra Gomez, who has been running the store with her husband, Ramiro, for the past 50 years.
In fact, everything about the store is a family affair.
From the store's early days when Petra brought her children in a baby basket to work with her so she could keep a watchful eye on them to the grandchildren that now help keep the shelves stocked and customers happy, the Western and Mexican Center has been family-oriented.
"I had my youngest son in a basket on the counter, and people would come in and say, 'I'll take this basket,' " Petra Gomez said.
The Gomezes' seven children — Ramiro, Angel, Adolfo, Pablo, Antonia, Angelica and Rosendo — were raised in the store, followed by their 19 grandchildren and now four great-grandchildren.
It wasn't uncommon to find a playpen behind the counter, said daughter Angelica Moorhead, who now helps run the store with her parents, brother Rosendo and sister-in-law Katrina Elreth.
"They came out of the womb working," added Petra Gomez with a huge smile and a wink.
And they treat their customers like family, too.
"I have friends all over the world," Petra Gomez said. "It makes me feel good."
They often receive cards, letters and photographs from their friends.
"People send gifts from their travels or from their country," Moorhead said.
Perhaps one of the most unusual gifts they have received were several live lobsters, which they promptly had a local restaurant prepare for lunch.
Moorhead said they often have their customers from foreign countries sign money from their nations, which is put on the wall above the cash register. When those customers return decades later, they are amazed to find their addition to the decor still in the same place.
And if the Gomez family were eating lunch and someone stopped in, it wouldn't be unusual for them to share the meal with their visitors.
Saturday, they are inviting the community to share lunch with them as they celebrate the store's 50th anniversary. From 11 a.m. to 3 p.m. there will be music and food at the store.
Though leather goods have been their most popular sellers, — hence the "Dead Cows For Sale" signs that adorn the building — the Gomez family also showcases authentic Navajo pottery and Native American jewelry at the store. They have a variety of colorful Mexican pottery and geckos. Sprinkled in between are a few souvenir items from nearby Hoover Dam.
"Our specialty is handmade items," Petra Gomez said.
Rosendo Gomez selects most of the items found in the store, with help from Moorhead.
Ramiro and Petra Gomez first opened the Western and Mexican Center in 1965 as Little Mexico across the street from its current location at 415 Nevada Way, where it has been since 1976.
Their first store had no bathroom, no water and no air conditioning. They worked every day for the first seven years to get the business going.
The store now closes on Sundays, except on those weekends when there are special events in town.
Through the years, there have been ups and downs, Petra Gomez said.
"When you start a business, you don't know how it will go," she said. "Some days we did not sell anything. Other days we sold something for $1."
Today, they face different kind of challenges.
When the Nevada Department of Transportation put in the large green signs pointing tourists around town, business dropped 50 percent the next day, Rosendo Gomez said.
And they are worried about what impact the Boulder City bypass will have on their store and the community.
But the store is practically their second home, and they wouldn't have it any other way.
Not only has it provided a place for them to be together and make new friends, it has helped the Gomezes put five of their children through college and offered them all valuable work and life experience.
"This is the best school of life," Petra Gomez said, recalling how one very shy young boy came to work for them and now works at one of the large hotels on the Strip. "You learn how to read people."
Moorhead said her father was a great teacher.
"He could sell ice to an Eskimo," she said.
"No one could come in and go out without buying anything," Petra Gomez said of his salesmanship and people skills. "He makes you feel good."
"People still come in and ask for the old man," Moorhead added. "They buy from Mom because she's cute … but she's tough."
As they get ready to start the next 50-year chapter, they look forward to making new friends and maybe sharing a taco or two.
Hali Bernstein Saylor is editor of the Boulder City Review. She can be reached at hsaylor@bouldercityreview.com or at 702-586-9523. Follow @HalisComment on Twitter.