Wallpaper on trend in big, bold way
February 15, 2023 - 4:03 pm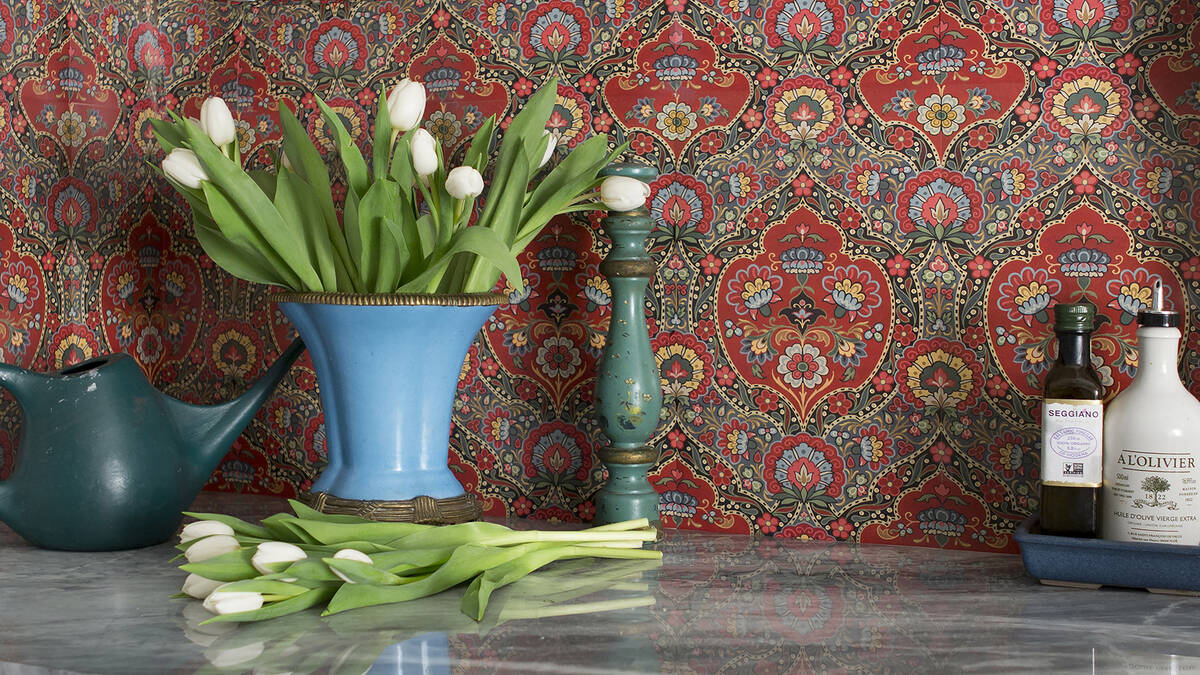 Gone are the days of our ancestors' tacky and outdated wallpaper. Indeed, wallpaper has come in and out of fashion for decades, with its most recent "out" in the '80s and '90s when painted, faux-finished and textured walls were most popular. Since that time, wallpaper has evolved into a high-fashion, high-tech and even seismic wallcovering.
With its origins dating to the Qin Dynasty (221 B.C.), walls were decorated with paintings of birds, flowers and landscapes on rice paper. Eons later, the invention of the mechanical silkscreen machine in 1920 allowed for greater production and varieties of wallpaper. It became such an obsession in the Victorian era; it was largely considered the most important element in interior design, instigating the moniker Golden Age of Wallpaper.
Today, wallpaper is being developed to block cellular phone and Wi-Fi signals (for privacy and security) and in 2012, scientists developed a wallpaper using glass fiber and a special adhesive that reinforces masonry walls in the event of an earthquake. It's come a long way from rice paper.
For 2023, think big. "Minimalism and all-gray-everything are becoming a thing of the past, and in their place, bolder colors and bigger patterns are taking hold. It's no surprise that with this change, wallpaper is having a major moment" — said The Spruce, a website dedicated to the home.
Large-scale prints, stripes and wall murals are on trend as well as wallpapered ceilings. Yes, ceilings. Picture calming floating clouds or bold prints for a "wow" factor — ideas are endless for that fifth wall.
Designers and upcyclers are wallpapering furniture too, an especially fun DIY project to breathe new life into tired and outdated furniture.
There are basically three types of wallpaper application to choose from: unpasted, prepasted and self-adhesive.
■ Unpasted: You apply the glue to the paper or wall.
■ Prepasted: You wet the wallpaper to activate the adhesive.
■ Self-adhesive: This is simply peel and stick.
Generally, unpasted wallpapers are more durable and thicker; commercial weight wallpaper only comes unpasted.
As for material, there are largely four categories: vinyl, paper, fabric and natural.
Each fiber offers pros and cons. For example, vinyl is washable, but 100 percent paper, while more delicate, offers a classic matte look. If choosing natural fiber, like grasscloth, know that these highly textured wallpapers not only add dimension but an outdoorsy scent to the room. Also expect to see visible seams as part of "the look."
When choosing from these myriad options, consider the room. You'd never use grasscloth in a moist environment like a bathroom. For kitchens, you'd want a wallpaper that's not only washable, but scrubbable, meaning it can withstand a mild cleaner.
As for cost, know that it will almost always be more expensive than paint and the price will increase with the paper's durability.
"Typically, average priced wallpaper will run between $20 and $50 per roll, depending on the brand and the type of paper … But, you can find wallpaper as low as $10 per roll and as expensive as $500 per roll," according to WallpaperBoulevard.com.
Besides factors like cost, durability and design, consider what shape your walls will be in when it's removed. For example, if you want a nursery room print, knowing you'll replace it in a few years, look for a wallpaper with ease of removal and no wall damage.
The peel and stick type are the easiest to remove (and apply, for that matter).
I had the pleasure of speaking with Julie Campbell, a DIY designer, inventor and entrepreneur who created PastedPaper, "a new product that completely rethinks the concept of wallpaper." As described on her website and featured on a segment of CBS's Innovation Nation, it's convenient, easy-to-use, nontoxic sheets of high-quality wallpaper with strippable paste on the back. No more large bulky rolls. The individual sheets are designed to line up perfectly with the next sheet.
Definitely check out her website, jcampbell.design, for innovative DIY wallpaper sheets, flooring appliqués and other crafts, products and concepts.
Norma Vally is a seasoned veteran of home improvement; her career includes four seasons as host of Discovery Home Channel's Emmy-nominated series "Toolbelt Diva." A columnist and author, Vally splits her time in Southern Nevada, Los Angeles and New York City. Follow her on Facebook at Norma Vally "Toolbelt Diva" and visit her at www.NormaVally.com. Email Norma@NormaVally.com.