Volunteers key to keeping long-term care residents happy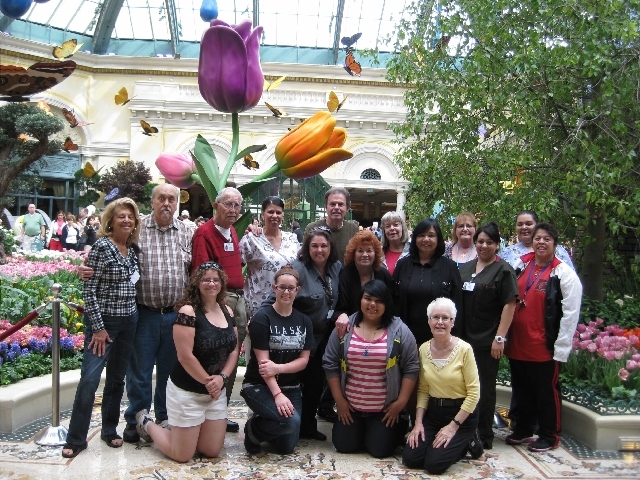 Monday is poker for the residents of the long-term care facility at the Boulder City Hospital. Tuesday is an outing to a Strip hotel, museum or exhibit or perhaps a bit of shopping. Thursday is sing-a-long with volunteers John Mondt and Mary Ann Pyne. Friday is family night, complete with dinner and dancing. Saturday is entertainment from Boulder City resident and pianist Charlie Shaffer.
Sprinkle in bingo, exercise, art projects, board games, monthly lunch at a restaurant, picnics, holiday parties, a monthly birthday celebration, movies, reading and guest entertainers and there's a snapshot of a day in the life of any one of the current 30 residents of Boulder City Hospital's long-term care unit.
Salome Jarvis, the unit's certified activities director, has been developing interesting pursuits and leisure interests for the long-term care residents for two decades.
Coming up with new and interesting activities is no easy task, but Jarvis smiles regularly and breaks out into an infectious laugh repeatedly.
Her job is also made possible by a committed group of volunteers who donate hours to provide everything that is needed to transport residents, wheel chairs and walkers to outside events and provide one-on-one attention "at home" in long-term care or on an outing.
There are the 25 junior volunteers, ages 13 to 18, who hail from Boulder City High, Garrett Junior High locally, and Basic High in Henderson, as well as 33 senior volunteers, 18 and older, who help make daily living a family experience.
It is difficult to provide so many activities and special projects during the summer since many of the senior volunteers are snow birds who are "off duty" until the fall, and six junior volunteers graduated high school and will be off to college.
But Jarvis has committed volunteers like Edna Komada and Pyne who have served the residents longer than Jarvis. The activities director described Pyne as her "right hand."
Then there is volunteer Chuck Haraway, named 2012 Volunteer of the Year, who has been playing poker with residents for several years. When he's not playing cards, he's loading wheel chairs into a truck, unloading them, loading and unloading once again for the Tuesday outings.
While Haraway does the heavy lifting on Tuesdays, it is the Monday poker games for which residents wait in anticipation. "They love it. They look for him," Jarvis said. "He's really, really good to the residents. They really love him," and his sense of humor, Jarvis added.
Jarvis is all smiles when she talks about two volunteers who visit long-term care on a regular basis and offer manicures to the residents.
She speaks in glowing terms about volunteer Maria Bayne who she says possesses "the patience of a saint" when it comes to caring for a resident who may be a bit challenging.
Volunteer John Mondt experienced long-term care when his late wife Isabell was a resident there. When Isabell Mondt passed away, John said he became a volunteer because of the excellent service she received.
John Mondt's volunteering led him to a second marriage with long-term care resident Phyllis Silva. The couple celebrated after the ceremony in the long-term care dining room with their long-term care family.
Not only are the residents, their families, the staff and volunteers a family, "You find love in long-term care," Jarvis said. "This is really, truly your home."
While Jarvis has an activities budget, she receives much needed support from individuals and community organizations. There is a monthly donation from hospital employee Sann Jones who has supported activities for several years. "The entire hospital has a soft spot for long-term care," Jarvis noted.
Families of the residents also donate money, furniture and appliances for long-term care.
Boulder City Sorority Beta Sigma Phi Preceptor Gamma donates gifts for all residents each Christmas and "they've been doing this for as long as I have," Jarvis said.
The Boulder City Elks Lodge No. 1682 makes the holidays merrier by donating funds for each long-term care resident every Christmas.
For countless years, Carol Gordon of Oak Lane Academy has prepared her preschool youngsters for holiday musical performances, especially for long-term care residents. Gordon and her students visit long-term care residents for holidays throughout the year.
Recently, long-term care has become home to a number of more alert and active residents who requested in their meetings with Jarvis that she institute some evening activities. Jarvis now needs volunteers willing to devote some of their time and talent to these folks.
To become a junior or senior volunteer, call Jarvis at 293-4111, ext. 532.