Tricky Tray fundraiser seeking more participation
November 2, 2016 - 1:27 pm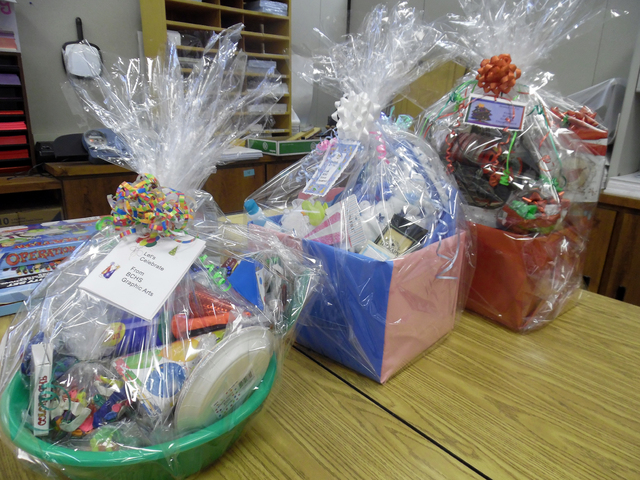 Tricky Tray is back, and this year the annual school fundraiser is looking for additional help from the community.
Each fall, classrooms from the city's public schools and generous businesses put together a basket containing assorted gifts, cards and treats, to be raffled off with proceeds from ticket sales benefiting the local schools.
The Community Education Advisory Board has hosted the event for more than a decade, raffling off between 60 and 100 gift baskets to attendees. However, a decline in the number of students in the city's schools has decreased the number of baskets donated for the raffles. The reductions, in turn, have led to a drop in the proceeds raised for the school, according to Boulder City High Registrar and CEAB Vice President Barbara Agostini.
"The students are still making baskets, but our schools have downsized in recent years and there are just not as many classes to contribute," Agostini said.
"This year we're asking the community to help out by donating baskets, and they can be anything from little toys to things they've bought in the past but don't use or even Christmas decorations. Anything can help."
This year, selections include baskets full of gum, mints or candies, one with an assortment of salon products, another full baby supplies, and one with baking goods, put together by the staff at the high school.
Three-quarters of the money from the fundraiser is distributed to the principals of the four public schools in Boulder City, according to Agostini, with the remaining portion going to the advisory board to fund grants for teachers.
"CEAB works with educators to purchase books and supplies that they really need, but there's no room for in the budget," Agostini said.
"Without these extra funds many teachers would be left to pay for these items out of their own pockets." In previous years Tricky Tray has raised as much as $10,000 for local schools, according to Agostini. Last year that amount was closer to $6,000.
In the late 1990s the advisory board was formed to help work with Boulder City's schools to address concerns from parents, educators and the community by working in conjunction with the Clark County School District's Public Education Board.
Tickets go on sale at 5:30 p.m. in the high school gym and cost $1 each. Administrators will begin drawing one ticket for each basket at 7 p.m. For more information or to donate a basket, call 702-799-8200, ext. 4065
Contact reporter Hunter Terry at hterry@bouldercityreview.com or call 702-586-6711. Follow him on Twitter @HunterBCReview