Thousands of prizes offered at Saturday's egg hunt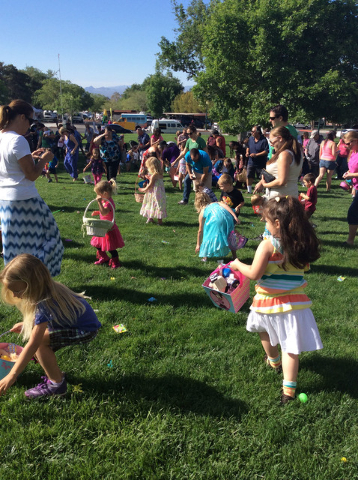 The Boulder City United Methodist Church will host the community's 62nd annual Easter egg hunt this Saturday and members are prepared for their grandest event yet.
The Rev. Sandy Johnson says she expects as many as 700 children to be unleashed in Wilbur Square Park to hunt down the treasures including 4,000 stuffed animals and toys, in addition to the 7,000 eggs.
Open to all children in second grade or younger, the hunts will be divided into two groups, with preschoolers hunting first, followed by those of kindergarten age or older. Each group will have a chance at one of the coveted golden eggs as well as some of the 12 glitter eggs, each of which can be traded in for special toys and treats.
In preparation for the event, students from Boulder City High School have volunteered many hours during the past two weeks stuffing each plastic egg with prizes for the lucky kids to find.
The festivities will begin at 8 a.m. when the Easter Bunny will greet children and pose for pictures before the hunt kicks off at 9 a.m. There will be a professional photographer available, however parents are welcome to bring their own cameras.
There also will be a raffle for the parents, with a pampering basket containing more than $500 dollars in gifts and vouchers for the winner. The prizes will include a cold therapy massage, a spa day, and a sightseeing tour of Lake Mead.
"We just thought it was a perfect fit; we are proud to be part of this free, family-friendly event for kids and the entire community," Johnson said. "The community's support has been incredible."
According to Johnson, Dr. George Rosenbaum, a local dentist, donated 300 toothbrushes to help offset the piles of Easter candy.
The annual Easter egg hunt was founded by the Beta Sigma Phi philanthropic sorority in 1954 and was under its purview for 60 years until the church took over duties and increased the size of the budget and the event two years ago.
"This is unlike any event I have ever been a part of; for many families this is a tradition that runs two or three generation back. People who came as kids now bringing children of their own," Johnson said.
For more information, visit www.bouldercityumc.com or call 702-293-7240.
Contact reporter Hunter Terry at hterry@bouldercityreview.com or call 702-586-9565. Follow him on Twitter @HunterBCReview