Studies, activities keep Hughes busy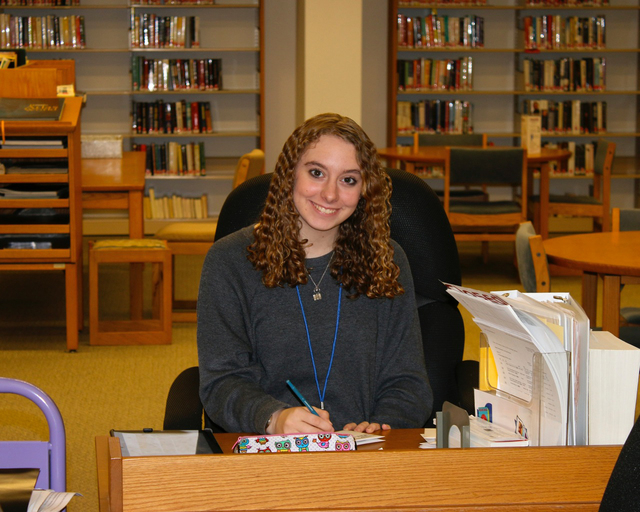 With a résumé that is filled with as many academic achievements as extracurricular activities, it is no surprise that Hayley Hughes is Boulder City High School's class of 2015 salutatorian.
The 17-year-old with a 3.95 grade point average (4.75 weighted) is taking primarily honors or Advanced Placement classes this year. She has been on the straight A honor roll her entire high school career and been named student of the quarter during her freshman, sophomore and junior years.
Unlike many seniors who slow down during their final year in high school, Hughes kept academically busy, packing her schedule with six classes. She also is involved in speech and debate.
Also, Hughes has served as vice president of the National Honor Society and the Future Business Leaders of America, as manager for the track and basketball teams, and participated in the Hugh O'Brian Youth Leadership program.
This is on top of other extracurricular activities such as ushering at the school's theater, being a book club member, serving as part of the Link Crew, which helps incoming freshmen, and being part of a youth group.
And she volunteers at numerous facilities and events throughout the community including the Searchlight Recreation Center, Grace Community Church, Doodlebug Bazaar and Boulder City Library.
"She is a very sweet, energetic person, who is willing to help out at the drop of a hat," said Barbara Agostini, the school's registrar and volunteer coordinator.
Agostini said Hughes doesn't hesitate to lend a helping hand and can be counted on to do what she says she will do.
"She's always there to help me. She volunteers for everything," said Agostini, who herself can be found volunteering at practically every community event. "She's like me. She could be my daughter."
"I love helping people. I can't imagine myself not volunteering," Hughes said.
She said she doesn't like to "do a lot of hanging out" so she puts herself to work helping the community in any way she can.
She said volunteering at the library is one of her favorite things to do. She is an avid reader and said she hopes to become a publisher or editor in New York.
"I love working with books. I've wanted to work with books my entire life."
Hughes said she's also toying with the idea of writing one of her own. "I have a few ideas running around."
Her caring nature extends to helping in other ways, too. She tutors struggling students, is a blood donor and has donated 10 inches of her hair to Locks of Love.
She said her parents, Leslie Weaver and Mark Hughes, are proud of her and her accomplishments. She is the first one in her family to graduate from high school (everyone else earned a GED diploma), and is doing it with high honors.
Hughes, who celebrates her 18th birthday Friday, is planning to attend University of Nevada, Reno in the fall, where she will major in English with a double minor in computer science and Spanish.
Last summer, her studies took her to Costa Rica and Nicaragua, where she had the opportunity to practice her skills speaking Spanish. Hughes, along with seven other BCHS students, joined teacher Jennifer Marchant, for the 10-day trip to explore and learn.
She said being in Third World countries also opened her eyes "in a lot of ways."
Hughes also has been involved in numerous theater productions at the school, including short plays and the recent musical "Once Upon a Mattress." She also participated in the Out Damned Spot Shakespeare Festival at the Boulder City Library.
She says theater is one of her loves and something she plans to continue with in college.
Not one to sit still, Hughes also works as a baby sitter, house sitter and pet sitter.
Hali Bernstein Saylor is editor of the Boulder City Review. She can be reached at hsaylor@bouldercityreview.com or at 702-586-9523. Follow @HalisComment on Twitter.