Students take total control of short play fest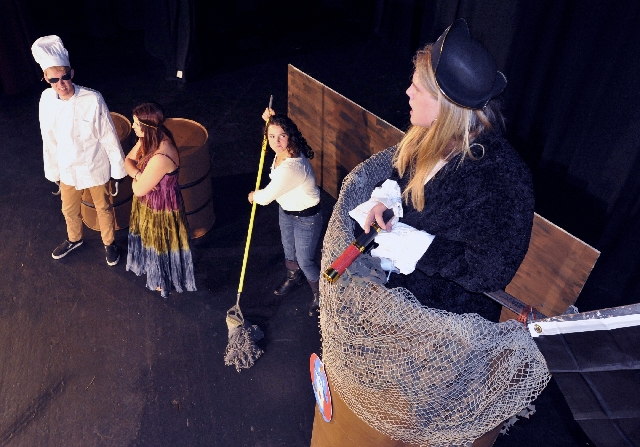 Boulder City High School's annual Short Play Festival typically gives students an opportunity to have more control than usual by choosing and directing their own plays. But this year, because of unusual circumstances, they have total control.
By the time theater instructor Heidi Lee had to begin her maternity leave April 8, she was able cast the five plays in the sixth annual festival, which takes place at 7 p.m. today and Friday at Boulder City High School Theater. Admission is $5.
She was also able to provide a timeline for the students, put the technical theater students into production teams, and handle a few other tasks she usually handles, such as ticketing and usher details.
But for everything else — rehearsals, costume design, set design — the students have been on their own without even a substitute teacher with theater experience.
"(Students) usually, in the past, haven't taken care of a lot of the details other than directing their 10-minute play," Lee said.
Boulder City High School Theatre Club President Heather Phelps said the challenge of producing the festival without guidance is difficult but rewarding.
"It's hard without Miss Lee here, but it's really fun. It's a good experience," she said. "I'm surprised how well everyone is behaving."
Phelps, a senior who has been in Lee's program for four years, is directing "Parasol Universes," which she said is a comedy about two universes that interact.
But during a Monday dress rehearsal Phelps also directed the curtain call, took notes on other directors' plays and assisted the media, seemingly stepping up to fill the void left by Lee.
"I'm learning a lot," she said. "I'm learning how to get people to listen."
Senior Joey Watters, director of the comedy, "Zombie Family Picnic," said he enjoys directing his own play because he gets to design costumes and makeup.
"It's really awesome because I get to put all my tech skills in," he said.
However, he also said there are additional challenges in Lee's absence, such as having to front the money for costumes, which will be repaid, and having to fight with the other directors about the order of the plays.
"It's a big thing having to do everything," he said.
It's also a challenge getting other students to listen, Watters said. But even with the challenges, he is confident everything will go smoothly.
"It all kinda comes together at the last second anyway," he said. "This is coming together pretty well for Miss Lee not being here ."
Lee said she is confident in the abilities of her student directors, who, to direct one of the festival plays, were required to be in the theater program for two years.
"I think that they can handle it," she said. "If I didn't think they could handle it I wouldn't have put it in their hands."
Lee plans on attending the festival.
Additional plays in the festival are "Pirattitude," a comedy about pirates; "Pepperoni Apocalypse," a comedy involving a pizza delivery girl and the end of the world; and "Status Update," a comedy about three technology-obsessed friends.