Students' films earn accolades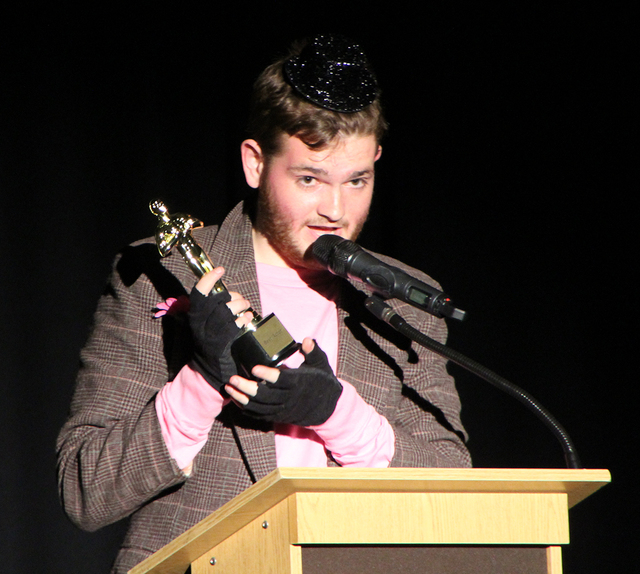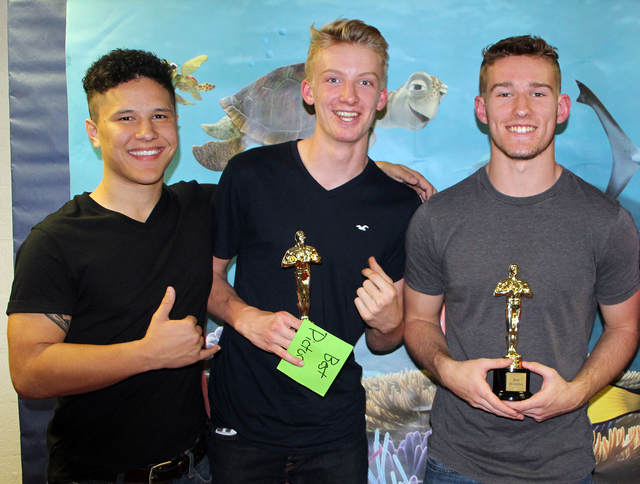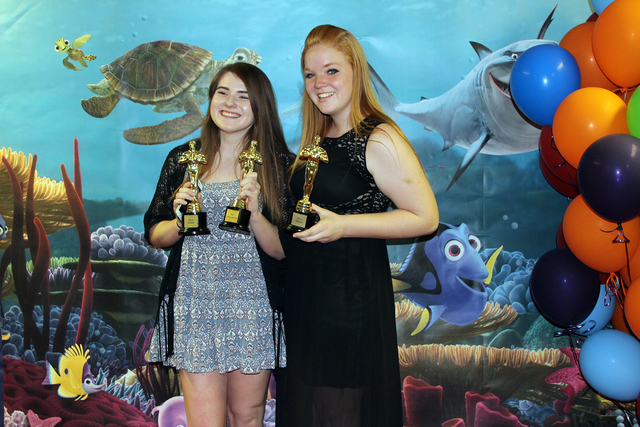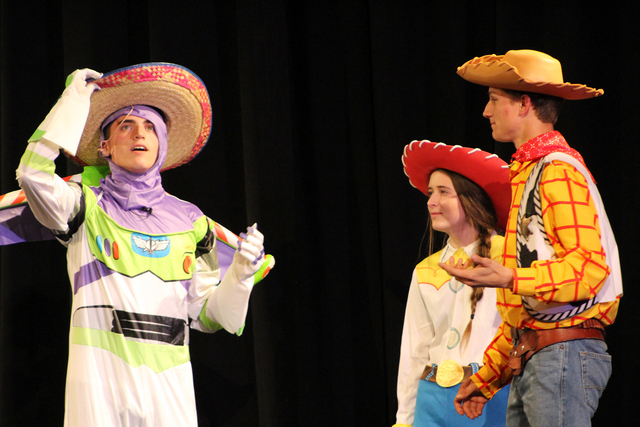 Boulder City High's fourth annual movie award ceremony went to the movies itself as characters from various Pixar films made their way to the school's theater to serve as presenters and add a splash of comic relief to the serious festivities.
After red-carpet arrivals, the awards ceremony showcased the best music videos and three of best picture nominees with some entertainment.
"I have to say I did not imagine myself in my sophomore year winning this award in my underwear, but I did imagine getting this award," said Jordan Marzka as he accepted the honor for best actor while dressed as Bing Bong from "Inside Out."
He also won the best screenplay award for his music video "Just One Yesterday," which was deemed the best music video, drama
The senior, who will be heading to Portland State University in Portland, Ore., where he plans to major in acting and minor in film, said he is grateful for the opportunity to learn film and acting techniques at BCHS.
He has been involved in theater throughout his time at the school, but this was his first year in Canaan Petersen's film class.
Petersen said the awards presented during the evening represent every aspect of filmmaking that he teaches "lesson by lesson" at the school.
Barrett Cowdrey, Bryan Foster and Dillion Viera, who shared the best picture award for their submission, "That Guy," said they were surprised but pleased with the honor.
"I feel really accomplished," said Viera, a first-year film student.
"It's awesome," Cowdrey added.
The trio, who are all juniors and have been friends for about four years, said they plan to take the class again next year and are already working on some ideas for another film. "That Guy" was their second effort, and they spent about two months working on the project, starting with an idea about competition between two friends and improvising along the way.
Sofia Serrato, who is in her third year in the film class, was presented with the best actress award. She thanked her mother and her stepfather for their support and guidance.
"I want to thank my neighbors for not hitting us with their cars while we filmed in the street," said Morgan McKenzie as she accepted the award for best music video, comedy, for her version of "All by Myself."
"I thought it went incredibly well; it equaled to past years," Petersen said about the awards ceremony. "I'm proud of the kids for putting in every effort to make this a fun show."
Serving as emcees for the awards ceremony were James Embro, Braden Klouse and McKenzie, who dressed as Woody, Buzz Lightyear and Jessie from "Toy Story."
Completing the evening was a special presentation to Petersen by BCHS graduates and guest presenters Andy Huxford and Bret Runion. They recognized Petersen for his contributions to helping shape the youth of the community.
Hali Bernstein Saylor is editor of the Boulder City Review. She can be reached at hsaylor@bouldercityreview.com or at 702-586-9523. Follow @HalisComment on Twitter.