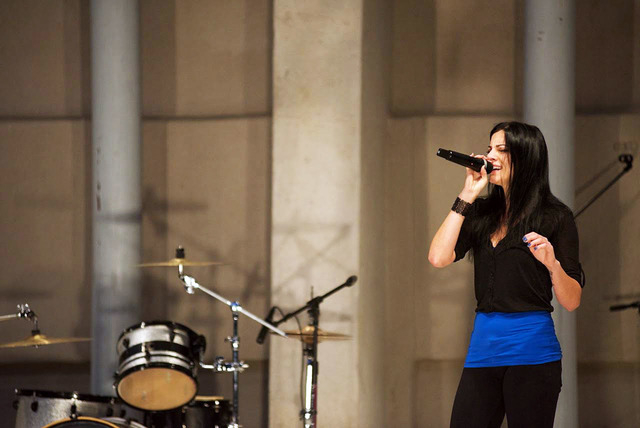 The lights shined bright on Saturday night as 21 contestants looked to show their stuff at the seventh annual Boulder City's Got Talent competition. The competition was close, but Robbie Queen took home the title in the adult category with her rendition of the song "Girl Crush" by Little Big Town. Talent show organizer Justin Keogh said Queen was well deserving of the prize. "She is such a talent," Keogh said. "It is surprising because she is such a shy person, but then she opens her mouth to sing and it is just amazing."
Queen, who works as a bartender at the Lake Mead Marina is no stranger to singing. She said she is always being pulled away from work to sing for Marina patrons; however, this was the first time Queen sang for a competition. When Queen won the competition she showed a mixture of excitement and sheepishness. "This is really exciting," Queen said shyly. "I have never won anything before."
While Queen was soft spoken, her singing voice was anything but. She sang the lyrics to her winning song with power and fluidity, exciting the crowd of over 200 people.
The winners of Boulder City's Got Talent are not allowed to compete the following year, but they are allowed to open the next show with a song. Queen said she would gladly open next year's show.
Queen was not the talent show's only winner. Makenzi Perkins won the competition's youth category with a beautiful rendition of "Home" from the musical "Beauty and the Beast."
Travis Hess won the child category by giving the audience a classical piano recital. Keogh said the talent show was a booming success.
"The show was larger than ever before," Keogh said. "We had higher attendance and donations, as well as a much larger consumption of popcorn." If you attended the show and would like to leave a comment, visit the show's Facebook page at facebook.com/bouldercitysgottalent.