Small businesses thrive in Boulder City; proprietors credit customer service, family feel for their success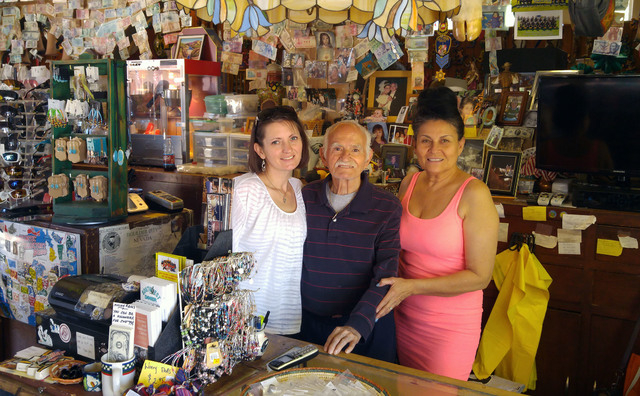 The first week of May is celebrated around the country as National Small Business Week, and there are few places where small businesses are so common as in Boulder City.
According to Jill Rowland-Lagan, CEO of the Boulder City Chamber of Commerce, there are many factors that keep the town that built the Hoover Dam such a perfect hub for small, locally owned companies.
"Small cities and small businesses go hand in hand," Rowland-Lagan said. "A lot of big box stores are hesitant to move to towns with small populations, but that just gives entrepreneurs an opening to fill that may frequently be dominated by a national chain in larger cities.
"Customer service is also an extremely important benefit for small businesses in a small town …," Rowland-Lagan said. "Customers are more than just random faces to small business proprietors, and the community is helping to support businesses owned by people who often live down the road."
Ramiro and Petra Gomez opened the Western and Mexican Center at 415 Nevada Way 50 years ago last September, and the business remains a family institution.
Now run by the Gomezes' daughter Angelica Moorhead, it's a place where you'll not only find artisan crafts and jewelry, but also multiple generations of Moorhead's family behind the counter.
Supporting small businesses is seen by many across the country as an important endeavor, but in smaller cities and towns these shops are an integral part of the community.
According to a recent survey released by Cox Communications, about 90 percent of Americans shop at a small business at least once a week, with more than 40 percent shopping small at least three times each a week.
Both Eldreth and Rowland-Lagan agree that Boulder City's connection to the Hoover Dam keeps a steady flow of tourists passing though town.
Before becoming the owner of the De Trading Post at 1300 Nevada Way, Ed Sidranski was a frequent visitor to Boulder City, bringing in authentic artifacts and handmade items from dozens of Native American tribes.
"People love this town, like a trip back in history," Sidranksi said. "The local community is wonderful and the tourists love stopping in when they see it."
Sidranski added that he was worried how business will survive when tourists don't have the chance to see the town.
With Interstate 11 bypass now under construction, and still at least two years from completion Sidranski, Rowland-Lagan and Eldreth were all concerned about the effect of the new loop on traffic flow to city businesses.
"It reminds me of Route 66; you used to drive past all these little towns, with their own personality, and people would stop to see them," Sidranski said. "But now after all the interstates and the loops taking traffic around the cities, all that's left are the gas stations on the edge of town."
Contact reporter Hunter Terry at hterry@bouldercityreview.com or call 702-586-6711. Follow him on Twitter @HunterBCReview.