Runion excels at both sales and trails
August 31, 2023 - 9:18 pm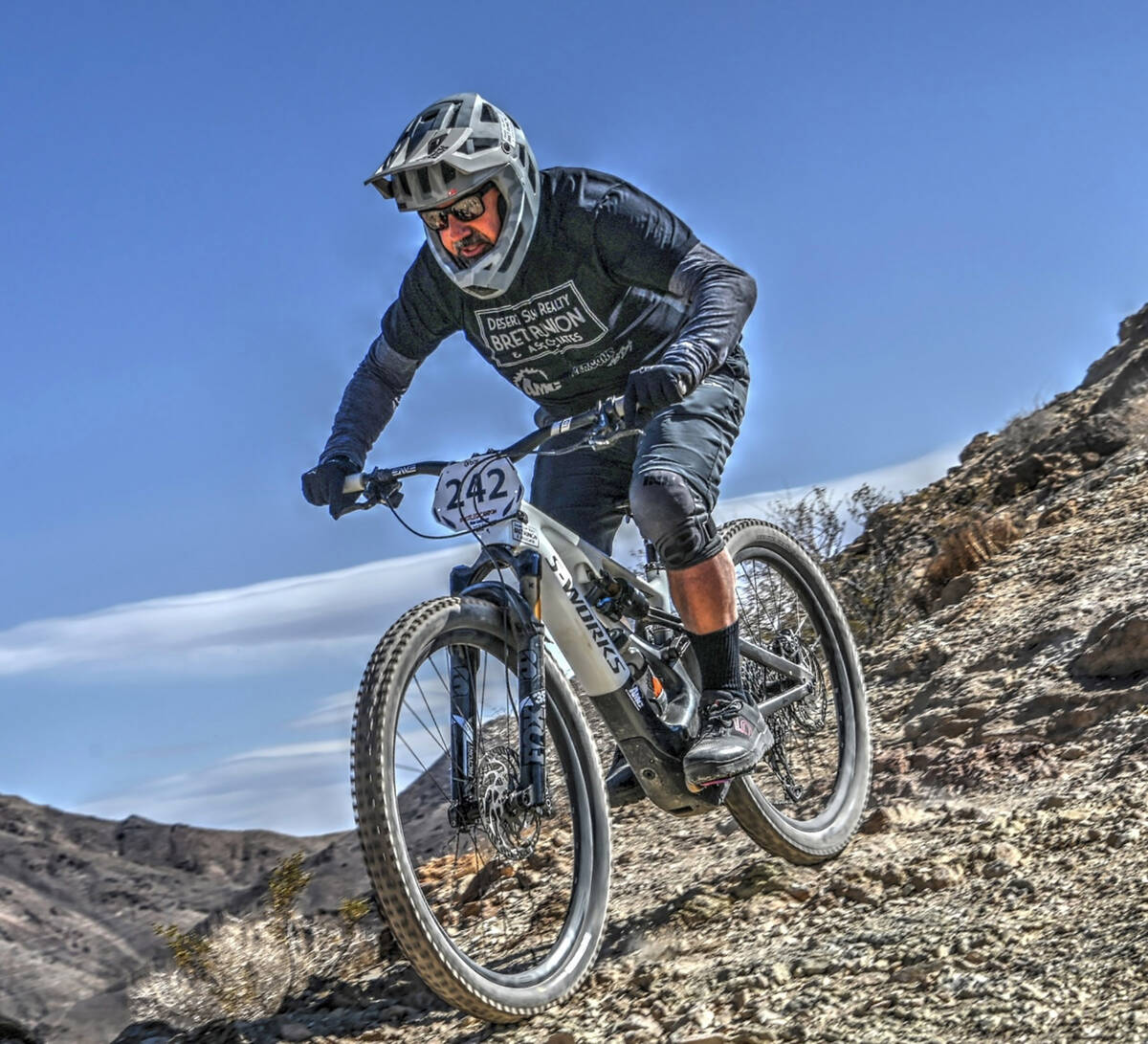 Bret Runion has an uncanny knack of remembering a house he sold 30 years ago, who bought it, who sold it and in what year. And if you give him a few extra seconds, he could probably tell you the coloring of carpeting in each.
That's one of many reasons why he's handled more real estate transactions in Boulder City's history than anyone else, with nearly 90% of those coming by way of repeat clients or referrals.
But for Runion, it's never been about the number of homes sold or the commission checks that come with it. It's something else.
"None of this is about money, it's about helping people," he said. "When you help people, sure, the money will follow, but if you ever lose focus on that priority, bad things happen. The focus is helping people and that's the way it always needs to be. If you can orchestrate a deal where everyone walks away happy, my goodness, that's the biggest victory you can have."
Runion, a 1985 BCHS grad, said during his high school days he and his brother began buying cars, fixing them up, driving them and eventually selling them for a profit. He figures they owned 17 cars by the time he received his diploma.
That business sense continued into college at UNLV. He was impressed with a friend who had become a real estate appraiser in Southern California. Runion thought he could do that part-time but after taking a real estate class, decided otherwise.
"I went and talked to Bob Boston of Desert Sun Realty (which Runion now owns) and he convinced me I should be a real estate agent instead," he said. "And that's how it happened."
In 1987 he obtained his real estate license at the ripe old age of 20. He praised Boston for his mentorship, friendship and guidance, which helped lead him down the path to where he is today. He worked for Boston throughout college, which included receiving a master's degree in business. This set the stage for what is now a 36-year career in the real estate business.
"I really thought I'd go off and do something in the corporate world but by the time I got done with college, I had already been working for myself for about five years and I decided I enjoyed what it was I was doing," he said. "There's never a dull moment. It's stressful but no two days are alike.
"I look back and wonder how many people are fortunate enough to have a 36-year career and work primarily in Boulder City? That's an awesome thing. I feel very fortunate and blessed that I did stumble into it. I truly love this community and the family we've built at Desert Sun Realty."
Like many others, the Great Recession was a very challenging time, especially for those in real estate. But being a "big picture" kind of guy, Runion said it was a difficult time but also a time to think outside the box. Desert Sun Realty shifted from general real estate into foreclosures. Seeing what the trend was, they began establishing relationships with banks to the point where he had an entire division in his office focused on that aspect.
"Everything we had worked so hard for was basically upside down, everything," he said. "Your whole life is in the red. We were deep, deep in the red. Long and short of it, the foreclosure business kept us going because we adapted to that market. I'm proud to say we were never late on a payment, never had to give a property back to the bank, kept everything going and never laid everyone off.
"It was a lot of work. A lot of late nights. A lot of stress knowing that every day you're going to work to just try and keep the wheels turning. There was some real character building during that time. From 1987 to 2007 I always told people that I had never seen anyone lose money on real estate. Then things just dropped off the face of the earth. That changed everything and people will look at things differently from that day forward."
Runion gives a lot of credit during those tough times as well as the good ones to his wife, Priscilla. Between the two, they have four children, Grant, Summer, Lauren and John, all of whom are BCHS grads.
Nearly seven years ago, at the age of 50, Runion shifted gears, both literally and figuratively, toward a new hobby – mountain biking. Like real estate, mountain biking has its shares of ups and down, competitiveness, blind curves and the concern, or excitement, of what's ahead.
Some of his friends began riding and they encouraged him to join. They rode several days a week and since some those he was riding with were younger, he admits the ego and competitive juices kicked in.
"I've had my share of crashes and injuries but it's changed my life," he said. "It got me into condition that I hadn't been in in a very long time. I played wallyball for several years, so I never got totally out of shape but that was nothing compared to the shape mountain biking has gotten me into."
Over the last seven years, Runion has competed in several races, many of which have been in Bootleg Canyon.
"In this business, your mind never stops," he said. "I'm always thinking about what we should be doing. My wheels are always turning. But, when you're out there (on a trail) you have to focus on the task at hand. It is a tremendous stress reliever. It's made a huge difference in my life."