Rotary presents grants to teachers
September 21, 2016 - 1:44 pm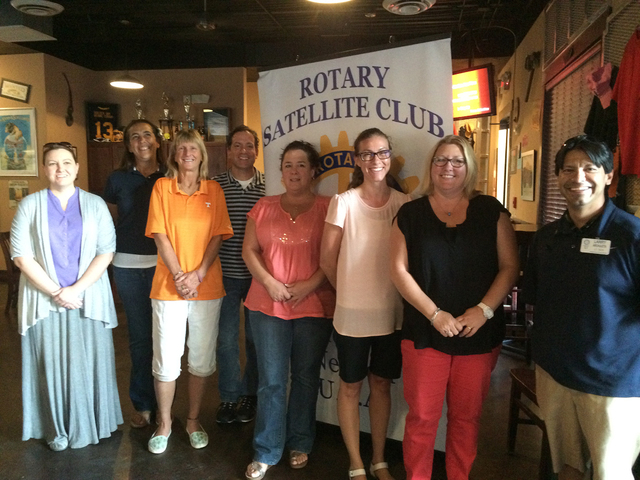 At first glance, a whale, a kiln, sound equipment and books wouldn't seem to have much in common. Yet all were in the same place, in a way, last week as teachers from local schools were presented with grants for special educational materials from the Rotary Club of Boulder City.
The club presented more than $2,400 in minigrants to local teachers for them to supplement their classroom instructional materials or create special projects. In all, eight grants were presented.
"These minigrants are about showing the Boulder City community that we care about what you do," Jeanne Donadio, president-elect of the club, told the teachers at an evening meeting of the group's Satellite club.
As an employee of the Clark County School District, Donadio said she is aware of the great need for extra funding and creative ways teachers seek to find money for projects and special materials. The grants offered as much as $500 each.
Erin Tibbs, who teaches first grade at Mitchell Elementary School, was awarded $325.30, to purchase a variety of materials to help her students learn specific math and reading skills with hands-on materials.
King Elementary School third-grade teacher Sara Carroll was awarded $70 to adopt a whale from the San Juan island area in Washington. The adoption is part of a science unit about orcas and the adoption fees helps protect endangered species.
Jason Costa, who also teaches third grade at King Elementary, was awarded $109.95 for a one-year subscription to the Reading A to Z website, which provides content of high interest at appropriate reading levels for children. The site offers downloadable books in multiple formats.
Julie Hammond, who teaches third and fourth grade at King, asked for $300 to purchase level-appropriate materials to help teach common core subjects to special education students.
King fourth- and fifth-grade teacher Krystalline Drowns received $200 to purchase classroom ability-level book sets specifically for special education students. Having the book sets will facilitate independent reading, she said.
Garrett Junior High School teacher MaryAnne Stargel was awarded $487.76 to purchase microphones, headphones and other equipment to help sixth- through eighth-grade students create videos and podcasts to demonstrate what they have learned. Additionally, she will purchase a special stand/podium that works with iPads allowing presentations to be shared online with others as well as in a classroom setting.
Jim Cox, who teaches at Boulder City High School, was awarded $500 to obtain two LabQuest2 units, which assist students in collecting and compiling scientific data.
Iraina Bulmer, who teaches art and science, technology, engineering and mathematics classes at Grace Christian Academy was awarded $449.50 to purchase a portable electric kiln.
Club president Larry Archuleta said there were twice as many applicants this year, the second time the club has awarded minigrants to educators and he expects the competition for funds to increase substantially next year.
Hali Bernstein Saylor is editor of the Boulder City Review. She can be reached at hsaylor@bouldercityreview.com or at 702-586-9523. Follow @HalisComment on Twitter.