Quilts, cats define Carolyn Buhlmann
February 22, 2023 - 3:27 pm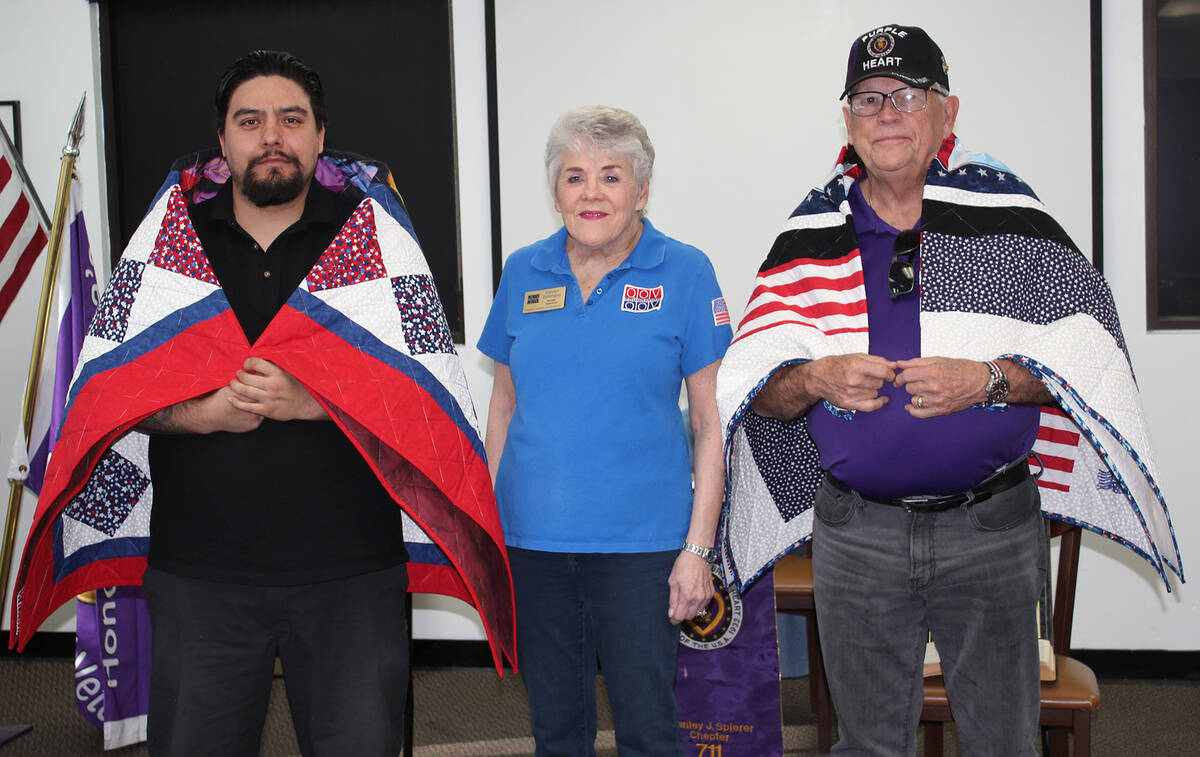 It's been a bit chilly in Southern Nevada recently. But for many lucky military veterans, chances are they are sleeping a lot warmer these days. That's because they're keeping the cold away while slumbering under quilts produced and presented by Boulder City resident Carolyn Buhlmann.
Buhlmann is a quilter who appreciates the service that those in the U.S. military have performed for the nation. She began making quilts a long time ago.
"I didn't really get too serious about it until probably 10 years ago. But I was sewing since I was five years old," she said.
The local resident has been here for almost six years, after living in Rochester, New York, and San Francisco among other Golden State cities. She said she wanted to "escape California" and her son told her that Boulder City was a nice, small place.
She began making quilts for veterans while she was living in California. She learned about an organization called Quilts of Valor that crafts quilts and gives them to deserving veterans, and she signed on.
"There was a veterans' administration center nearby, and also the veterans' hospital in Sacramento. I probably did 60 or 70 quilts there."
That may seem like a lot of stitching, but since she has been in Boulder City, she said she has made more than 500 and given them to Nevada veterans.
Buhlmann said she belongs to the Quilts of Valor chapter in Las Vegas, "but I don't go to meetings very often, and a lot of people I knew moved away." Attendance at meetings is not necessary for her to visit with veterans' groups around the area to locate former military individuals who are deserving. "I've gotten to know a lot of groups, and they call me."
They give her names of veterans who are members of their organizations, including their rank and the service they were in. Then she arranges to make presentations at upcoming meetings.
"I've done quite a few here in Boulder City. Sometimes I go to their houses, and sometimes I make presentations at the veterans' home. I've done quite a few out there. Also the local Republican women's group calls me and says they have a veteran, and I award quilts there."
Buhlmann said it takes about 30 hours to make a quilt, spread over two days. She pays for all the fabric for the quilts' fronts and Quilts of Valor pays for the backing and batting.
Buhlmann's husband, Franz, is a strong supporter of her work.
"Absolutely, he's been really a doll about it," she said. "I spend all day in my sewing room, with a table 4-feet-by-9, and two sewing machines. I embroider my own labels, and I am sewing all the time."
If readers know of a deserving veteran, Buhlmann can be contacted at placercats@aol.com.
Although her days revolve around making and presenting quilts for veterans, she has at least one other aspect in her life that keeps her busy. Buhlmann is a cat person.
"I've always been a cat person. Since about 1990 I bought some pedigree cats and I started breeding American Shorthairs. I have some national wins, and I became a judge at cat shows all over the world."
Some people like to cuddle up with their cats, and their furry friends help to keep them warm. But for many of Nevada's veterans who have a feline and also a Quilt of Valor blanket, their cats provide only a minor source of heat. The quilt keeps the cold climate at bay, but it's even more than that. It can't be seen with the naked eye, but it's the work and skill and love that Carolyn Buhlmann weaves into her quilts that radiates the most warmth.
Chuck N. Baker is an award-winning journalist and a Vietnam War Purple Heart veteran. He can be heard at 8:30 a.m. each Sunday on KKVV-AM hosting "That's America to Me" and occasionally on KUNV-FM hosting "America's Veterans, Today and Tomorrow."