Pool lifeguards fit in, but don't fit preconception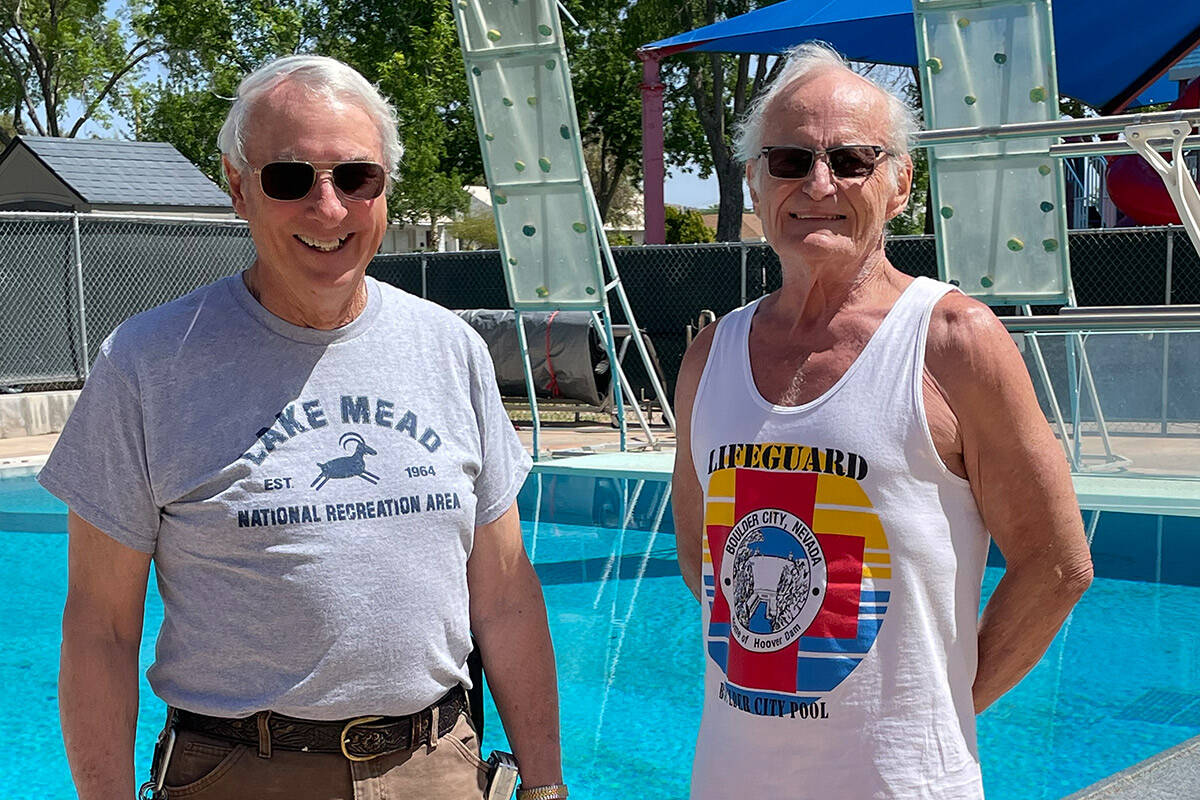 Mention the job of "lifeguard" to most people and certain cliched images will generally come to mind.
Young, fit, great-looking. Baywatch or maybe the Billy character on "Stranger Things." Just going about their business with a whistle and flip-flops as admirers look on wistfully.
But at the Boulder City Municipal Pool, there is a dynamic duo of lifeguards who together shatter those preconceptions as they go about the daily business of keeping swimmers safe.
Meet Bob Haber, age 74 and Danny Hartley, age 76.
Bob is a volunteer who doesn't just lifeguard. "Bob does a lot," says Aquatic Coordinator Cheree Brennan. "He's a lifeguard. He is a lifeguard instructor who helps get our guards certified. He's a swimming instructor and a swimming instructor trainer. He also helps out as a first-aid and CPR instructor and has been doing that for several years now."
Haber first started working as a lifeguard as a teen and started teaching lifeguards in 1975 while serving in the Air Force. Eventually, he and his wife purchased an RV and did a lot of traveling. "In 2012, we sold our home in Pennsylvania and moved around the country. I volunteered in both New Hampshire and Colorado after I retired," he said.
Their travels brought them to Boulder City regularly. "My wife's mother lived here," Haber explained. "For a number of years, we spent the months between October and April in Boulder City. About four years ago, we moved here permanently and I started volunteering at the pool."
Hartley, in comparison, is a relative newcomer. Like Haber, he had worked as a lifeguard as a teen before joining the service, but his branch was the Navy.
"I started swimming again for exercise after Covid," Hartley reported. "Like a lot of people, I had gained some weight during the lockdown and swimming is great exercise." When he started using the pool regularly, he noticed there was a need for guards. "There were times when they couldn't be open as much as they would have liked just because they did not have enough lifeguards."
Both men report that they are largely motivated to do this kind of work by a sense of civic pride and responsibility. "I am grateful to be able to serve my community in this way, helping to keep the pool open," Haber said.
Hartley concurs, adding that the healthy environment is a big draw for him. "I have always said that a lifeguard can save a life, but health-conscious swimmers are saving their own life with every visit," he said.
The pair has seen many changes, even to something as basic as the definition of drowning. Today, the Red Cross differentiates between two types of drowning victims. An active drowner may actually be vertical in the water but unable to move forward or tread water while a passive drowning victim is motionless and face-down in the water. "When I started doing this, when you heard the word 'drown' it meant someone had died," Hartley said.
"The tube wasn't even invented until the late 1960s," he continued, referring to the most basic piece of lifeguarding equipment. A lifeguard tube is a long piece of foam-rubber that can be used to help a swimmer in active distress or to support and float a passive victim so that lifeguards can get the person out of the pool and onto the deck where actions such as CPR can be taken. "Today, a lifeguard has the tools and training to actually be able to save a life," Hartley explained.
Both longtime lifeguards are very aware of the age difference between themselves and their peers at the pool but neither sees it as an impediment to doing the job. "Sometimes it can feel like I am more of a father figure, but mostly I just try to fit in as one of the group," Haber said.
As much of a surprise as it may seem to the average pool patron, neither man is looking to "retire" from helping out at the pool any time soon.
"Arthritis is starting to take a toll as far as guarding goes," said Haber. "But I look forward to teaching swimming lessons and teaching lifeguards for as long as I can. At least for another five years."
"I think I will continue until my vision fails, so a long time," Hartley said. "I get tremendous support from my wife while I'm lifeguarding more than 40 hours a week. As long as she's happy with it, I'll continue."