Pool installs highest climbing wall to replace diving boards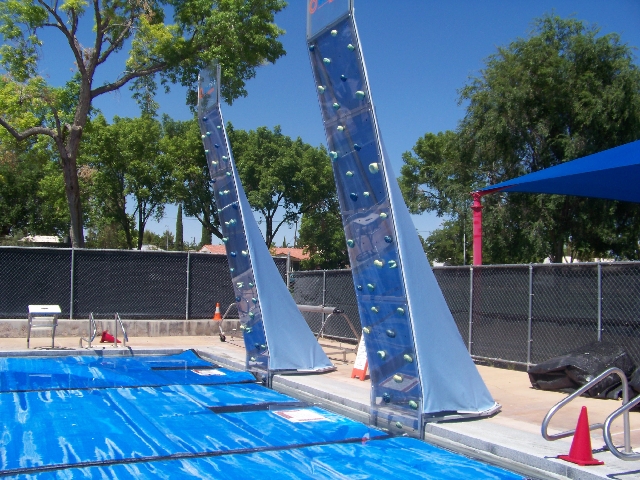 Chances are there will never be another time in the history of the Boulder City Aquatic & Racquetball Complex that a pool insurance/safety audit leads to what promises to be a shriek-filled, exciting experience for all comers.
The pool complex recently finished installing two 16-foot, 4-inch high "climbing walls," rising out of the dive area.
The walls look like climbing and rappelling walls featured in numerous sports complexes, but instead of being fixed to an existing structure, they are free-standing formations, secured under water to a dive tank wall. According to a safety report from the manufacturer, the climbing walls "may be subjected to a maximum of 100 mph wind load or a 250-pound climber located at the face of the wall."
The climbing walls were the suggestion of pool safety expert Tom Griffiths during his audit of the pool complex last year. Griffiths suggested to aquatic coordinator Sheri O'Berto that the existing 3 -meter diving board be removed for safety reasons. She asked for his suggestions on a replacement for the diving board, something that was safe and fun. What stands today are the climbing walls.
The cost of both walls was $20,000 compared to $26,000 for two diving boards.
Boulder City has the only five panel high wall purchased in North America, according to information from the AquaClimb staff.
On May 9, the climbing walls were tested by children ages 5 through 13, the pool's pre-swim team. If their reactions are any indication of what's in store for patrons of the pool, the climbing walls are a winner.
"Those kids who used it were smiling ear to ear," O'Berto said. "They were really excited to try it. They wanted to try it again and again. I think we had to stop them (from climbing the wall) after three times each."
During the inaugural climb, one 6-year-old girl and one 8-year-old boy, out of a group of about 15, made it to the top of the wall.
The lifeguards at the pool told O'Berto they could see their friends using the climbing walls over and over because they were entertaining and challenging.
Each wall has different hand holds in various places, and it's a challenge to figure out how to get to the top the best way you can.
O'Berto and Bobbe Wilson, the complex's administrative clerk, have taken numerous safety issues into consideration. A lifeguard is assigned to the climbing wall area to make sure only one person at a time is on each wall. Diving off the wall is not permitted. Everyone leaves the wall feet first. You have to be at least 5-years-old to climb the wall and weigh 250 pounds or less.
From June 3 through 5, Pool Celebration and Water Safety Week takes place when students from Martha P. King and Mitchell Elementary Schools will swim and play water games, including trying out the climbing walls and learning about water safety .
This celebration of Water Safety Week is a joint effort of the Boulder City Parks and Recreation Department, the U.S. Coast Guard Auxiliary, Southern Nevada Sea Partners, Nevada Department of Wildlife and the National Park Service.
The climbing walls will be available Monday through Friday, and on Sunday, from 1 to 3 p.m. and on Saturday from 1 to 5 p.m.
For a complete listing of all Aquatic and Racquetball Complex programs and hours, call 293-9286.