Pool adds floating obstacle course, event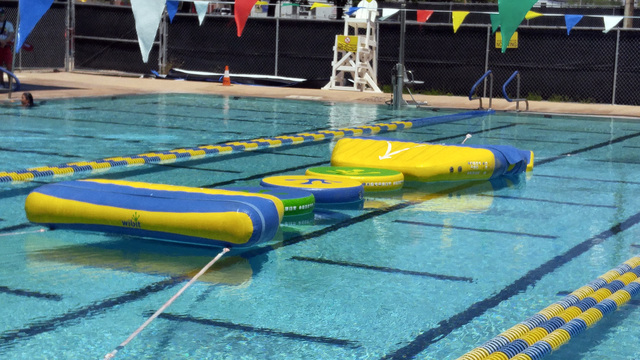 The infamous desert heat has made itself felt with a pair of heat advisories and temperatures that have remained in the triple digits for most of the past month, but the Boulder City Pool is here to provide an escape.
In 2013, the aquatics complex added the 12-foot tall climbing walls to the 12.5-feet-deep diving tank, the highest wall that is made and the only such amenity for any public pool around the Las Vegas Valley.
This year's new addition, a wiggle bridge, promises even more fun for kids at the pool and is already starting to draw lines, according to Jacob Andersen, aquatics coordinator. The wiggle bridge is made up of two, fairly stable, inflatable pads with a series of loosely tethered, and not at all stable, lily pads between them, an aquatic obstacle course for swimmers who feel their coordination is up to the challenge.
Additionally, this summer the pool is offering a few events to draw people into the water. The 16th annual Cardboard Boat Race will strike back at 6 p.m. Wednesday with "Star Wars"-themed ships and there will be Pool Games Day on Aug. 10, with volleyball, basketball and more played in the water.
The summer pool season will wrap up with the return of the Soggy Doggy event, scheduled from 9 a.m. to noon Sept. 10. Dogs of all sizes will be able to play in the pool before it shuts down for two weeks so the staff can prepare the pool for cooler temperatures and erect the protective dome cover.
The pool and racquetball complex is open from 6:30 a.m. to 8 p.m. Monday through Friday and from 7:30 a.m. to 2 p.m. on Saturdays. It is at 861 Avenue B within Broadbent Park.
For more information, call 702-293-9286 or visit http://www.bcnv.org/242/Pool-Racquetball-Complex