Not much bugs Buffie Jones
January 16, 2014 - 5:13 am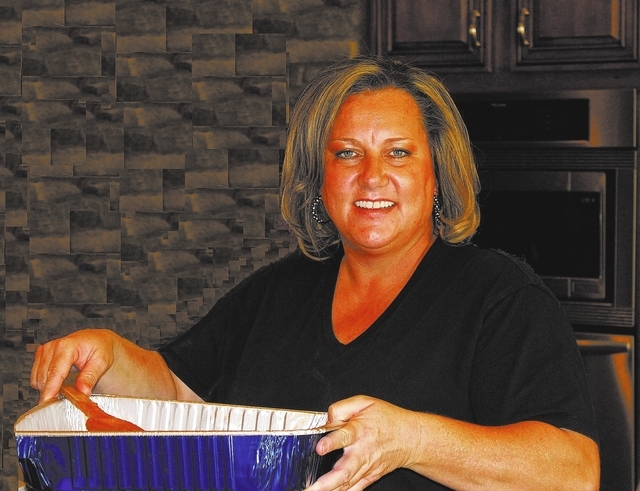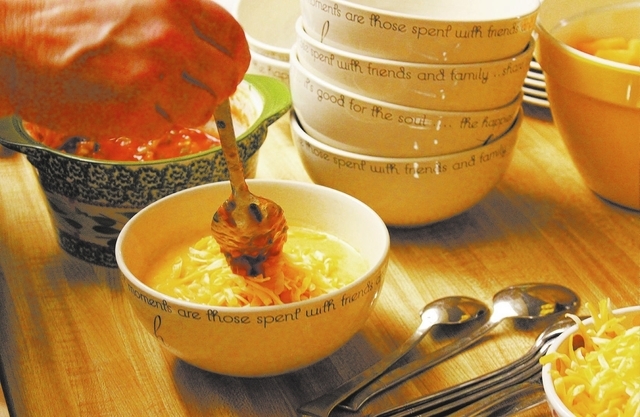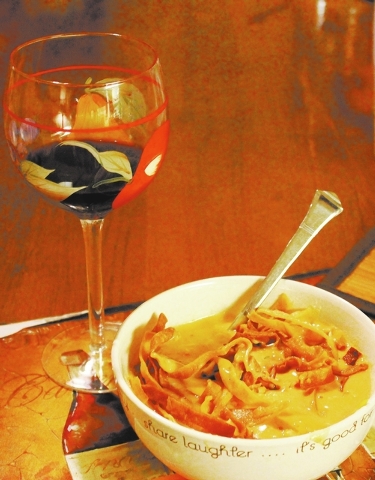 Keeping up with the Joneses is quite a challenge if you are talking about Mike and Buffie Jones, who make it a family affair running Bug Patrol Pest Pros in Boulder City.
Mike hits the neighborhoods and businesses, providing for his family and letting Buffie act as homemaker and stay-at-home-mom.
"He has given me the greatest gift a man can give," Buffie said.
"Friends don't let friends get bugged! What do you think?" she asks, proudly showing her latest marketing accomplishment in the sunny morning light at her breakfast table. She may not go to an office like some of her close friends, but Buffie's schedule shows she works beyond full time.
She wears more hats than can fit in a single closet: Bug Patrol Pest Pros marketing director, bookkeeper, CEO, chief financial officer, household manager, life coordinator, cook extraordinaire … the list is endless, just like bold coffee in her pot.
Shadow, the family's golden retriever, rattles under the wooden kitchen table and chairs as Buffie looks up at a wall of pictures beside her. She beams as she tells stories of days gone by.
The Joneses were married in Lake Havasu City, Ariz., in 1993. Buffie was 23 and Mike was 30. He proposed after just three weeks; they married in three months.
"No, I was not pregnant, just in love," she says with a giggle. "If I had a nickel for every person that thought I was pregnant and getting married … Mike and I would be rich.
"For me it truly was love at first sight, and I believe for Mike, it was love at first bite."
She laughs as she recalls his sandwich order that he came in for every day.
"I met him in a small gas station deli where I worked and made sandwiches. He came in every day, at the same time, and waited for me to make it. It was a turkey, cheddar, lettuce, tomato, red onion, mustard on wheat."
It was the beginning of more than 20 years together.
"He's my world, my everything, and I thank God for him daily," she says.
Mike's sandwich orders vary now, but the gal making them has the same sparkle in her eyes.
"You know what I really, really, really love about Mike that makes me feel so good? It's nothing big, but it is to me. He always cleans up and does the dishes after every meal."
Considering she cooks about six nights a week, trying out new recipes about twice a week, that is whole lot of family table time with loads of appreciation.
When they married, Mike and Buffie agreed that if and when they started a family, they'd do all they could to make and keep a safe and loving home. It was a dream that Buffie missed out on as a child.
"My mom worked two and three jobs when I was growing up to keep food on the table," she said.
Buffie was the youngest of 10 children and her family went through many struggles.
"We didn't grow up with money … that's for sure. I've been homeless, I've lived in tents, travel trailers, relatives' houses, low-income apartments, motels and moved all over the place," she said. "I don't feel sorry for myself though, because those things made me the person I am today."
Talking about family, she says how fortunate Mike was to have a mother that was home.
"Mike also was a bit old-fashioned. I loved that about him."
And so together, they set off to make new traditions and dreams.
They started and ran a construction company in Lake Havasu City for a couple of years until business really slowed down, bringing them to Nevada in 1998.
"The cranes in construction were flying high on the Strip and work was booming," she says. "When things got unstable, we knew we would have to find something else."
They found that something through friends who became like family through dirt biking. Bikes and racing have been a part of the Joneses' world from the beginning.
Mike Jones began riding dirt bikes at age 8, so it made sense that he introduced it to his family. Mikey was 8 and Shaun was 3 when they began making memories as a family. Buffie stands a bit taller when she points out her awesome motorcycle picture on the wall.
"I was 31 when I started riding motorcycles. I raced my last motocross/desert race on my Yamaha TTr230 in 2008."
Biking brought a life-changing opportunity.
"Dirt bike riding … that's how we found our angel," she said.
Mike met his best friend's brother, Richard Lucero, who runs Bugworks Pest Control.
"He used to be a chiropractor, and did pest control on the side," Buffie said. "He got way too busy to do both and the pest control business was flourishing."
Mike studied to get his own license and shadowed Rich on bug-spraying jobs. For years, they worked together with the common goal of getting Mike and Buffie's business, Bug Patrol Pest Pros, up and running.
"We could never have done this without Rich and his beautiful wife, Julie's help," Buffie said. "Hopefully we can pay it forward to someone when they need it the most, too.
"We moved here to Boulder City in 2010. We haven't been here long, but we have been here long enough to know there's no place we would rather be. We are here for good … for the long haul. This is home. The best move ever. We are a family business and with Mike and I together, I just know we can do this."
It is evident by watching her take a call from her husband, even if it is about work, it is always about love. If you ever have the chance of meeting either of the Jones boys, you would see by the way they look at their mom that they, too, think she hung the moon. This fills her home almost the way the warm aroma wafts from her kitchen.
When Buffie Jones cooks, it's all about love. Love and butter. Same thing really.
Here are a couple of Buffie's recipes that her family enjoys heartily:
Chicken Enchilada Soup
1½ tablespoons vegetable oil
1 pound or 4 boneless chicken breasts
¾ cup diced onions
1 garlic clove, minced fine
4 cups chicken broth
1 cup masa harina (Mexican flour that can be found in the Mexican section of the supermarket)
3 cups water
1 cup of red enchilada sauce
1 16-ounce box Velveeta cheese, diced
1 teaspoon salt
1 teaspoon chili powder
½ teaspoon ground cumin
Put oil in frying pan. Brown the chicken and set it aside. Add the onions and garlic to the pot and sauté until translucent. Add the chicken broth.
Combine Masa Harina with 2 cups water in a bowl and whisk until well blended. Add the masa mixture to the chicken broth, and then add the remaining water, enchilada sauce, cheese and spices. Bring mixture to a boil.
Shred the chicken and add it to the pot. Reduce heat and simmer for 45 minutes until thick.
To serve and garnish:
Shredded cheddar cheese
Crumbled corn tortilla chips (I also like to fry up my own flour tortilla strips and salt them right when they come out of the fryer/oil)
Salsa or pico de gallo
Cauliflower Salad
Buffie's favorite: "I do not like cauliflower and neither do the guys in my house, but this is the best salad ever and the only way we can eat cauliflower."
1 crisp head of iceberg lettuce, chopped into bite-sized pieces and drained well
½ red onion, diced small
½ head raw cauliflower, diced small
½ bottle of bacon bits or 1 pound cooked, drain and crumbled bacon
½ cup grated Parmesan cheese
Dressing:
1 cup Best Foods mayonnaise
3 tablespoons sugar
Mix together and set aside
In a large bowl, layer lettuce, cauliflower, red onion and bacon bits. Cover the entire top with the dressing. Do not mix.
Sprinkle the top with the Parmesan cheese. Cover tightly and chill in refrigerator overnight.
Just before serving mix well, but mix it only right before it's time to eat as this does not sit well. Serve immediately.
Teriyaki marinade
This is my favorite marinade for grilling chicken or beef kabobs. It's a staple at my house in the summer. You only need to marinade your meat for six to eight hours, not overnight.
When I make kabobs, I have only meat, white onion and green bell pepper on them. I get the onions, bell pepper and the meat where they have just a little char on them; char is my favorite part.
4 tablespoons vegetable oil
2 cups soy sauce
1 cup green onions, chopped
4 teaspoons ginger powder
12 tablespoons sugar
4 cloves garlic, minced
6 teaspoons cornstarch
Mix well
My mom's potato salad
The ultimate sidekick to kabobs
5 pounds russet potatoes
12 eggs, hard boiled and chopped up
1 bunch green onions, finely chopped
Mayonnaise (I prefer Best Foods); I just add until I'm happy; you can use as much or as little as you would like. I like a lot of mayonnaise
Salt and pepper to taste
Peel and cut potatoes in half lengthwise and then cut in half the other way to make four large pieces. Place them in a large stock pot.
Fill with water and make sure the potatoes are completely submerged. The water should be a couple of inches over the potatoes. Salt the water generously.
Bring to a boil and boil until potatoes are fork-tender. They should be neither too soft or too hard.
Drain the potatoes in a colander and let cool. Do not rinse with cold water. Just let them air dry and cool.
After potatoes are cool, dice the pieces into medium-sized cubes. Next, add the chopped egg, chopped green onions, the mayonnaise, salt and pepper.
Remember you have salt in there already from when you boiled the potatoes so taste first before you add more salt. Chill and enjoy.
My Favorite Beefy Baked Beans
1½ pounds ground round
1 green bell pepper, chopped
1 cup onion, chopped
32 ounce-can pork and beans
½ cup ketchup
2 tablespoons apple cider vinegar
2½ tablespoons chili powder
½ teaspoon salt
1 teaspoon pepper
2 tablespoons brown sugar
Combine beef, bell pepper, onion in large stockpot. Brown and drain. Add back to pan and add remaining ingredients; cook covered on low for four to six hours, stirring occasionally.