November 19, 2014 - 3:20 pm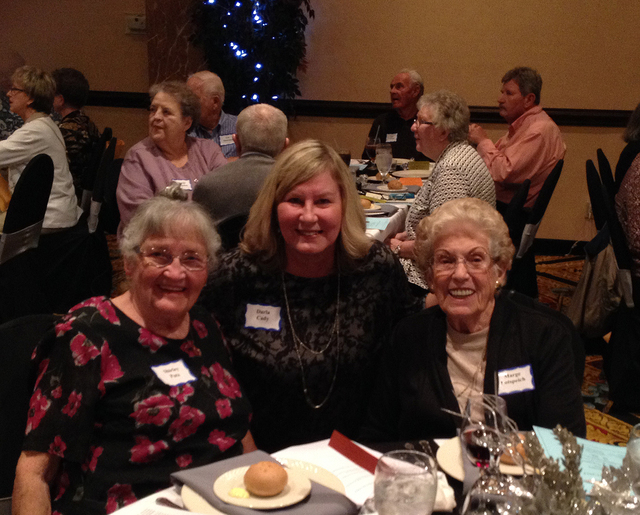 Marge Lotspeich still has a clear memory of how Lend A Hand first started. Along with Patricia Duncombe, Lotspeich led an effort to find a new way to provide quality assistance for the elderly in Boulder City.
"She (Duncombe) put her hand on me and said, 'We've got something to do,' " Lotspeich recalled of Duncombe's words. "She knew what she wanted, and she knew how to get somebody like me in to do it."
It was 1988 when the two women began brainstorming the idea. Along with Shirley Putz as its first volunteer trainer and Darla Cady as its first social worker, Lend A Hand transformed from a concept with an uncertain future into a successful reality that has provided more than 105,000 volunteer hours since its inception on Nov. 8, 1989.
Lotspeich, Putz and Cady helped celebrate Lend A Hand's 25th anniversary with about 100 other volunteers at the Railroad Pass Nov. 13 where they shared stories, laughs and memories about the organization they care so deeply for.
"We had no guidelines at all. We just thought good sense was going to determine what we ought to do," Putz said of the organization's early years. "We could just see it grow. The needs of the community just really grew and grew."
Together, with the help of a volunteer staff, Lend A Hand relieved primary caregivers of their duties, provided transportation to doctors appointment, prepared meals, and even ran errands for those elderly in need of assistance.
The mission has remained the same since its inception, but the demand for quality care has grown drastically. During the organization's first year, it provided 70 clients with about 2,000 hours of service. In 2011, approximately 375 clients were provided 5,000 volunteer hours of service.
"It is absolutely wonderful to see something that started in Boulder City that we had such a passion for," Cady said. "To see how it has taken off from nothing to this is just wonderful."
Since its foundation, Lend A Hand has provided about 941,000 miles of transportation in its assistance. As doctors began taking their practices deeper into the Las Vegas Valley, the job became a bit more difficult. So did finding younger volunteers to help keep the services going.
"For a 20-year-old to think about the day when they won't be able to drive themselves to a doctor's appointment, that doesn't even cross their mind. I think there's a gap in getting younger people," said treasurer Christine Schwab. "Young people are typically in school, working. (They're) trying to make ends meet more so than people who are getting into retirement and have more time available. I think those are challenges."
Putz said social organizations across the board are suffering because of a lack of volunteers. There is still a definite challenge to acquire a younger base of volunteers, she said.
"When we started out, most of our volunteers were between 55 and 65," Putz said. "As they got older, there were less people to take their place."
Though Duncombe died in 2010, the idea she helped turn into a reality with the help of Lotspeich, Putz and Cady has helped thousands of people throughout the years. Cady and Lotspeich have since moved away from Boulder City — Cady now lives in Georgia and Lotspeich in Kentucky — but they said they will never forget what they helped create.
"When you start something, you don't give it up," Lotspeich said. "When you get into something, you become a part of it. And then you grow."
Contact reporter Steven Slivka at sslivka@bouldercityreview.com or at 702-586-9401. Follow @StevenSlivka on Twitter.