Luminaria brings a biblical tale to life
December 3, 2014 - 2:46 pm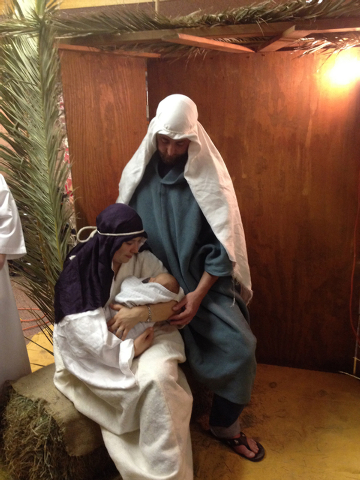 Joseph and Mary's quest for a place to rest and the birth of their son, Jesus, will be told through story and music tonight at the city's annual Luminaria and Las Posadas.
The presentation, featuring local entertainers, will begin at 6 p.m. in the Recreation Center, 900 Arizona St.
"It follows the biblical story of Mary and Joseph," said the Rev. Sandy Johnson of United Methodist Church, which is sponsoring the Luminaria for the first time this year.
"By the end of the night there will be a full living nativity."
Last year, the church presented the program jointly with the Boulder City Chamber of Commerce.
According to Johnson, the church was offered the opportunity to take over the Luminaria because it seemed that the program was more appropriate for a religious organization.
"We had volunteered in previous years with the Santa pictures and parade and they thought of us," she said. "This is not a Methodist church thing. It's still a community event."
Even though it is sponsored by the Methodist church, Johnson said the evening's message is ecumenical Christian and she hopes the community enjoys the pageantry and beauty of the story.
The tale will be interspersed with musical segments.
The program includes choral groups from most local schools including, Boulder City High School choir directed by James Gillette, King Elementary School choir under the direction of Lanette Coker and Grace Christian Academy choir under the direction of Francyl Gawryn.
"Grace Christian Academy asked to participate and we were thrilled to be able to include them," Johnson said.
Also performing will be Matt Brown and Kristina Perkins along with Brown's children, James, Curtis, Kaytlyn and Lyndsea. They will sing "Christmas Shoes" and "Mary, Did You Know?"
Johnson said church members have been working diligently on preparing new costumes for the presentation. In addition to the main players in the story, there will be angels, shepherds and Three Wise Men.
Featured in the cast are Katie Marlow as Mary; Chance Hutchinson as Joseph; Ken Marlow as the inn keeper; Susan Kohlman, Barbara Link, Emily Marlow and Krystana Coleman as angels; Heather Gaylord, Jack Walker, Riley Marlow as Cameron Johnson as shepherds; Tony Mosqueda, Chuck Barbour and Lar Nelson as the wise men; and Dave Olsen and Alan Bowman as the narrators.
Johnson is serving as master of ceremonies and sound is provided by Siberia Pro Audio and Paul Petronsky.
Admission is free, but donations will be accepted.
Proceeds will be donated to the Eagles Closet at Boulder City High School, a program operated by school registrar Barbara Agostini to provide clothes and other necessary items for students in need.
Additionally, the church's youth group will be provide hot chocolate following the program, with donations benefiting the growing group.
Hali Bernstein Saylor is editor of the Boulder City Review. She can be reached at hsaylor@bouldercityreview.com or at 702-586-9523. Follow @HalisComment on Twitter.