Love for fellow veterans serves Parker well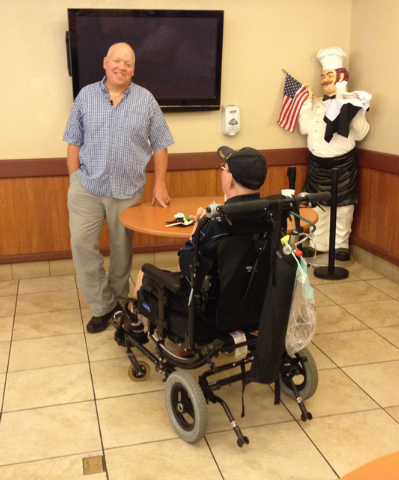 Nothing in the world can stop Brad Parker from assisting at the Nevada State Veterans Home in Boulder City.
Not a broken leg. Not even cancer.
"I just do it out of the love of my heart," he said. "I enjoy it because no matter how bad you think you've got it, you come here and you realize that others have had it a lot worse. A lot of these guys and ladies are World War II vets and they had life so much more rough."
For the past 10 years, the 50-year-old Parker has been volunteering at the veterans home, sharing laughs and stories with those who served like he did. And every Wednesday night from 6:30-7:30, Parker picks up a microphone and calls out cards during their weekly Pokeno game.
A veteran who served during the Gulf War in the early 1990s, Parker said he relates well to the men and women he entertains every week.
As a 17-year-old from Phoenix, Parker embarked on a 20-year career in the U.S. Coast Guard that would take him to Washington, Oregon, California, Florida and Texas. In 1993, he and his family were transferred to Loran Station in Searchlight. Since then, Boulder City has been their home.
Even after Parker was transferred to Oakland, Calif., in 1997 for his final three years in the service, his family stayed in Boulder City. They didn't plan on going anywhere once he returned in 2000.
"We fell in love with Boulder City and we stayed here," Parker recalled. "This is the longest place I've ever lived."
Of the 120 volunteers at the veterans home, Parker's personality makes him stand out among the rest, according to Joe Lavelle, who has stayed at the home for the past three years.
"Everyone comments and jokes with Brad. He can take a joke and he gives out a lot of jokes," Lavelle said. "He gets up there and does this Elvis impersonation and it's pretty good, but I tell him that he can't sing and he's destroying Elvis."
When players win at Pokeno, they can buy candy or other personal items inside the veterans home. Lavelle, who served in the Army from 1953-55, hasn't won in four weeks. He joked that he's tried to conspire with Parker to get him the winning card, but to no avail.
"I tell Brad, 'Let's cheat.' But you can't," Lavelle laughed. "Everybody likes Brad. He's a good emcee and he's a nice guy."
Through the worst of times, even after he was diagnosed with colon cancer in 2011 and breaking his foot shortly after chemotherapy, Parker was still calling the Pokeno numbers at the veterans home to those who enjoyed his company.
"When he was going through his own battle, his veteran peers gave him the strength to fight,"said Angela Metcalf, volunteer coordinator at the home. "It's his love and respect for the veterans. He's able to relate to their issues that civilians may not fully understand."
The stories he's heard and the friendships he's made during the past 10 years are the reasons Parker keeps coming back to the veterans home.
"They try to motivate me and I try to motivate them and try to make their lives a little more joyful," he said. "They help me to keep pushing on through. I'm gonna keep doing this as long as I can."