Kaleidoscope Cache as unique as its namesake
August 27, 2014 - 2:39 pm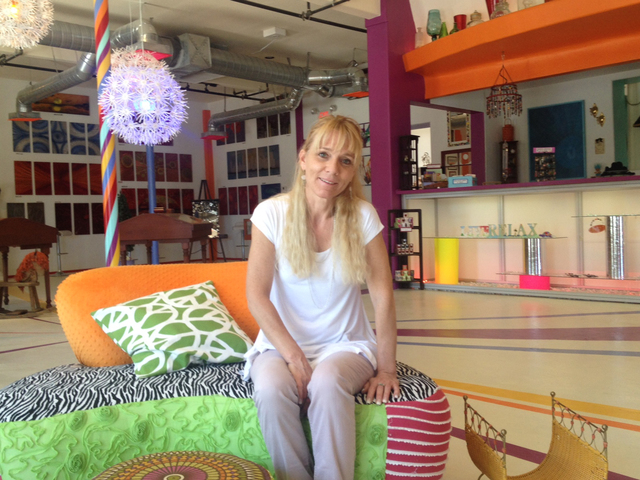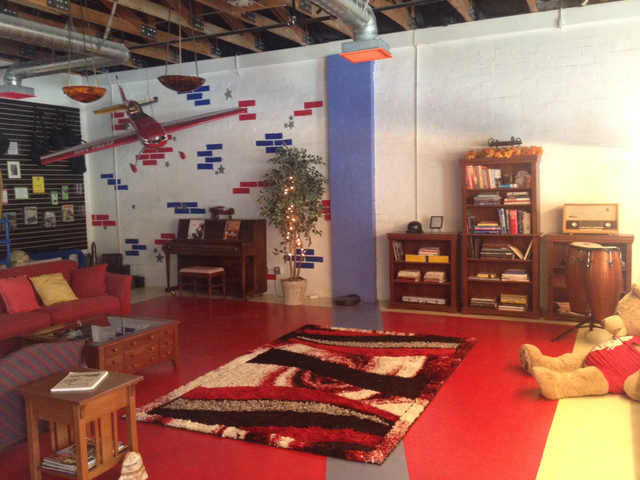 Editor's Note: This article is part of an occasional series showcasing new businesses in town.
Kaleidoscope Cache is not your typical art store, mostly because it features a clothing line and a supply of scooters.
Yes, scooters.
Owner Judy Melugin wanted more than just a store that pleased the average art lover. She said she wanted a place that catered to every generation. She wanted a hangout spot.
"It's all the things I enjoy," she said.
The powerful dynamic of Kaleidoscope Cache features a contrasting, but friendly display of colors reminiscent of an Andy Warhol painting, or Willy Wonka's chocolate factory.
Melugin said she has always had a passion for art, and it's obvious by the layout of her free-spirited store at 1212 Wyoming St. But bringing happiness to others is what she's really all about.
And it's reveling in the small town atmosphere that brought Melugin to Boulder City.
"I not only put money, but I put my heart and soul into this place," she said.
After a 25-year career as a rigging operator for the Las Vegas Teamsters, Melugin decided to take on a business venture in Boulder City. Since May, she's spent countless hours decorating the store, drawing attention from curious onlookers who just want to take a peek inside.
"It's a very nice and interesting store," said Denise Senko, chairman of the Boulder City Chamber of Commerce. "I was impressed."
At first, some of the local antique shops felt threatened by her opening a store near their turf, but Melugin said they were at ease when they saw that her store differed from the antiques they were selling.
"A lot of the business owners said we needed something more colorful," she said.
Kaleidoscope Cache features everything from Crayola art to handmade purses and portraits of Marilyn Monroe, to a room dedicated to veterans and those in need of a scooter or walker.
Some of the art, including the glass cases of bead work is her own, and so is the collection of pieces she's saved for the past 15 years. Still, she encourages local artists to submit work, with a few conditions.
"It has to be ready to sell. I don't fix it, clean it or polish it," she said.
Melugin has already been in contact with the Chamber of Commerce to become involved with the Boulder City community. Eventually, Melugin said she plans to host a movie night for teenagers, and encourages those who just want to get out of the house to come to her store and relax. After all, the small town feel is what brought her to Boulder City.
Melugin said she didn't know what to expect when she delved into her first entrepreneurial experience. She was out of her element, and after a long career doing manual labor, running Kaleidoscope Cache allows her to explore her creative side, while welcoming others to explore with her.
"It's hard, it really is," she said about opening up her first business. "And it's scary, but it's a fun scary."
After months of preparation, Melugin is still reluctant to open her doors to the public. She wants everything to be perfect. But that hasn't stopped plenty of others from knocking on her doors to see what's inside.
"Everybody's been in here. Everybody. You know, if they all spent a dollar, then I'd be doing really good," Melugin said, laughing.
Kaleidoscope Cache also features a small section of clothes, as well as a small skating area for kids who need somewhere to ride their skateboards, roller blades and scooters.
Melugin anticipates that she'll open her doors soon, but not until all of the kinks are worked out. For her, it isn't about the money. It's for her to add another friendly environment to Boulder City.
"I don't want to be a millionaire," she said. "I just want to pay my bills."
Contact reporter Steven Slivka at sslivka@bouldercityreview.com or at 702-586-9401. Follow @StevenSlivka on Twitter.