Illegal dumping at donation bins sparks community outrage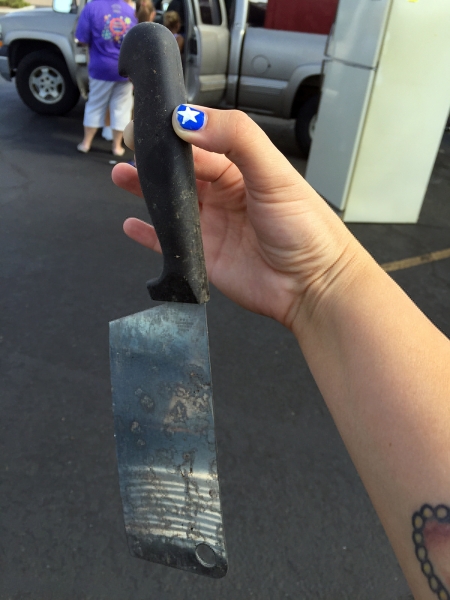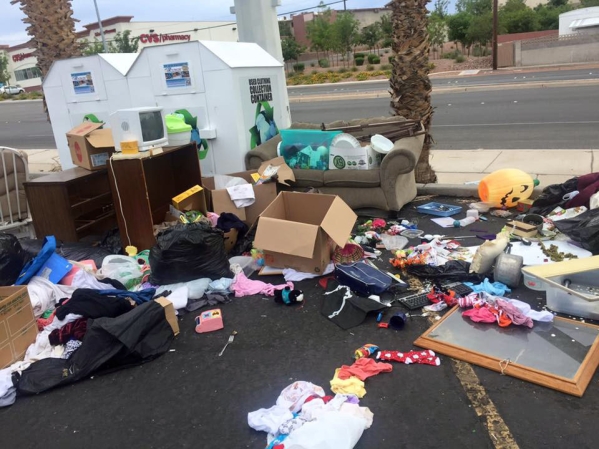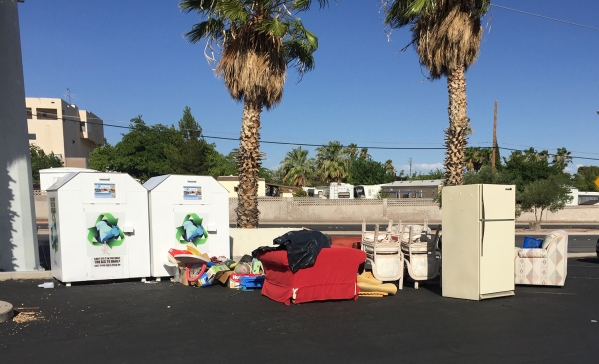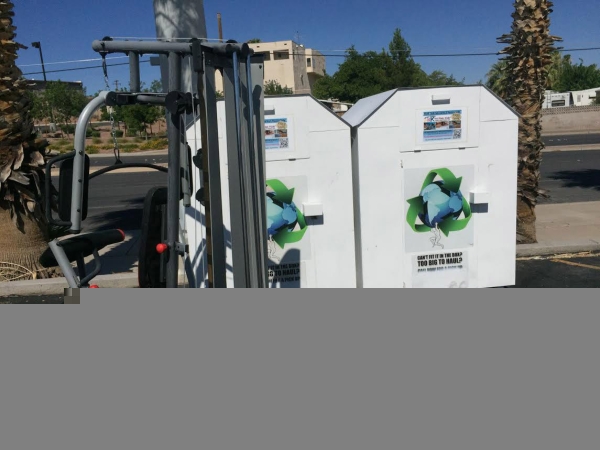 The white bins in the parking lot off Nevada Way and Buchanan Boulevard are meant for small recyclables, but that hasn't stopped others from turning them in to their personal garbage cans.
The place has become a popular spot for clunky furniture and other eyesores, and several residents are not happy about it.
"It clearly states that if it doesn't fit in the box, then don't put anything in there," said Boulder City resident Julie McAnany.
McAnany, who also serves as the special events director for the Boulder City Chamber of Commerce, said she started noticing the "illegal dumping" in May.
Since then, she's seen more and more people drop off items that had no place being in the bins, including couches, a mattress and even a meat cleaver. McAnany, along with other concerned residents, took it upon herself to clean up the area by hauling the items to the city dump.
"About three separate times I've done it," she said. "There's no one there to regulate them. We called the man who runs the boxes, and he said they're supposed to be picking it up twice a week. There was no way it was getting picked up twice a week."
Public Works Director Scott Hansen said his office has received numerous calls about the illegal dumping throughout the past five weeks. According to city records, the 99 Cents Only Store is responsible for the two bins, which are labeled as collection sites to benefit South Gate Learning & Resource Center in Las Vegas.
The city had issued the store two written complaints about the bins, Hansen said, with the most recent one being written on July 9. A city code violation is a $50 fine for the first offense.
Hansen said the police department and code enforcement also have the ability to cite those who leave their trash in the parking lot.
Jon English, manager of the 99 Cents Only Store, said he's emailed pictures of the trash to the company's corporate office. He said he doesn't have anything to do with the recycle bins and hadn't authorized anything that would allow them to be there.
"I'm not sure how the city isn't aware of that," English said. "We want to be the friend, not the enemy."
Other bins in the parking lot for different nonprofit organizations don't seem to create the same problems, either by having the donation center manned or through regular pick ups of donations.
Linda Molisee, another resident fed up with seeing the parking lot became a wasteland for others to dump off their junk, said the dumping has been a perpetual problem for the past six months.
"I grew up in Boulder City and it just seems like every time there are those unattended boxes everyone uses it as a dumping ground," she said. "It's so distracting as a resident and frustrating. A big deal needs to be made."
Molisee has seen chairs and couches riddled with holes left outside of the bins. For the lifelong Boulder City resident, it's all about having pride in your town.
"You have to be proud of where you live. You can't expect everyone else to handle your stuff for you," she said. "Just because it's your garbage doesn't mean someone else wants it."
B.C. Waste Free at 2500 Utah St. is urging residents to drop their items off there instead of leaving them out in the open where they don't belong.
"We take pretty much anything," said B.C. Waste Free's Vanessa Daniels.
Hansen urged residents to take their unwanted furniture to the dump where it belongs.
"The landfill will accept most of those things for free. It's just unfortunate people are so lazy that they won't do that," he said.
Contact reporter Steven Slivka at sslivka@bouldercityreview.com or at 702-586-9401. Follow @StevenSlivka on Twitter.