Hometown Heroes: John, Elizabeth Chase work diligently to better community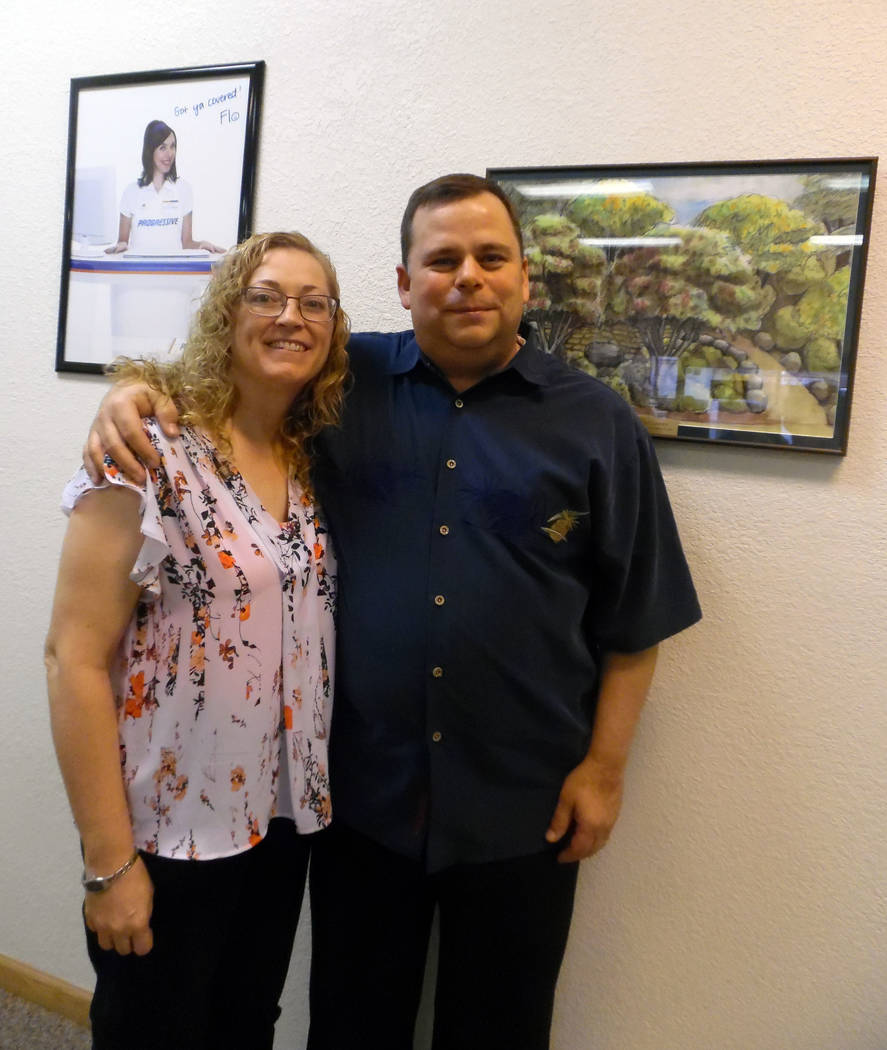 Throughout history there have been many famous Johns.
There was John Adams, our nation's second president. John F. Kennedy, our nation's 35th president. John Lennon, who imagined a world of peace and love. John Wayne, an actor known for his gritty portrayals of the American cowboy. And John Steinbeck, a Nobel-prize winning author whose words brought to life slices of Americana.
While not quite as famous on a national scale, there are probably very few in Boulder City whose lives have not been touched by the community's own special John.
You may know John Chase as a former member of Boulder City's Police Department, or as your friendly neighborhood insurance salesman or as a perennial volunteer. He can often be found helping at any one of the community events, supporting local students or raising funds for a special need.
As anyone who is married can attest to, a person cannot maintain this level of activity without the support of a spouse, who either has a "honey-do" list to attend to or keeps the home fires burning.
While you might often find Elizabeth Chase quietly by her husband's side, don't underestimate her own devotion to the community or willingness to serve. Like many volunteers, she keeps just as busy avoiding the limelight as she does helping others.
Originally from Iowa, the Chases discovered Boulder City and the surrounding area shortly after graduating from community college. They spent a weekend at Lake Mead National Recreation Area, returned home and packed up everything to move to the Silver State. That was 1991.
They had no jobs or no plans but knew they didn't want to stay in Iowa.
"We came for the weather. John didn't like the snow," Elizabeth said.
"We were both 19 at the time and figured we would figure it out when we got here," John added.
It didn't take them too long. John was hired by the Boulder City Police Department in 1992 and stayed on the force, moving up the ranks, until 2014 when he "retired."
"It was a great experience. I loved my job," he said. "By far it was the best job I've ever had."
John was assistant police chief until the position was eliminated. He moved to the night shift for a short time, which allowed him to spend more time growing his insurance business.
"The business here was going well, and it was time to transition," he said. "I wanted to go out on a good note.
"But I miss the people and the paid six weeks of vacation," he added with a grin.
In addition to his service to the community through his job on the police force, John became active in the Rotary Club of Boulder City. He had been invited to speak to the group about his job a few times, and they finally convinced him to join the community service organization.
He joined in 2001 and has yet to slow down. He served as president twice, once in 2004-05 and again in 2015-16. Next July he will become district governor, supervising 65 clubs from east Los Angeles to Mesquite.
In 13 months, he has driven more than 11,000 miles attending meetings and training sessions preparing to take the position. He will be the first Boulder City resident to become district governor.
"I enjoy the heck out of it all," he said.
The club supports many activities in the community, including literacy projects, teachers and the military.
Chase also has had the opportunity to travel the world, including humanitarian work trips to India, accompanied by his daughter Ashley, and to Mexico with his daughter Meghan, where they built a cistern.
John said he expects to spend at least 150 days out of the office during his term as district governor. Fortunately, Elizabeth will be there to keep things running smoothly.
That's what she does at home, work and in the community.
Elizabeth was involved in Girl Scouts, serving as a troop leader when Ashley, now 22, and Meghan, now 20, were members.
"I'm still involved in Girl Scouts," she said, "but more on the service-unit level than the troop level. I just enjoy watching the girls blossom into young ladies."
She recalls one girl who sat on the sidelines and wouldn't say anything when she was in kindergarten. By the time she graduated from high school, she was a leader and running events.
Naturally, John couldn't let projects come around without getting involved, according to Elizabeth, saying he was especially good with cookie sales.
The Chases also have been involved with Friends of the Boulder City Police Department, Special Olympics, the Boys and Girls Club, Nevada Community Prevention Coalition and Relay For Life.
Through the years, they have instilled the spirit of serving others into their daughters, who both attend the University of Nevada, Reno.
Most recently, Ashley was co-chairman for UNR's Relay For Life campaign.
John said they work hard to give back to the community that gave them so much.
"He is probably the most honest, truly caring person I've met in my life," said John's longtime friend and fellow Rotarian Dr. Larry Smith. "He's my daughter's godfather."
Smith said that John Chase is such a good friend that if you looked up the word friend in the dictionary, Chase's picture would be there.
In addition to his volunteer work, Smith commended Chase's professionalism, especially when he was a police officer.
"When he was dealing with people on the worst day of their lives, he was at his best."
"We do feel so indebted to the community," John said. "Boulder City made us who we are. We wouldn't want to be anywhere else."
Hali Bernstein Saylor is editor of the Boulder City Review. She can be reached at hsaylor@bouldercityreview.com or at 702-586-9523. Follow @HalisComment on Twitter.
Hometown Heroes focuses on the people who make Boulder City a great place to live. If you know of someone who deserves to be recognized, please send a short paragraph about why you feel this person should be honored, along with how to get in touch with him or her and your name and telephone number, to hsaylor@bouldercityreview.com.