Historic presence: Steam engine takes up residence at train museum for holiday
December 6, 2017 - 4:32 pm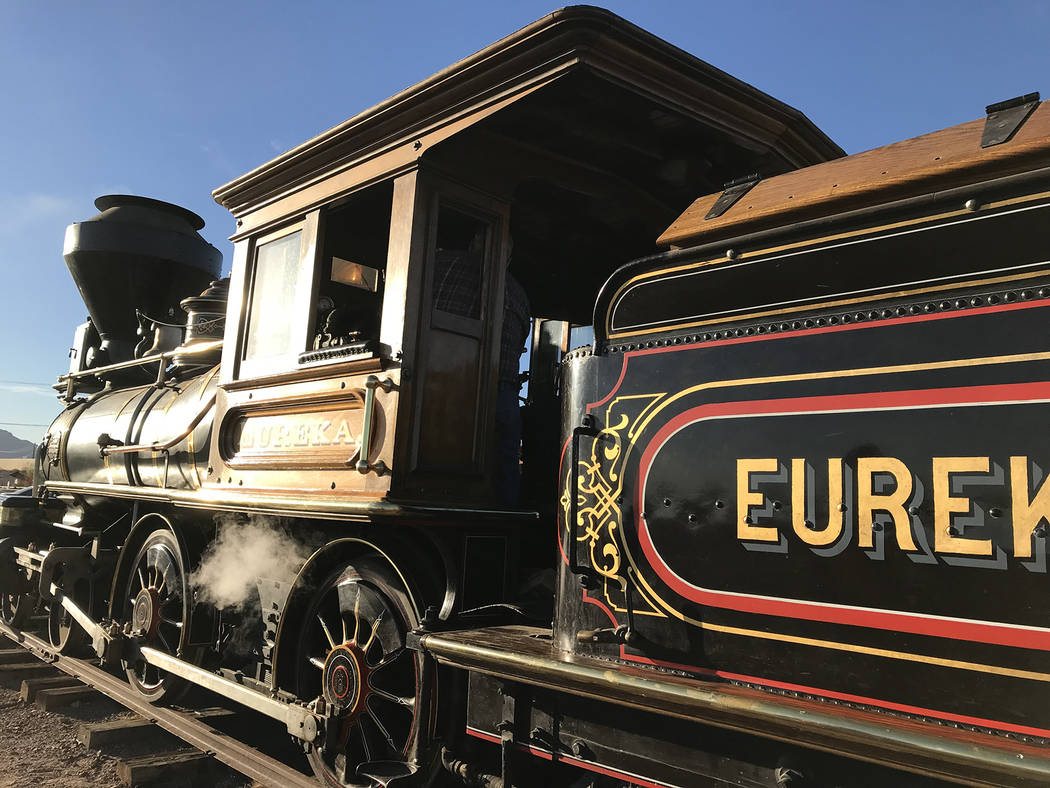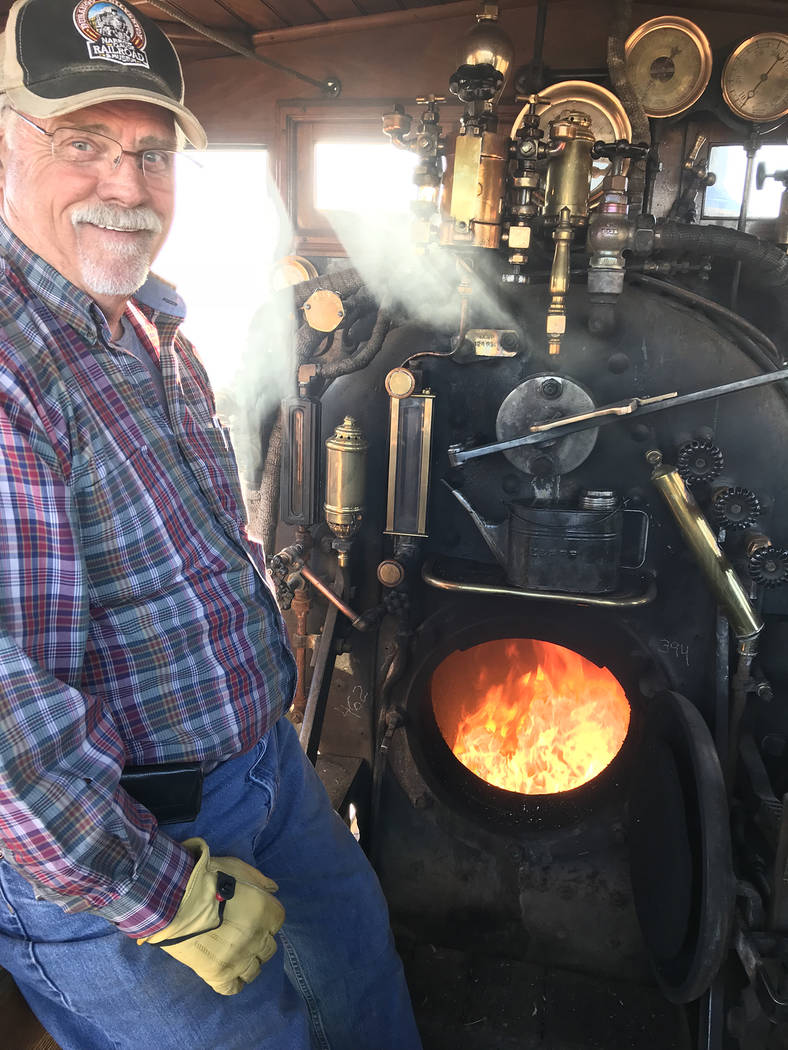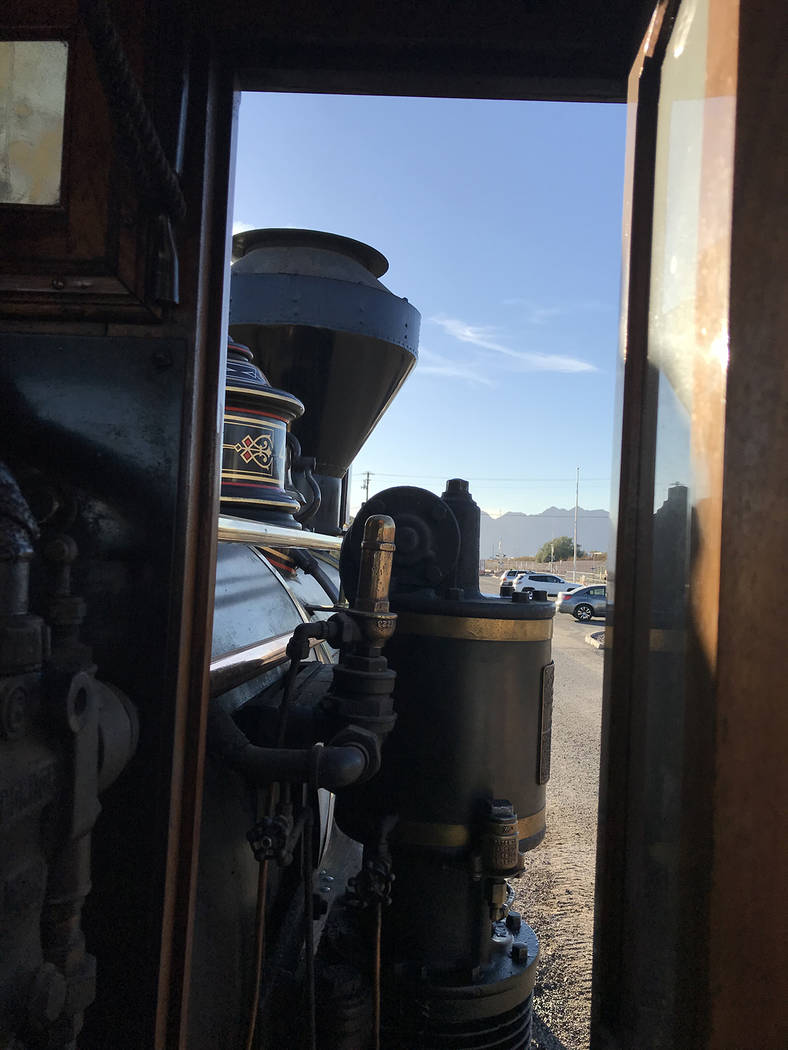 Local residents are once again being given a special gift for the holiday season: a chance to see and experience a piece of Nevada history.
Daniel Markoff, of Las Vegas, has brought his Eureka and Palisade steam locomotive to the Nevada State Railroad Museum in Boulder City for people to enjoy and ride. It's the ninth year he's shared his love of history with others.
The Eureka is one of only three 4-4-0 narrow-gauge steam engines built in 1876 by Baldwin Locomotive Works in Philadelphia known to exist. It is also the only one that works.
Its sister engines, the Jupiter and the Sonoma, are in the Smithsonian's National Museum of American History and the California State Railroad Museum in Sacramento, respectively.
"I can't tell you how significant an object it is," said Randy Hees, director of the railroad museum. "It's such a special piece."
Visitors to the museum on Yucca Street can see the train in action on Saturdays and Sundays through Dec. 17.
Industrial art
According to an information board created by Markoff, "the Baldwin 4-4-0s were produced during the gilded Victorian age when there was tremendous pride in American craftsmanship and ingenuity. Her ornate brass domes, gold leafing and colorful pin striping along with her highly crafted walnut cab and running boards are typical of the exquisite industrial art during the 19th century."
The engine's numbers refer to its wheels, four small steering wheels in front and four larger driving wheels in back.
Originally built as a passenger engine to transport people between Eureka and Palisade, about 30 miles west of Elko, the train remained in service until 1901, when it was sold to Sierra Nevada Wood and Lumber Co. in Lake Tahoe and used in the lumber industry.
Markoff said it didn't take the buyers too long to realize that the wood-burning engine was using up their cash crop, so it was converted to run on oil.
In 1938 or 1939, the engine was sold to be scrapped and taken to San Francisco, where it was spotted by rail historian Gerald Best, who also was a sound operator for Warner Bros. He convinced the studio to purchase the engine, move it to Burbank, California, and use it in films.
It was first featured in "Torrid Zone," starring James Cagney, and its last film was also John Wayne's final movie, "The Shootist."
Park attraction
When Westerns were no longer popular among filmgoers, the train was sold to the Old Vegas theme park in Henderson, where it sat as a display until 1985, when the park was destroyed by a fire.
Markoff obtained the engine in 1986 after it sat idly for a year, still covered in timbers that fell during the fire.
Though a lawyer by trade, he was a history major at the University of Nevada, Reno and was intrigued by the history of the engine.
"I felt like the guy who shot an elk on a 10,000-foot peak. Now that you got it, what are you going to do with it?"
So he laid some track in his backyard and brought the locomotive home on big trailers, built a shelter around it and devoted the next six years to restoring it to its former glory.
Through research at the Stanford library and California State Railroad Museum and a gift of the original blueprints, he found the designs, colors and dimensions to restore the train.
"She's in better shape than I will be at 143," he said.
Historic restoration
Hees said he is inspired by Markoff's mechanical and cosmetic restoration of the engine, especially since it was all done by a private individual.
The Eureka is on the National Park Service's National Registry of Historic Places, which also includes objects deemed worthy of preservation.
Markoff's love of the train and enthusiasm for history is shared by several volunteers who help him maintain and run the engine. They all are part of a group of pilots who "hang out at the North Las Vegas airport," he said.
"There's a sense of pride," said Dave Austin, who works as a fireman for the engine and is helping Markoff create a matching baggage and passenger car from the ground up.
Like Austin, J.D. Allen has been volunteering for years to help Markoff with the engine. He will happily share tales of the locomotive's history and revel in the childlike fun of playing with trains, except on a much larger scale than toys.
In addition to Boulder City, Markoff has brought the Eureka and Palisade to New Mexico and Colorado. It's also been featured in several documentaries and will be showcased next year in an episode of "Outdoor Nevada."
Hali Bernstein Saylor is editor of the Boulder City Review. She can be reached at hsaylor@bouldercityreview.com or at 702-586-9523. Follow @HalisComment on Twitter.