Heroes to be recognized; Saturday's appreciation event to honor those who serve
September 13, 2017 - 3:01 pm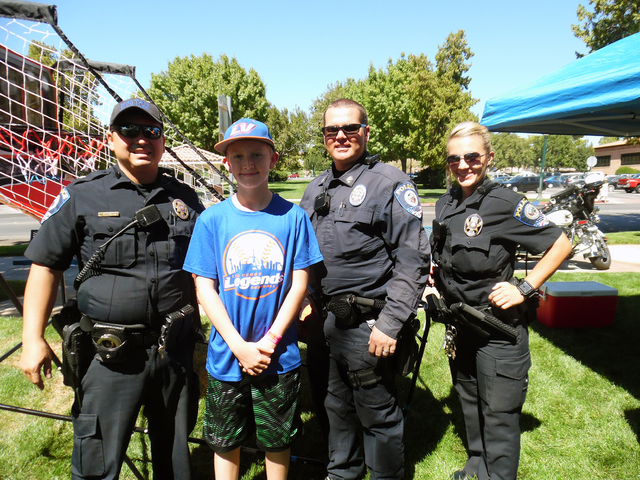 Area residents will have a chance to thank local heroes and first responders Saturday at the second annual Boulder City Hero &First Responder Appreciation Day.
Valarie Vanario-Mullins of Boulder City started the appreciation day last year and through it wants to give uniformed officers — police, fire department, emergency medical services, military, National Park Service, dispatch and corrections — a morale boost, as their job can be hard and difficult.
"It's an awesome day to get members of the community together with those in uniformed services," she said. "People can say thank you to those who protect them. It's important for the community to come and meet them. … It's good for service members, too, to know who they're protecting personally."
The day is also intended to give them an opportunity to just show up and have fun.
This year's Boulder City Hero &First Responder Appreciation Day will be catered for free by Fox Smokehouse BBQ. Boulder City Sunrise Rotary is also donating meat and bratwursts for people to eat. Sponsoring the event are Boulder City Chamber of Commerce and The Homestead at Boulder City.
Like last year, there will be a hero drawing in which anyone with a badge will receive a free raffle ticket for prizes donated by local businesses. There will also be bouncy houses, inflatable slides, face painting, henna tattoos, snow cones, a SWAT truck, the Boulder City Police Mounted Unit and music by Mike Pacini, as well as informational booths from various organizations and nonprofits.
There will be a short ceremony at the beginning of the festivities that will include speeches by local city and law enforcement officials and live bagpipe music.
"It's a nice presentation to start the day off," Vanario-Mullins said.
The free event is scheduled from 11 a.m. to 2 p.m. at the Bicentennial Park gazebo.
The hero appreciation day is not about making money, according to Vanario-Mullins, who said that she also appreciates the support from Boulder City in helping to make this day happen.
She said she's also thankful for the support from the community and the city since this event last year.
"I was so proud of my community last year," she said of those who came and supported it.
"I plan to continue as long as the community continues to respond," she added.
Contact reporter Celia Shortt Goodyear at cgoodyear@bouldercityreview.com or at 702-586-9401. Follow her on Twitter @csgoodyear.