Guild to host art festival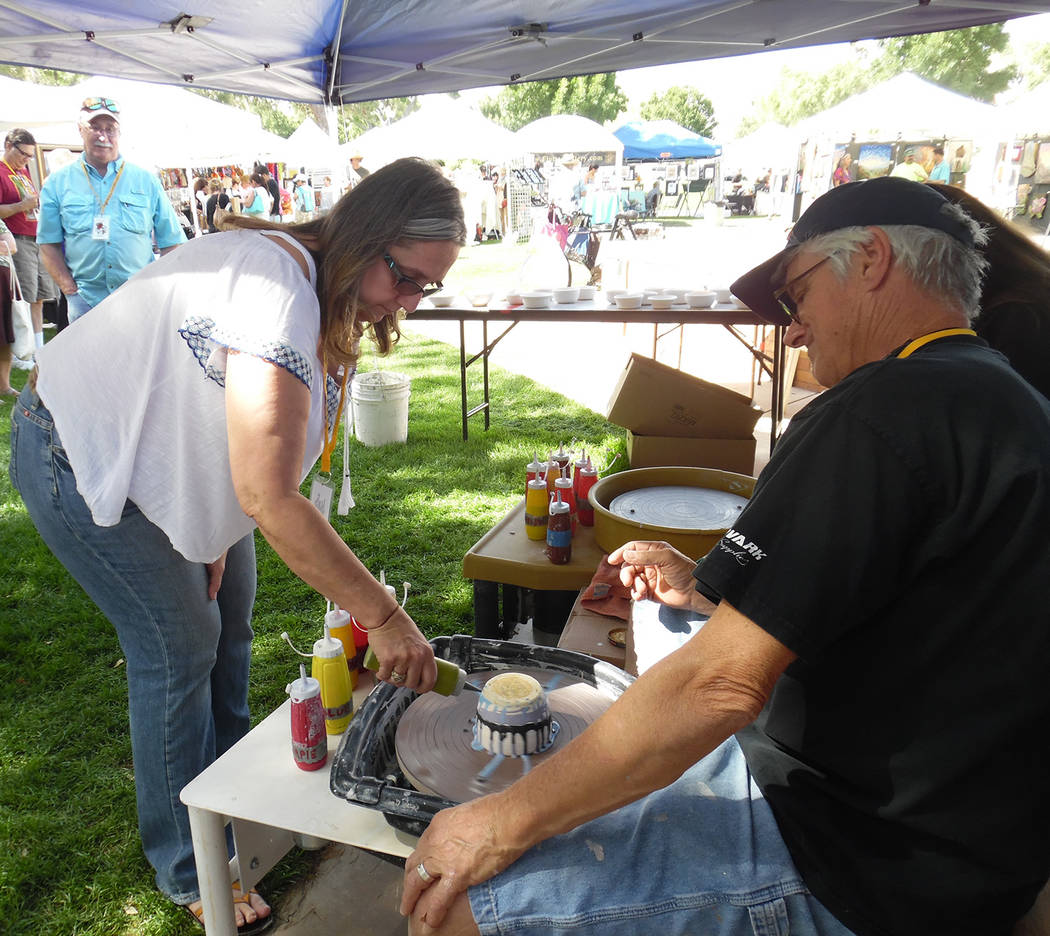 Boulder City Art Guild will transform Bicentennial Park into an outdoor art gallery Saturday and Sunday when it hosts its 33rd annual Spring ArtFest.
The juried art show will feature about 80 artists displaying works in a variety of mediums including watercolors, acrylics, oils, ceramics, metal and wood, said Diana Meyer, show coordinator.
There also will be an assortment of jewelry, many featuring custom gemstones.
Meyer said she is most excited about an exhibit by 4½-year-old Teddy Lutz of Henderson. The young boy who works in acrylic, watercolor and pen and ink, said he plans to become a famous artist.
She said encouraging young artists is one of her and the guild's goals. Last year, the show highlighted the work of Autumn de Forest, a 16-year-old who got her start at the Boulder City event when she was 6. De Forest has exhibited her works internationally and has sold millions of dollars worth of paintings. In 2015, she accepted the International Giuseppe Sciacca Award for Painting and Art — and presented a painting, titled "Resurrection," to Pope Francis.
She also established a foundation to help other young artists succeed.
Returning to the show, as this year's poster artist, is Tris Ayers, winner of the 2017 people's choice award. According to Meyer, the Ivins, Utah, artist has participated in the spring show for about 25 years.
Those attending also will be able to make "spinner bowls," decorating ceramic bowls created at the city's art center.
Entertainment for the art show is being coordinated by Dam Strong for Veterans, a charitable fundraising branch of the nonprofit Nevada Veterans Assistance League. It is bringing in a variety of live entertainment for a music festival including Boulder City High School band, country, folk, bluegrass, pop, big band, classic rock and celebrity tribute artists.
Additionally, the show will feature a fine arts raffle, awarding works by the exhibitors, to benefit the guild's scholarship fund.
Rounding out the festivities will be booths by food vendors.
Admission and parking are free.
For additional information, visit www.bouldercityartguild.com.
If you go:
What: 33rd annual Spring ArtFest
When: 10 a.m. to 5 p.m. Saturday and Sunday
Where: Bicentennial Park, 999 Colorado St.
Cost: Free
Info: www.bouldercityartguild.com