Gingerbread event sweetens holiday for those in need
December 5, 2013 - 5:07 am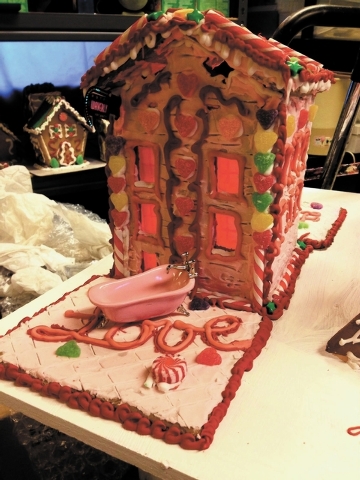 Candy-covered creations will help herald in the holiday season while helping raise funds for those in need.
The fourth annual Gingerbread House Contest and Faire will be 10 a.m. to 5 p.m. Saturday and Sunday at the Elks Lodge, 1217 Nevada Highway.
The event features a gingerbread house competition, holiday vendors and a gingerbread display created by event co-founder and coordinator Rudi Kraft.
"My wife (Mary) and I starting this. We saw a need and took the initiative," Kraft said.
The idea was to raise funds to help those "who fall through the cracks" and need financial assistance with things such as medical bills, dental care and glasses, he said.
According to Kraft, they discussed a variety of ideas before settling on gingerbread houses, even though they had never made one before.
"I didn't find it overly difficult," said Kraft, who worked as a professional chef on the Strip for 20 years. "I had not baked before; I was just a gourmet chef."
He is, however, artistic. Now semiretired, Kraft, 79, also paints, tap dances and is a member of the Red Mountain Choir.
Kraft said the only problem he has encountered these past four years is that "I made so many gingerbread doughs my mixer broke and I had to buy a new one."
For his display this year, Kraft created an Old West village complete with a saloon, California mission, sheriff's office, bordello and train station. They are wired for lights and Kraft will run a train around the town, which can be operated by event visitors.
Although his creations are technically edible, Kraft said he doesn't recommend it. He has been working on his village since April or May and the pieces are as hard as concrete.
Gingerbread houses created for the contest are auctioned off, with proceeds benefiting the charity Gingerbread House Miracle Inc., which is in the process of obtaining its nonprofit status. Additionally, there will be numerous gingerbread houses and trains available for purchase.
The event also includes vendors with holiday wares and refreshments. Admission is free.