Fundraising run Saturday as Grasso continues rehabilitation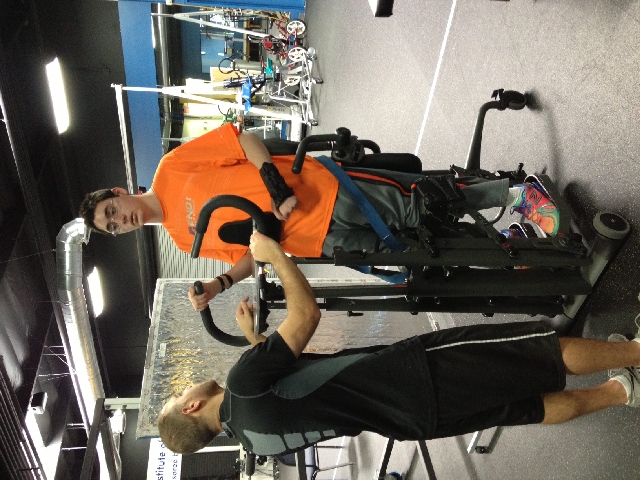 Giulian Grasso's second annual Head Strong G Helmet Up 5K walk/run is taking place Saturday at Bicentennial Park.
The event, hosted by the Grasso family, friends and the Boulder City Chamber of Commerce, will be held to celebrate the recovery of Grasso, 16, who suffered a traumatic brain injury last April during a longboard-style skateboard accident.
Though he is still undergoing rehabilitation, Grasso is well enough to attend the race, which also serves as a fundraiser for his family's $2.2 million in medical bills.
Grasso said he is looking forward to being there and plans to signal the start of the race.
"I am looking forward to it a lot, definitely to start it," he said. "I'm probably going to be like, 'Please don't run me over when you start.' Then be like, 'On your mark, get set, go.'"
The first Helmet Up walk/run was held in June, while Grasso was undergoing rehabilitation in Pennsylvania.
After crashing on his longboard in Boulder City, Grasso spent more than a month in a coma at University Medical Center in Las Vegas.
Grasso's father, Boulder City Police officer Jeff Grasso, said his son is now doing "very well," attending rehab locally and in California.
Giulian Grasso is also attending home schooling, and planning on returning to Boulder City High School for his senior year in the fall, Jeff Grasso said.
The formerly athletic teen still cannot walk, but has gained weight and is regaining the use of the left side of his body, which he lost when the right side of his brain was damaged.
"I feel myself getting a lot better," he said.
Check-in for the 5K run or one-mile walk will begin at 7 a.m., and the race will begin at 8 a.m. at Bicentennial Park, 999 Colorado St.
Registration is $35 for adults and comes with a T-shirt. Registration for children 12 years old and younger is free, with the option of purchasing a T-shirt for $15.
Prizes have been donated by local businesses, including the first-place prize of a two-person kayaking trip from Desert Adventures and a second-place prize of two Bootleg Canyon Flightlines tickets.
The third-place finisher will receive a $50 cash prize.
Additionally, there will be a helmet giveaway for children, on a first-come, first-served basis, Giulian Grasso's stepmother, Kayla Grasso, said.
The helmets were donated by the ThinkFirst Foundation and by a local 9-year-old girl who asked that helmets be brought to her birthday party.
Albertsons donated fruit and water for entrants, Kayla Grasso said.
The event has received about 20 signups already, but Kayla Grasso said she expects most people to sign up the day of the race.
Giulian Grasso told the Boulder City Review he has two quotes for the newspaper.
"Don't be insane, cover your brain," he said, and "Some people may think it's not cool to wear helmet but it's definitely not as cool to be in a wheelchair."
A bill introduced by state Sen. Joe Hardy on Feb. 13 aimed to prevent parents and legal guardians from allowing their minor children to operate longboard-style skateboards without a protective helmet.
However, that bill died in committee this month, Hardy said Tuesday.