From dishing up hearty meals to family to helping with Rotary projects, BC man happy to assist
February 17, 2016 - 3:29 pm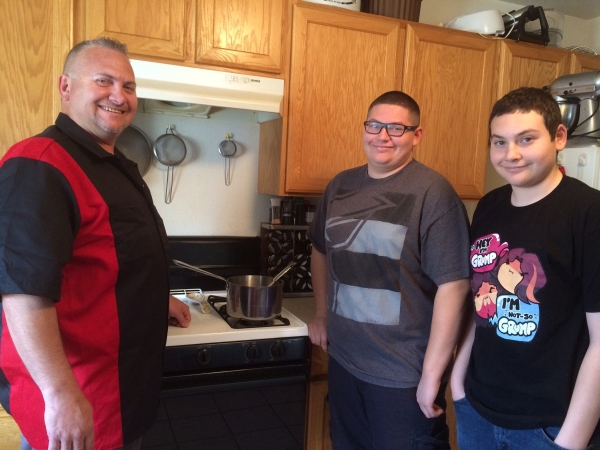 Sometimes the words to the theme song from "Ghostbusters" gets in your head. "Who you gonna call?"
In a lot of cases it would be Rob Pavlowski.
Need your car cleaned and detailed? Call Rob.
Need a pair of shoes for a teen who can't afford one? Call Rob.
Need a hand with a project to help someone out? Call Rob.
When he was growing up in Las Vegas, Pavlowski was not the person he is today.
"I had my bouts with things and my brother and sisters refer to me as the bully brother," Pavlowski said.
But today, his focus is his family and helping others.
He moved his family to Boulder City in 2014 when his boys were getting ready to begin high school because he wanted them to be "exposed to a different kind of culture. Not gangs and drugs and all the other things that go on across the hill," he said.
"When I have to go over there I'm always in a hurry to get home and when I pass the Railroad Pass turnoff, I feel I'm back where I belong."
Pavlowski and wife, Dina, an emergency dispatcher for an ambulance company, made a conscious effort to raise their children in an environment that was different than what they both experienced — her through her job sending help to those in need and him as a paramedic for 10 years.
When he talks about some of the horror he has witnessed he gets an almost haunted look in his eyes.
But when he speaks about seeing kids going to school without good shoes and about giving them a new pair he lights up like a beacon.
"If a kid doesn't have the proper foundation, he can't learn. I saw all of these kids going to school with ratty, torn-up shoes. I knew I could help so I gave them new shoes," Pavlowski said.
The first couple of years he paid from his own pocket or shared his own collection of shoes.
"Last year, some members of the community got behind it and helped us out a bit," he added.
Pavlowski credits his parents and family for his giving attitude and the change in his ways.
"Several years ago I was involved in a really bad car wreck, almost lost a leg and was laid up just before Christmas. We were worried with young kids in the house, and being almost the holidays, about what we were going to do. My dad came over and picked me up and drove me to a church that I knew he had been attending. When we got there they took me into a building that was filled with all kinds of toys and games and everything. They told me to choose something for each of my kids and to take something for me and my wife. It was amazing and I remember how I felt after that day," Pavlowski said.
For the next several years he worked at Canyon Ridge Christian Church doing whatever needed to be done and ministering to the "underserved" kids through a court program. The large, robust, tattooed man with life's scars on his body was someone they could relate to.
In the meantime he left the emergency medicine life and moved on to other things.
"I did lots of stuff. I had hot dog stands at Las Vegas Boulevard and Fremont Street and did many other things as well."
He always came back to food and the things he learned from his mom and grandmother.
"They taught me the basics and the rest I learned as I went along. I volunteer at the Best Dam Barbecue (Challenge) and all of the other Rotary events. Being a member of the Rotary club is one of the best choices I have ever made. I try to live my life as close to the principles of Rotary as I can. I was looking for insurance when a friend invited me to join Rotary and the Chamber of Commerce," Pavlowski said.
He cooks around his house because most of the meals have to be protein heavy. That's what wrestlers need and both of his sons, Robert Jr. and Christopher, are active wrestlers at Boulder City High School. He said his wife Dina cannot cook the meats and stews because she is vegan and can't taste what she is preparing.
"Around our house I have to cook two meals, one for us guys and one for her. When I make my chili I have to cook a vegan batch for her. We call that one bean soup," Pavlowski added with a big smile and a wink.
So if you have a need, Pavlowski may be able to fill it. If not, he probably knows someone who can.
Salsa
6 onions
8 tomatoes
2 green tomatoes
1 Serrano pepper
1 Habanero pepper
1 mango
1 apple
3 teaspoons salt
1 teaspoon minced garlic
1 lemon, juiced
1 lime, juiced
Dice each ingredient separately. Place in bowl and mix. Add the juice of the lime and lemon.
Chili
2 pounds ground bison
1 pound ground venison
4 14.5-ounce cans tomatoes
4 14.5-ounce cans tomato sauce
2 12-ounce cans tomato paste
1 12-16-ounce can kidney beans
1 12-16-ounce can black beans
1 12-16-ounce can mild chili beans
4 tablespoons salt
2 tablespoons chili powder
1 clove garlic, finely chopped
¼ cup brown sugar
1 lime, juiced
Black pepper, to taste
Basil, to taste
Softly brown the bison meat and season with pepper, to taste, and drain.
Softly brown venison and season with basil, to taste, and drain.
Place all ingredients except the meat in a bowl and mix by hand. Then place the bison and venison into a crock-pot and stir in all ingredients. Slow cook on low for 5-6 hours, stirring occasionally, and season with lime juice.
Candy Bacon
1 pound bacon
1 cup real maple syrup
1 cup brown sugar
¼ cup corn syrup
1 cup agave nectar
½ stick sweet butter
Bake bacon on a greased pan and cook at 375 for 15 minutes. While you are preparing the bacon. Mix the syrup, half the brown sugar, corn syrup, agave and butter in a sauce pot until it starts to boil, continuously stirring. Once it starts to boil, remove from heat and place in the freezer for 7 minutes.
Remove bacon from oven. Pull out your sweet mix from the freezer and pour it on the bacon. Place it back in the oven for another 15 minutes. Pull out bacon and sprinkle the remaining brown sugar on the bacon.
Place the bacon in the broiler for 5 minutes.
Let cool, then enjoy your candy-glazed bacon.