Flags given ceremonial retirement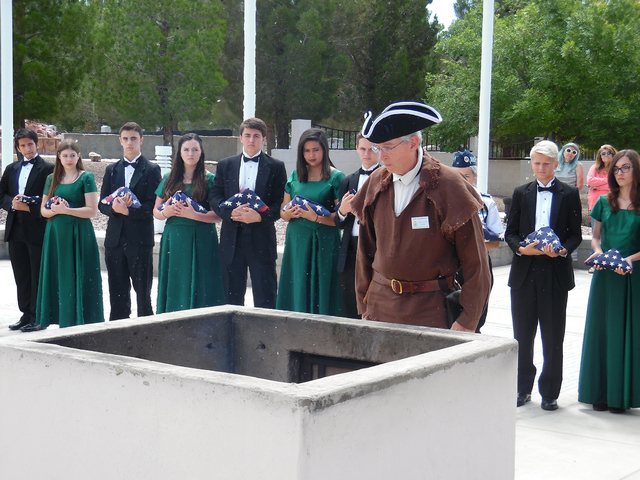 The Valley of Fire Chapter, Daughters of the American Revolution, incinerated more than two dozen out-of-service American flags at the Southern Nevada Veterans Memorial Cemetery on Saturday, culminating its 24th annual flag retirement ceremony.
Torn and wind-worn American flags are donated for retirement, according to Linda Knapton, vice regent of the Valley of Fire chapter, to assure they are disposed of in the proper manner, and during the first weekend of each May, DAR burns 25 cotton flags on a pyre to commemorate the 10,000-15,000 flags that are cremated throughout the year.
"The Boulder City Fire Department puts a call out across the valley, and this year the city police department was involved as well," Knapton said. "In addition to the flags they collect, volunteers gather more and some people drop them off in person."
Flags that are made of nylon or another synthetic material must be burned in an enclosed crematorium at the pet cemetery in Las Vegas so the contaminants are not allowed to escape into the sky.
The ceremony featured guests representing local government officials and military veterans, who spoke, read poetry and offered history of the flag and what it meant to them.
Veterans peppered the chapel, seated in the pews alongside members of the community and nearly a dozen times each of them rose to their feet to pay respect to flags for which they risked their lives.
"A lot of brave people have sacrificed for the flag and for this country," said Robert Garlow, the local Veterans of Foreign Wars chapter's past state commander. "It's important to show people, especially the youth, that there is a proper way to respect the flag, even when taking it out of service."
The ceremony included members of Boulder City Boy Scout Troop 7, performing the ceremonial 13 folds for the flag that was to be first into the flames.